Customer Relationship Management
3 Ways to Increase Parent Engagement
April 29, 2019
A note from Digistorm: This post was originally published in March 2018. We've updated it to include more valuable, relevant content and more recent statistics.
With busy lives, an overload of digital information and such large communities, keeping parents engaged can be challenging for K-12 schools. But, it's still a vital part of the education process — not only does it give parents valuable insight into what their kids get up to, but it encourages better attitudes towards schooling amongst children.
Understanding that communication needs to remain relevant and valuable, we've put together our top three ways to increase parent engagement.
1. Create valuable blog content
Your blog is a powerful tool, and if used correctly, can serve as a great resource for your school community. Not only can your blog be a font of useful, relevant information, but it also acts as a place for sharing stories and encouraging thoughtful communication between parents, students and staff.
Incorporating blogging into your marketing strategy this year?
First step — ensure your blog has a comments section! Although this may seem like a no-brainer, you'd be astounded at how many school blogs sidestep this important stage. A comments section is an important destination for your readers, as it allows them to share feedback and interact with one another about a range of school-related topics. Of course, keeping your comments section monitored is a must, but there are steps you can take to automate this, such as identifying blacklisted keywords that will automatically flag the comment if used.
It's also incredibly important to do your research. One way to do this is by chatting directly with families to gauge what kind of content they want to consume — what better way than hearing feedback directly from your readers, right? Another way is via keyword research. We'll get into the nitty-gritty of this a little more in our upcoming SEO guide, but here's a quick rundown. Keyword research is a great way to see what kinds of phrases are popular amongst the wider community around various topics. You can use tools like Google Trends to see how popular a designated keyword is, or generate new ones from a keyword research tool.
2. Turn social media into a community
Social media is way more than just a platform for sharing your life with the world — it's also a great way to create and manage communities. Its two-way nature allows enables real time interaction, meaning connecting with parents and students has never been easier, or faster.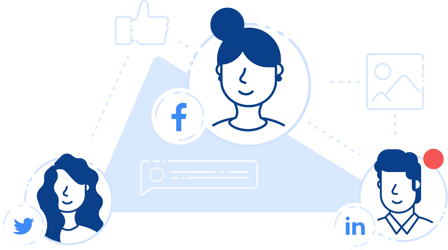 It's likely that families from your school are already very active on social media, so your task is encouraging them to interact specifically with your school's pages. Here are a few tips for building your social media community:
Share unique content
Uploading unique images, videos, quotes and posts that parents may not otherwise see is a surefire way to get them engaging more frequently. Save specific content for social media use to position these platforms as value-adds to parents' lives. Behind the scenes shots in the classroom make for great 'exclusive content' — they're bound to get parents commenting and reacting, even throughout the work day!
Keep the interaction going
Encourage parents to share, too! When parents comment on your posts on Instagram, Facebook or Twitter, keep that two-way information stream going by replying to them! This chain of interaction not only gives you social proof, positioning you as a caring and considerate place, but makes sure all of their questions are addressed in a timely manner. When parents see you interacting so thoughtfully, chances are they'll want to do the same, really fostering that bond between your team and your community of parents.
3. Use a school communication app
A school app is the perfect place to really encourage a two-way stream of communication between parents and staff, and all with a click of a button. School apps (like the Digistorm App) are built with push notifications that alert parents when new content has been uploaded, so that they can react accordingly.
Some school apps are customisable, so you can specify the sections within — everything from newsletters and notes about events to image galleries, sporting information and more. Apps can also be designed to save parents time, such as allowing them to make simple money card top-ups, meaning more time can be spent focusing on the things that really matter.
If you're looking to increase parent communication with your school, talk to Digistorm about the benefits that an informative blog or an engaging school app can bring. Our friendly team is happy to answer any of your questions.