Marketing Strategy
Four Key Learnings From the Interactive Minds Digital Summit 2019
July 18, 2019
We're always striving to keep ahead of the curve here at Digistorm, which is why we're passionate about empowering our team to become experts in their fields. On Wednesday, our marketing team hit the road to geek-out over all things marketing at the Interactive Minds Digital Summit 2019.
The Digital Summit is the event of the year for motivated marketers, looking to scratch up on digital best practice, learn new trends, and network with industry peers. Throughout the day, we heard from more than 20 thought leaders on a range of topics — from how to cultivate a creative work culture to the future of marketing automation.
For those of you who weren't able to make it, we wanted to share four key learnings that we're going to be implementing into our digital strategy straight away!
1. Leverage your data to tell better stories
Cathy Tanimura, Strava
To kick things off, Strava's Sr. Director of Analytics & Data Science, Cathy Tanimura, shared some key insights into what it truly means to be a data-driven company. As the world's number one app for runners and cyclists, it comes as no surprise that data plays a key role in Strava's marketing and product strategies. What was surprising, however, is the way Strava leverages its data for storytelling.
Cathy drives home the importance of mixing people and data in order to tell more relevant and compelling stories. So often we look outward for inspiration, but in reality, our own data is a goldmine of content ideas. Take this news article for example — How Your Strava-Recorded Hill Climbs Can Help Firefighters Battle Wildfires — that's one compelling heading. Drawing on data from over 30,000 app users, Strava was able to help keep firefighter's safe by predicting how long it would take to traverse the terrain in and around Salt Lake City.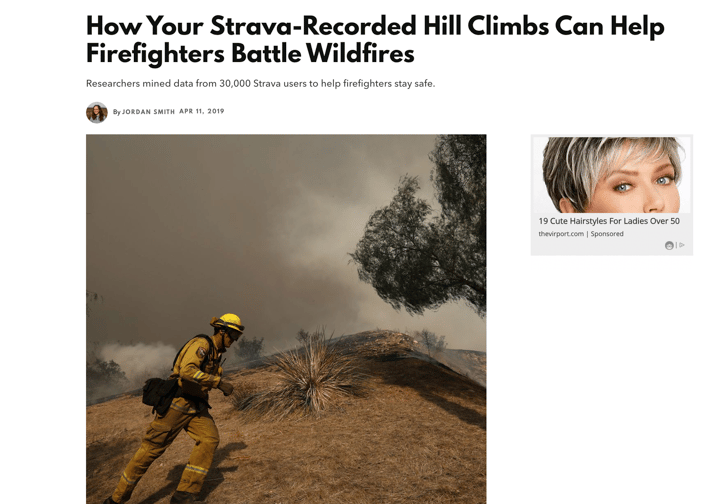 You don't have to be a data scientist to find a compelling story in your data set, you just need to take the time to review your data and look for any interesting, unexpected or unusual patterns trends that emerge.
2. Build a culture of innovation and creativity.
Olivia Dickinson, Chobani
In just 14 years, Chobani has become Australia's leading yoghurt brand. So, how did they do it? Well after hearing from Chobani's Digital & Communications Marketing Manager, Olivia Dickinson, it all comes down to cultivating a culture of innovation and creativity.
Olivia says the first step to staying ahead of the curve is acknowledging that "no company is immune to external shifts." This mantra is what drives Chobani to focus on creativity and innovation in order to stay ahead of competitors. Here are just three examples of the internal processes Chobani adopts to achieve this:
1. Give your project a name
The creative process starts from the beginning, so it's important to give your campaign or project a fun nickname that everyone can get on board with. The idea behind this process is that by naming your project, you're automatically shifting your team into a creative mindset.
2. Ideate as a team
Brainstorming is the best way to generate new ideas, but what's the best process to ensure you're getting the most out of your team? Olivia says you need a mix of individual and team ideation. Grab some post-it notes, set the clock for 5 minutes and ask everyone to write as many ideas as they can — we're looking for quantity over quality here. Next, group individual ideas into common themes and explore these gems further.
3. Crush assumptions
Our assumptions are often the biggest blockers to our creativity — so it's time to crush them. Chobani had to think outside the box when introducing their new product, Chobani Flip to the market. The challenge for Chobani was figuring out how they could enable customers to experience the product without being able to taste it. The answer? An interactive Snapchat filter!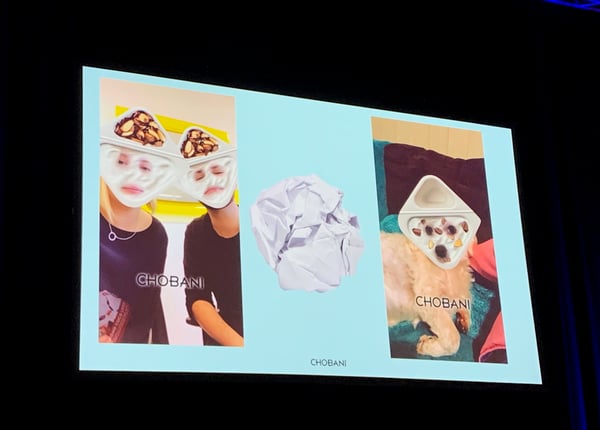 3. Make sure you are generating long-form content.
Mez Homayunfard and Safwan Chowdhury, Online Marketing Gurus
The Online Marketing Gurus presented information, finding the best search, PPC and content tactics to grow your web traffic and businesses. They presented Google search results data that showed a strong correlation between longer content and higher rankings. We were excited to hear this, as we have been focusing heavily on creating valuable, longer content — for example, blogs that cover an entire topic in a single post.
They provided examples from online retailers, such as The Iconic, who ensure there is bulky content on every page, including their category pages:
And on individual product pages:
4. Love your stakeholders' challenges as your own.
Jody Hart, TAFE Queensland
Jody Hart spoke about the unique challenges that marketing managers have when trying to transform the customer experience. At Digistorm, our Marketing team has been focusing on improving our customers' experiences and creating a simple and enjoyable path-to-purchase. Ultimately, many aspects of this client experience are managed by other areas of our company, and so our team has to work hard to get everybody on the same page.
To do this, we need to be able to truly understand the challenges that other areas of Digistorm face, and work with them to overcome them. In other words, we need to love their challenges as our own.
Of course, these were just four of the many learnings we took away from the Digital Summit, but we hope you're feeling as inspired as we are! As a bonus, check out the highlights from the day below, including Digistorm's Marketing Manager, Heather Venz!
So, what's the next step from here? Keeping the momentum up by putting these key learnings into action! Check out our four step guide to creating a digital marketing plan for your school to get the ball rolling.