Products
5 Must-Have Analytics Widgets in Craft CMS
November 6, 2020
A note from Digistorm: This post was originally written in July 2017 and has been updated to include more relevant information.
Many great websites are built using software known as a content management system (CMS). Having your website built on a CMS allows you to create, manage and update content without needing to consult a developer or learn how to code. You may have heard of some popular CMS platforms, like Wordpress or Drupal or Joomla. At Digistorm, we build our websites on another popular CMS, Craft.
If you're a Digistorm Website client, you'll know how easy it is to manage your website and make changes within the interface. What you might not be as familiar with is the analytics side of Craft. Once you've connected your Google Analytics account, it's time to have some fun! Your Craft dashboard gives you the opportunity to create a series of custom analytics reports that give you a quick view of your website's performance, as soon as you login.
You have a number of options for displaying data, so we're going to cover some of our favourite widgets to add to your dashboard.
How do I add a new widget to my Craft dashboard?
You can customize your dashboard by adding or removing widgets — including analytics widgets. To add a new widget, simply click the '+ New widget' dropdown and select the widget you want to add. The settings cog in the top right hand corner contains buttons to the right of each widget which allow you to change the size of widgets, reorder them or remove them.
Here's a quick overview of how you can easily add a new widget to your Craft CMS dashboard.
What kind of options do I have for displaying data?
When you click 'Analytics Report', you'll see a new window appear with all of the options you have to create a new reporting widget on your dashboard.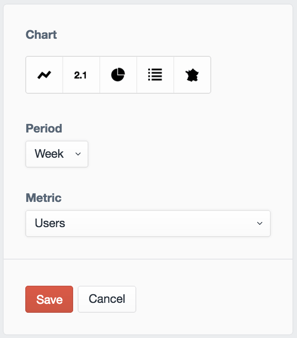 You can use the icons at the top to select the type of chart you'd like to see, including line chart, statistic, pie chart, list and world map. You will also be able to choose a particular time period to display for that report.
Once you've selected your chart type, the 'Metric' drop-down will be populated with the available or appropriate statistics for that chart.
The 5 top widgets we recommend for your Craft dashboard
Sessions over the last week. This widget will allow you to monitor any changes in traffic and understand which days of the week have the most sessions. When creating your widget, select the line chart icon, 'Week' as the period and 'Sessions' as the metric.
Conversions over the last week. If your website's call to action is to complete a form or enroll online, this widget will allow you to see conversion trends throughout the week. You will need to set these actions up as a conversion within Google Analytics, and then the data will automatically pull through to Craft. Select the line chart icon, 'Week' as the period and 'Conversions' as the metric.
New visitors vs. Returning visitors. This widget will give you an idea of the percentage of your website visitors who are new to your website or who are returning. Select the pie chart icon, 'Week' as the period and 'New Users' as the metric.
Source/medium. This widget will give you an overview of where your website traffic is coming from. Select the list icon, 'Week' as the period and 'Sessions' as the metric.
Real time analytics. This widget will allow you to see how many people are on your site at any given time. Click the 'Analytics Real-Time' option in the '+ New Widget' drop down.
Getting started with Analytics
Knowing how your website is performing is incredibly important — no matter which CMS or website platform your school uses. If you're a school marketer, IT manager or professional looking to get started with Analytics, here are some resources to help you out:
Are you looking to upgrade to a school website that uses an easy-to-understand CMS? Consider purchasing a Digistorm Website. Our websites are built using the latest industry knowledge by a team of developers and designers with over a decade of experience creating websites for schools. Talk to our friendly team about a Digistorm Website today!