Marketing Strategy
5 Excellent Networks to Share Your School's Blog Content
June 7, 2019
In addition to newsletters, notices and all the other fantastic marketing collateral schools put out, some are branching out into the world of informational content. Your educators are experts in their field, and know a lot about the ins and outs of educating children, so using this wealth of knowledge to create shareable content is a complete no-brainer.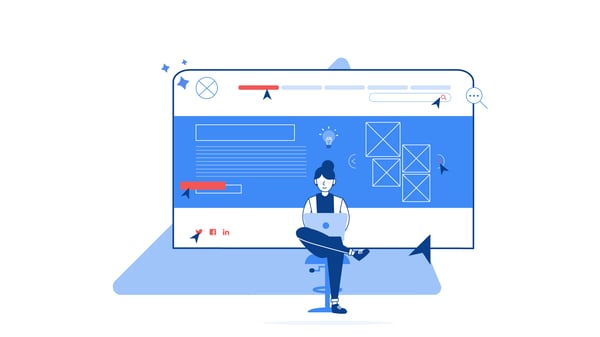 We'd encourage every school with the suitable resources to dip their toes into the world of informational content for their school blog. By this, we mean anything from easy after-school snack ideas to effective techniques from behavior management — essentially just something that is designed to inform readers on a specific topic outside of your specific school setting. You know your audience and what they like to read, so use that as a starting point and get tapping away at that keyboard! We're sure of your ability to create fantastic blog content that others love to read.
Now for the kicker. If you're planning on writing this kind of content for your blog, you can also generate new leads and hits by sharing it elsewhere. Social media, forums, other blogs… there are a magnitude of different platforms that you can post your blogs to. Not only will this establish an organic link back to your site in most cases, but it will also rope in a whole new audience that may not have otherwise known about your school.
Here are five excellent networks you can post your blog content to.
1. Your school's social media
The first place you should always post your content to is your school's social media accounts. You should already have a semblance of a following on here, and it's very likely that quite a lot of them will be engaged, as they'll consist of parents, students and staff at your school.
Be sure to shout out every blog post you publish over on channels like Facebook and Twitter, slotting them into your social media calendar as necessary. Creating this kind of post is simple, and you can measure whether or not it's effective by navigating to your metrics and assessing the click-through rate (CTA).
On Instagram, it's a bit of a different story, but you can still get your content out there. When you create a new blog post, put the link in your Instagram bio. If you really build a following (we're talking 10,000 followers) then you'll also be granted access to the 'swipe up' feature within Instagram stories. For now, though, the bio link may have to do!
Publishing your school's blog posts on social media is quick, easy and great for establishing your overall social media profile.
2. Reddit
Push all your preconceived notions about Reddit aside and hear us out — Reddit is actually a valuable place to share your school's blog content. Although it may seem like the underbelly of the internet at times, ruled by Gen Z meme-lovers with controversial opinions, most of Reddit is actually very friendly. Plus, there are sections of the site, known as subreddits, designed for discussion on a variety of topics.
Subreddits such as /r/education, /r/teaching and /r/AustralianTeachers could all be valuable places to publish their content. Each of these sections within Reddit is designed for discourse surrounding educational topics, so a new blog post about behavior management in prep kids, for instance, wouldn't go astray.
The benefits here are endless — not only does it establish an organic link back to your site (hello, SEO value) but it also creates a discussion amongst people that are within your network, but may not be a part of your community just yet. The same goes for any parenting subreddits you may discover. These in particular have great potential, as they could include prospective leads.
3. Email
Email has proven itself as a worthy contender for the most effective marketing channel of all time. With 99% of people checking their email on a daily basis, putting your school in their minds is an increasingly simpler task. So, the next time you publish some unique informational content on your blog, try sharing it via your email newsletter and see what happens. You could do this through a simple link in your body text, or by creating a full-scale widget that links through to the post — whatever works for your school and its email strategy.
One of the best things about email marketing is the potential for measurability. Because you'll have back-end access to whatever email platform you use, you'll be able to see interesting metrics like the open rate of the email and click-through rate of the links. These give you an idea of whether your content is effective or not, just like you can do for your blog using Google Analytics.
4. Quora
Another recommendation that's a little left-of-centre, Quora is actually a great tool for marketers with a bit of spare time to devote to generating traffic and engagement. If you don't know what this site is, it's essentially a question and answer platform where people can throw their queries into the void and wait for them to be solved.
The way you can promote your content using Quora is by answering specific, relevant questions and incorporating a link back to your site as part of your response. This will require you to monitor Quora for questions that may relate to one of your blog posts, and then to formulate and post a satisfactory answer with a direct link to the post.
This is definitely a long process, but it's also highly beneficial for SEO — Quora has a domain authority, or DA, of 93. Domain authority refers to the 'strength' and relevance of a specific website, and influences that site's ranking on Google quite heavily. The closer the DA score to 100, the better. DA also translates into links as well, so if you can establish a link to your own site on a site with a high DA, you're directly improving your own ranking factors. Still with us? Awesome. In short, a link on a high-DA site like Quora is absolutely killer for your own SEO.
5. Your personal social media
Our final recommendation is your own social media accounts. You've successfully published your blog posts to your school's business pages, but there's still room for growth on social if you're willing to share posts to your personal pages.
What this does is open your site up to potential new leads. Although there are probably quite a few crossovers between your network and your school's, there will also be new audience members who don't already have a pre-existing idea of your school. Informational content is a great way to enter their orbit, as it establishes your school as an authoritative expert on a particular subject related to education or parenting.
Even though it's on a personal account, a few metrics will still be visible once you've shared the post. You can manually monitor spikes in likes on your school's page, and you can also tally up the reactions, comments and shares you get on your personal page. Although this isn't as technical and insightful as posting to a business page, it's still a great way to see if sharing to your own accounts is beneficial.
Do you plan on sharing your blog content to one or a few of these new avenues? Let us know over on Facebook or Twitter — we'd love to hear about your success!