Website Development
How to Format Your Blog Post (So It Actually Gets Read)
April 12, 2020
Here's the cold, hard truth: you're probably not going to read this entire post. It's okay, we're not offended, in fact we expect it. According to research from Neilsen Norman Group, an overwhelming 79% of readers will scan a new piece of digital content compared to 16% who will actually read it word-for-word. So, if you're going to try to capture your audiences' attention (for however, limited that time may be), putting in the work to make sure the structure of your post is clear and easy to read is key! Here are four key formatting tips that'll make your blog posts super simple to scan.
1. Use headers to break up your text
Headings and sub-headings are perhaps one of the most helpful ways to ensure that your blog post is clear and easy to read. The correct use of header tags throughout your blog post don't just help to boost your website's search engine optimization (SEO) rankings, they also make it ridiculously easy for readers to quickly gain the context they need. Just like the one we've used above, your headings should include direct information about what to expect from your next paragraph.
Touching back on SEO for a moment, using keywords in your headers can also help boost the overall visibility of your post. Google pays close attention to the keywords included within header tags to help crawl your webpage (this is where bots look for new and updated content) and figure out how to rank your content within search results.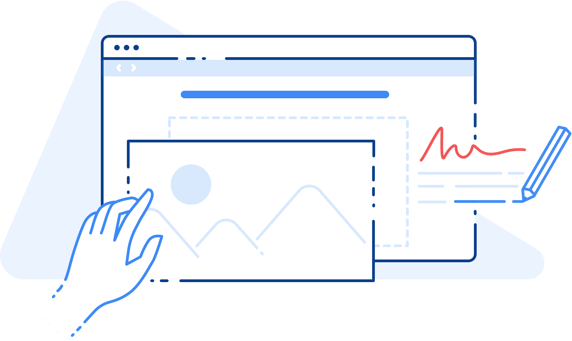 2. Leverage bulleted or numbered lists
Ask any digital reader and they'll tell you that they love lists! But what is it about them that makes them so popular? Here are four key reasons to include one in your next blog post:
They're easy to write
They highlight key information
They help to break up blocks of text
They make scanning simple
Now, if these key reasons didn't persuade you to include a list in your next blog post, here's a bonus one for you: lists allow time-poor readers to quickly digest your information. There's an abundance of content being published online everyday and in turn, our stamina for long-form content is becoming increasingly fatigued. This is why short, sharp lists can help readers gain the information they need, without needing to commit to reading the entire post.
3. Don't be afraid to be bold
Just to be clear, we're not talking about being 'bold' in the courageous sense (although we strongly encourage that as well) – we mean it literally. You've probably noticed that we've bolded a couple of sentences and keywords throughout this post already. Just as we covered with lists, bolded text is a great way to draw your reader's eye and call out any key information throughout your article. A quick word of advice though – you definitely don't want to overdo it. We recommend that you bold text sparingly to highlight key points as overuse can be distracting and difficult to read.
4. Add relevant photos and illustrations
A blog post without any photos or imagery can be extremely boring to look at. Relevant images are a great way to break up text-heavy content and provide extra content for visual learners. If you're writing an article to announce your new school website, or highlight a feature on your school app, screenshots and images are a great way to help tell your story visually. If you're adding images to your blog post, ensure they're relevant to your topic and that you have permission to use them. If you're in need of some royalty free images, check out Pexels, Unsplash, or Pixabay
Well, there you have it, four key formatting tips to make your blog posts easier to read at a glance. If you've been blogging for a while and are stuck for fresh, new ideas, check out our post: 20 Blog Ideas Your School Community Will Actually Want to Read for inspiration.