Website Development
5 Signs It's Time to Update Your School Website
November 17, 2020
Do you see other school websites and get the feeling that yours is a little old or outdated? If you have this inkling, it's probably best to take it as a sign that your website needs a little work. It's no secret that a successful website relies on first impressions. Your school website is often the first touchpoint prospective families have with your school, making it perhaps the most important tool in your digital marketing toolkit.
But, did you know that it only takes users around 0.05 seconds to decide whether they love or hate your website – now that's a lot of pressure! Don't miss your chance to make an impact, if you think your current website has some room to improve, here are five key signs that will confirm your suspicion it's time for a redesign.
1. Your website isn't mobile-first
Let's get one thing straight: if your school website isn't optimized for mobile, you're putting your school at a major disadvantage. The latest research shows that 51% of global website traffic comes from smartphones and tablets, which is no surprise in today's technologically savvy world. Having a mobile-friendly website can also work wonders for search engine optimization (SEO).
It's no secret that Google prioritizes and ranks websites that are mobile-friendly, so if your website isn't ranking highly, this is a great place to start. If you're not sure whether your website is built to be mobile-first, paste your URL into Google's mobile-friendly test to find out.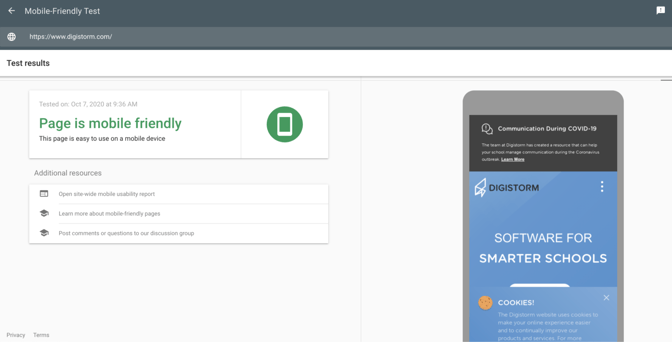 If the test results show that your school website isn't mobile-friendly, it's time to fix this! To start, you'll need a responsive website design that doesn't skew your images or crowd your text. Here at Digistorm, we help schools create fully-responsive website designs that optimize the user experience across multiple devices and platforms. Our websites use automatic reconfiguration for a user friendly and effective website on every screen. You can rest assured that users will be visiting a website on their mobile devices that is easy to read and navigate.
2. You don't have a CMS
CMS is just the quick way of saying 'Content Management System.' A CMS allows you to log into your website's backend and update content without the need for any coding language or knowledge. If you're currently engaging with developers to make small changes or add new things to your website, your admissions team is likely wasting a lot of time and effort. If this sounds like you, it's time to implement a CMS. If you want to add new pages, titles, or posts to your current school website, all you need to do is log into the CMS to quickly make these changes. Our Digistorm school websites use our preferred CMS, Craft, where school staff can upload, change, and update any content on their own school website. We also provide schools with training and guides for our websites and the CMS, so that school staff can confidently and effectively make these changes.
3.Your website doesn't integrate with your other systems
To operate successfully, most schools utilize a variety of systems including software systems, organizational, marketing, and social media systems. Does your current school website have the ability to integrate with your other systems? If your answer is no, there's a good chance that your team isn't operating as efficiently as they could be. Integration allows for information to be easily transferred from one system to another -- which will help to make your job a lot easier. A school website can be integrated with mobile apps, enrollment systems, portals, calendars, and even learning management systems. This means that it's a platform that can collect and showcase a lot of different data and information.
4.Your bounce rate is high
If you're tracking your website's analytics, one key metric you should be monitoring is your school website's bounce rate. If you aren't familiar with a bounce rate it's the percentage of people who visit your website and leave immediately after reaching it. All websites will have a bounce rate but a particularly high bounce rate can be concerning. As a rule of thumb, a bounce rate higher than 70% usually indicates that there's something about your website that's deterring visitors. This can include:
Irrelevant content
Text-heavy content
Outdated designs
Poor navigation
Website speed
A lack of mobile responsiveness
If your website hosts content that's irrelevant or text-heavy, it's likely to influence users to click off. You only have a few seconds to grab a users' attention, so it's important to allow them to quickly skim your content to find what they want. Irrelevant content may also influence irrelevant traffic to visit your website, resulting in unrelated leads. Millennial parents are looking for authentic and trustworthy content, so your website should be a balance of concise information paired with appropriate images and videos.
Each year we see new website design trends circulating around the internet. If your school website design looks outdated or slow users may think that it's not secure or "spammy". Website navigation and speed are also two things that can majorly influence the user experience and a high bounce rate. Users are seeking an easy website experience where they can flow from one page to another, to access the desired information, in a matter of seconds. Your website should load within under 3 seconds to decrease the chances of website abandonment.
If you've never viewed your bounce rate or any other website analytics, you are missing crucial data that can help shape the performance of your website. You can monitor your website performance using Google Analytics. Google Analytics allows you to create custom reports that showcase and compare where your website is performing well and where it may be experiencing some pain points for users.
5.Data collection is a challenge
Capturing prospective parent information is the key to growing your school's community and maximizing your enrollments. With the right data, you can nurture leads through every stage of your marketing funnel from awareness to enrollment. Analyzing website form data will allow you to see information about your lead such as; location, contact details, and how many children they are looking to enroll. If the current forms on your website make it difficult to collect data you may be missing this crucial information. You can design forms that convert by choosing form objectives, clear labels, and creating an easy to navigate design. Our Digistorm websites allow you to create personalized and custom forms on the form builder feature.
With a high converting form comes an abundance of data. Once you have created an effective form you can connect it to a CRM, such as DIgistorm Funnel. A connected system will allow for all information that is collected on your school website to be transferred directly into the CRM system. This will streamline the process of exporting multiple lists from your website and then manually adding the data to another system, which will save time and effort for your school team.
If these signs sound all too familiar, don't hesitate to get in touch with our friendly team. Our in-house team of designers can walk you through website best practices and ensure that your school website is helping you too maximize leads and stay competitive.
If your school's website is ready for an overhaul, take a look at our free resource: The Ultimate Guide to School Website Design.