Marketing Strategy
7 of the Best Digital Marketing Blogs for School Marketers
May 28, 2019
As a marketer in any industry, it's important to stay up-to-date with the latest technologies, best practices and trends that could potentially inform your actions. That's why we here at Digistorm love to keep on top of digital marketing blogs — they're often a font of useful information, and give you great insight into behind-the-scenes practices of high performing companies.
Of course, there are so many (so! many!) blogs out there, and finding the right ones to dedicate your precious time to reading can be tricky. We've rounded up seven of the best digital marketing blogs all school marketers should be following — we guarantee they'll really get you thinking.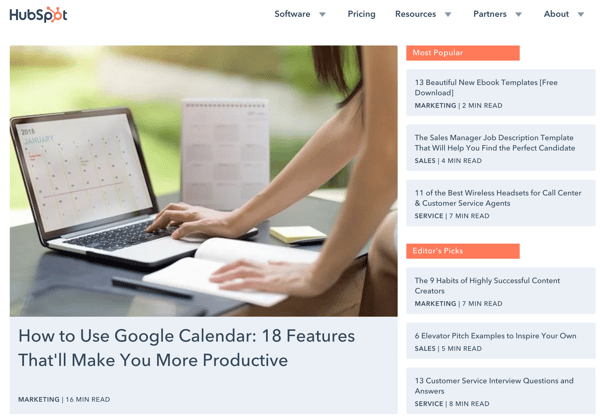 HubSpot creates software for sales and marketing professionals, so you just know their blog is killer. With satisfied customers all around the world using HubSpot for their businesses, they've gathered some great inbound marketing tactics in particular, and post about these daily.
One thing we really love reading about on the HubSpot Blog is their social media insights. They're always one of the first to report on a new trend or statistic, but they also break it down in a really helpful way that can be applied to any business. As a school marketer, you want to be avoiding any strategy that's too 'salesy', and HubSpot does this with ease in their posts. Their content is broad enough that you can apply it to a wide range of businesses, including schools, but still specific enough that their actions are easily implemented.
They also offer great resource posts on everything from learning Excel to hiring the right staff members.
Some of our favourites from HubSpot:
23 Remarkable Twitter Statistics to Be Aware of in 2019
Everything You Need to Know About Writing Meta Descriptions
The Ultimate List of Marketing Tips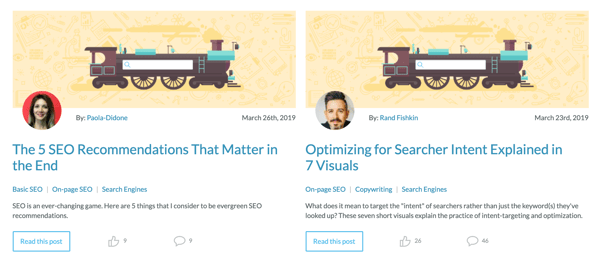 If you haven't heard of Moz, do yourself an immediate favour and go and check it out. Chances are that as a school marketer, you've probably dabbled in SEO at least a little, and Moz is the perfect resource for answering all of your resulting questions (SEO is complicated, right?).
Moz is a great resource because they offer information tailored to every level of knowledge. There's amazing content for those just getting started with SEO, but there are also incredibly detailed blogs targeted at those with years of experience. Moz covers all aspects of the SEO process, from writing great content through to optimising file names, acquiring links and way more.
They're also very up to date with the latest search engine news, and aren't shy about relaying all of the potential implications a new update could have for your site.
Wherever your school is at in the SEO 'journey', so to speak, there are Moz blog posts to guide you through it. Assuming you've got some knowledge, but are not a total guru just yet, we recommend these ones:
The One-Hour Guide to SEO, Part 1: SEO Strategy (we recommend the whole guide!)
What to Do With Your Old Blog Posts
A Beginner's Guide to Marketing Automation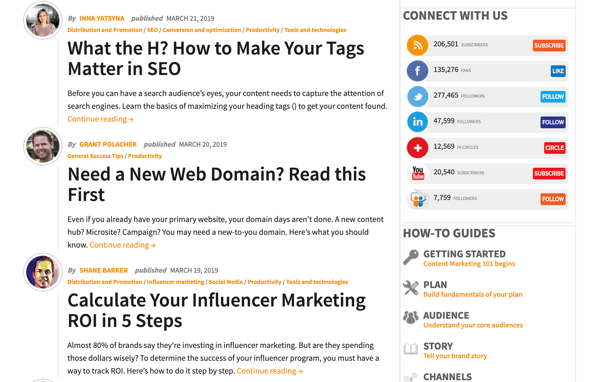 The Content Marketing Institute (CMI) is exactly as it sounds — it's a key resource for content marketers, offering consulting, training and a fantastic blog. Their posts run the gamut of inbound marketing methods, touching on everything from basic blog writing tips to SEO optimisation, branding, social media and more.
One thing that really makes the CMI a fantastic resource for school marketers is their wide range of contributors. They employ experts in each field to write their posts, rather than relying on a few people to act as Jacks and Jills of all trades. Each contributor is equally knowledgeable and maintains the same tone of voice, so their posts read seamlessly, too.
Another plus of the CMI's blog is how visually interesting each post is. Although they don't use many images throughout the body text, they incorporate links, bulleted lists, embedded Tweets, related content snippets and more to ensure readers remain engaged.
Here are our current favourite reads from the CMI:
3 Myths in Content Marketing and How to Counter Them
How to Make Your Writing More Powerful
9 Steps to Optimize Images for SEO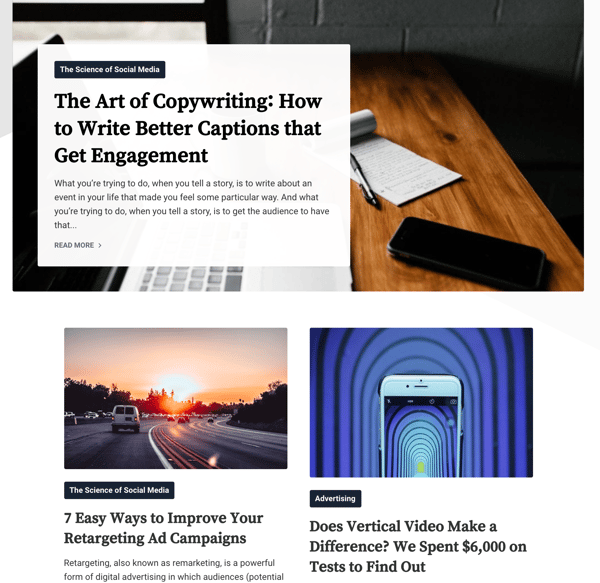 Buffer are a social media company offering products that help marketers schedule, publish and manage their posts better. As a result, they have a fantastic blog that's got volumes of valuable information, especially relating to social media.
What we love about Buffer is that everything is digestible. Almost every post on their site could be read by a marketing newbie and still make sense, which to us means that their writers really know their stuff. After all, marketing can be complicated — it's harder to break it down for other people than it is to actually execute it at times!
They also focus a lot on case studies, which helps to further contextualize their suggestions, and makes their posts interesting to read. Think of Buffer as the Buzzfeed of marketing, without the clickbait.
Check out these must-read blog posts from Buffer:
How to Discover Irresistible Content Ideas Using Reddit
How to Create Facebook and Instagram Stories Ads That Get You Results
37 Free Social Media and Marketing Courses to Elevate Your Skills Today (actually part of their 'Marketing Library' pillar post collection, but definitely worth the extra time spent reading!)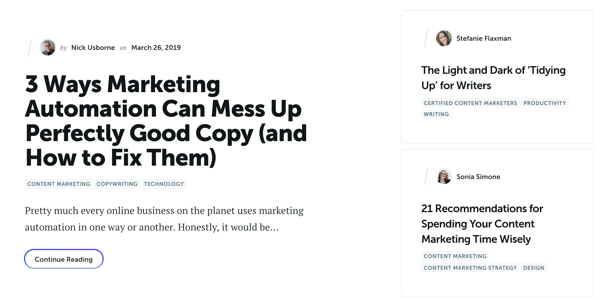 One thing every school marketer should know how to do is write. In the school environment, there are rarely multiple people working within a marketing department — often it consists of just a manager and an assistant sharing the brunt of the workload. Does this sound like your school?
If so, we recommend checking out Copyblogger to beef up your writing skills. After all, copywriting makes up quite a large chunk of what you'll do on a weekly basis. Between writing blog posts, website copy, social media captions and emails, you'll be hard pressed to escape the world of word processing.
Copyblogger is relevant to every content marketer (yep, that's you!) as it's full of both ideas and tips for writing better posts. They offer easy-to-implement hints that are bound to improve your writing skills, even if you're already a pro! They also post a lot about the psychology of readers and the importance of understanding your target market. The advice contained within this kind of post is usually based on an eCommerce setting, but can easily be applied to the school marketing context for amazing results!
Here are a few of Copyblogger's best:
5 Things Successful Content Marketers Do to Make Sure Their Work Gets Read
Why You Should Think Twice About Writing How-To Posts
5 Practical Tips on the Craft of Copywriting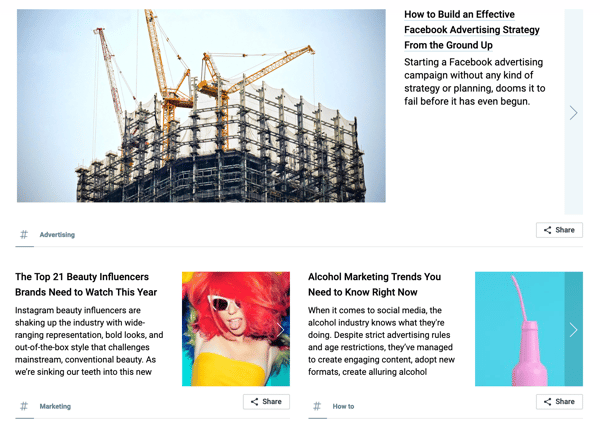 SocialBakers are an AI-powered social media company offering a competitive social media marketing software to companies like McDonalds, Toyota and Desigual. Their blog is packed full of social media-focused posts that cover everything from influencer marketing and the best Instagram accounts to paid advertising, competitor analysis and community management.
If you want to get a handle on your school's social media this year, SocialBakers should definitely be on your follow list. All of the topics they cover are relevant to making social media work better for your company, whether that's through polishing up your online brand, balancing organic and paid channels or learning how to do social advertising well. It's easy to feel like you're just muddling your way through social media, but with SocialBakers by your side, you'll be able to harness new techniques and strategies more than ever before.
These are a few of SocialBakers' greatest hits:
12 Most Common Social Media Marketing Mistakes and How to Avoid Them
How to Build an Effective Facebook Advertising Strategy from the Ground Up
7 Ways Your Social Media Strategy Might Hurt Your SEO

Okay, okay — we know repping our own blog is kind of like cheating, but we wouldn't include it if it weren't a great resource for school marketers. It's one of the only blogs of its kind that truly covers how various marketing tactics and strategies can be applied to the school context.
If you're pressed for time on the day-to-day, the Digistorm blog can act as a really handy resource. We analyse relevant marketing stats, trends and common problems and look at them from a school marketer's perspective. We try our best to keep things fun and interesting, and to speak to every level of knowledge to ensure your whole team can stay across these important insights. Plus, we drill down on the enrollment process and take you through each step from a marketing and customer journey perspectives.
Not to brag, but we're pretty proud of these ones:
What is a USP, and Why is it Important to Your School?
5 Questions About Your School Enrollment Process — Do You Pass?
We also put together some pretty impressive resources — you can download our ultimate guide to inbound marketing which covers off on the best marketing tactics (including blogging).


Are there any digital marketing blogs we missed off our list? Let us know over on Facebook or Twitter!