Social Media
A School Marketer's Guide to Facebook Custom Audiences
August 26, 2019
"Yeah, we've tried Facebook advertising, but doesn't work." If you're a marketer, chances are, you've probably heard someone say this once or twice before…And as a marketer, you know this couldn't be further from the truth. Facebook Ads do work and can be a great way to market your school and drive new enquiries or enrollments. So, why is it then that Facebook Ads (and social media advertising in general) often tend to get a bad rap?
Well the thing is, you can't just create an ad, sit back, and expect the conversions to come rolling in (no matter how much we wish that's how it worked). In our experience, people who aren't seeing ROI on their ads are typically missing one crucial step in the process – creating Custom Audiences. So, grab yourself a cup of tea and prepare to settle in because in this post, we're going to cover everything you need to know in order to become a Custom Audiences expert and unlock the full potential of Facebook Ads.
What's a custom audience anyway?
I'm going to drop a number on you now – 2.41 Billion. That's how many monthly active users there are on Facebook right now.
With more monthly users than the world's largest religion, it's clear why Facebook continues to be such a powerful advertising tool for schools and brands alike. Though, unsurprisingly, the sheer mass of Facebook users also provides quite the challenge when it comes to delivering your message to the right people: enter Custom Audiences.
The beauty of Custom Audiences is that they allow you to identify and leverage people who already know about your school. Let's take a look now at some of the sources you can use to create Custom Audiences.
Website Custom Audience
Custom Audiences created with data from your website matches people who have visited your website with their Facebook profiles through a magical thing called the Facebook Pixel. Essentially, this means that you're able to retarget website visitors with a specific ad, tailored specifically to them.
Put it into action: drive new enrollments by creating a Facebook Ad Campaign that targets prospective parents who have visited the enrollment page on your school website, but didn't follow through to complete a conversion.
App Custom Audience
Custom Audiences, based on your school App, works similarly to the Website Custom Audience. Data is collected about your App users and then matches the data with their Facebook profiles. Instead of using a pixel, however, you'll need to use Facebook's SDK to allow data to pass from your school App to Facebook Ads.
Put it into action: promote your school's next big event by running a Facebook Ad campaign that works to target parents who have already downloaded and engage with your school App.
Customer File Custom Audience
This Custom Audience is as straight-forward as it sounds. All you need to do is upload your own customer list (in .txt or .csv format) which will then match your contacts to their Facebook profiles. Of course when it comes to data, it's essential that you're following best practice by only including people who have consented to providing their data for marketing purposes.
Facebook Engagement Custom Audience
Finally, creating Custom Audiences based on your Facebook Page engagement works by grouping everyone that's engaged with your content across Facebook's entire suite of Apps and services. What counts as engagement you ask? Well this includes everything from viewing video content, liking, reacting or commenting on posts to showing interest in your Facebook events.
Is creating Custom Audiences really worth the effort?
Let me answer this question with another question: how many times do you think the average person checks Facebook each day? Spoiler, it's A LOT!
If you're anything like me, Apple's weekly screen time reports have been a rather rude awakening to the amount of time I spend on my smartphone. It's clear that as a society, we're spending an obscene amount of time on our phones, but what exactly are we doing on there?
Well, according to a recent report on smartphone usage we are checking Facebook around 13.8 times a day, on average, and spend approximately 20 minutes browsing the platform.
So, if you're wondering whether Facebook still has our attention, it's safe to say that it does.
How to create a custom audience
Start by heading over to your school's Facebook Ads Manager, click on 'Audiences' and select 'Custom Audience'. This will generate a pop up box like the example below, that'll allow you to choose which type of Custom Audience you'd like to create.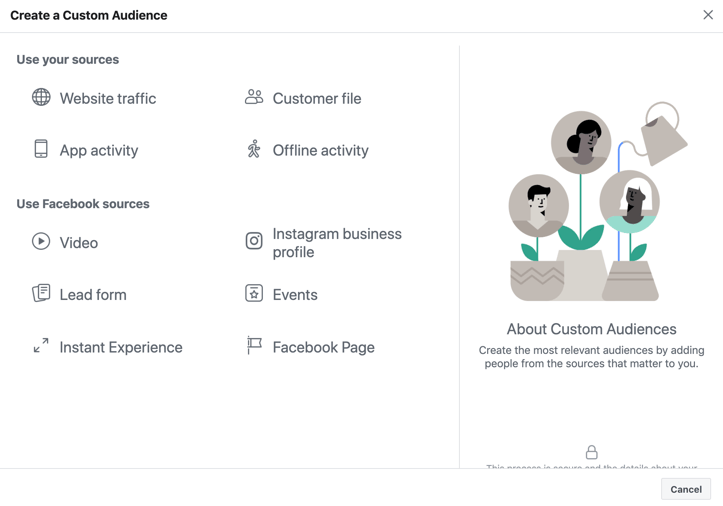 Learn how to manage all aspects of your School's Facebook account with our
Choose to build a Custom Audience from your own data source (website, school App or customer list), or from Facebook's range of engagement sources (video, lead form, events page). For this guide, we'll show you how to set up a Custom Audience based on the engagement received through your school's Facebook Page.
Next, you can set criteria around who you want to capture in your Custom Audience. For example, I've selected to target anyone who has visited Digistorm's Facebook Page or clicked on one of our call-to-action buttons in the last 90 days.
Now that I'm happy with my criteria and have given my new Custom Audience a name, I'll go ahead and click 'Create Audience.' From here, I can get started on my Facebook Ad campaign using this new Custom Audience, or I can find new people to target, who are similar to my newly created Custom Audience by creating a Lookalike Audience.
What's a Lookalike Audience?
You've probably already guessed based on the name, but a Lookalike Audience looks for people who 'look like' those who make up your current audience. Lookalike Audiences are a great way to expand your reach and target people who are most likely to be interested in learning more about your school.
Starting with the Source Audience, (the Custom Audience we created just a moment ago) you can start building your Lookalike Audience by selecting the country or region you would like to target and the audience size.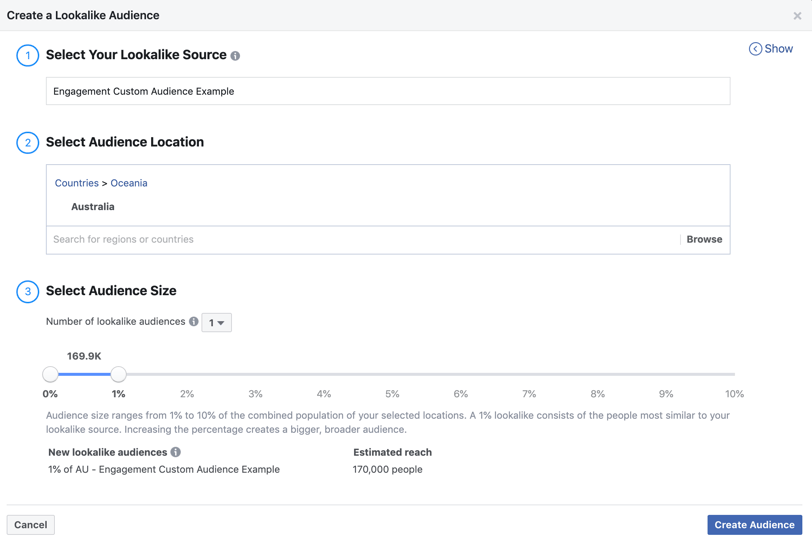 Handy tip: when selecting your audience size, bigger isn't always better. Sure, a larger audience increases your potential reach, but it also reduces the level of similarity between the lookalike and source audience. For best results, Facebook recommends aiming for an audience size of around 1,000 to 50,000 people.
Some final thoughts
So there you have it, proof that Facebook Advertising can be a powerful tool in your school's digital marketing toolkit. Of course, it's important to remember that in order to see results, your must be deliberate and targeted in your approach. For your next Facebook Ad campaign, create your own Custom Audience using this guide to ensure that you're delivering your message to the right people.