Products
Admissions Management: Enquiry Tracker vs. Digistorm Funnel
November 19, 2020
At Digistorm, we are often asked to explain the difference between our products and other companies who offer a similar service. Choosing an enrollments solution for your admissions team is a big decision, so we've put together a comparison to help you make your evaluation process easier.
In this comparison post, we look at another admissions management tool, Enquiry Tracker. We compare Enquiry Tracker with Digistorm Funnel across six key areas. You can use these links to navigate to the areas most relevant to you:
Want to see Digistorm Funnel for yourself?
Company overviews
Enquiry Tracker was founded and is currently run by two education specialists with a combined 37 years experience working in Australian schools. The company is currently based in Melbourne, Australia. Enquiry Tracker launched their flagship product at the Educate Plus International Conference in 2018, and currently service 110 schools across Australia, New Zealand and the United States. Currently, Enquiry Tracker focuses their efforts on their enrollments tracking product.
Digistorm was founded in 2011 by a small team of developers and designers, working out of a tiny office in Burleigh Heads. Today, Digistorm has a team of over 50 in-house developers, designers, support staff, marketers, sales staff and project managers operating from one of our two offices in Australia and the USA. Digistorm specializes in the education industry, taking on learnings and feedback gained by building websites, apps and enrollment management systems for over 550 schools internationally.
Feature comparison: lead capture
As indicated by their name, a big function of Enquiry Tracker's product is to capture prospective parent leads and then 'track' them through the school's admissions pipeline with the aim to convert the lead into an enrollment. Enquiry Tracker's product features a webform that is placed on a school's website where they can either request an enrollment, request a prospectus or book a tour.
Here is an example of an Enquiry Tracker lead capture form from Blackfriars Priory School. There is some customization available for the form fields, however Enquiry Tracker does not offer customization to the look and feel of the form (including colors, fonts or school branding), or the option to remove the Enquiry Tracker logo from the bottom of the form. These forms are easy to install on your school website with no coding knowledge, and also resize across multiple devices.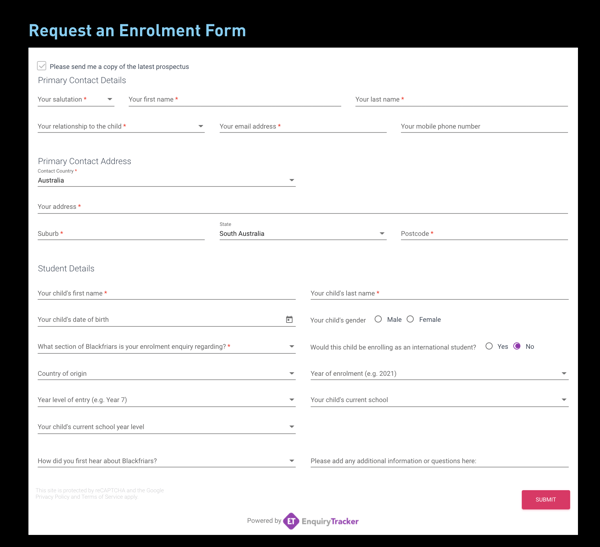 Source: Blackfriars Priory School website
Similarly, Digistorm Funnel also offers a number of lead capture forms, including contact forms, book a tour forms, request a prospectus forms and more. The information captured on these forms is then fed directly into Funnel's CRM functionality, allowing you to perform lead nurturing activities to encourage the lead towards enrollment.
These forms can be customized for the school's unique requirements, including the form fields needed, as well as a look and feel that matches the school branding. Funnel lead capture fields do not feature any Digistorm branding. Because of the custom design work and the responsive nature of the forms (they resize across any device), these forms are added to a school's website by a Digistorm developer, overseen by a Digistorm designer. Here's an example from Trinity College's book a tour page on their website:

Source: Trinity College website
Feature comparison: event management
Enquiry Tracker offers functionality to manage school tours, personal tours and open days by offering online registration forms that feed directly into an events management tab within their system. You can then check in attendees using their tablet-based functionality to get accurate attendance numbers on the day.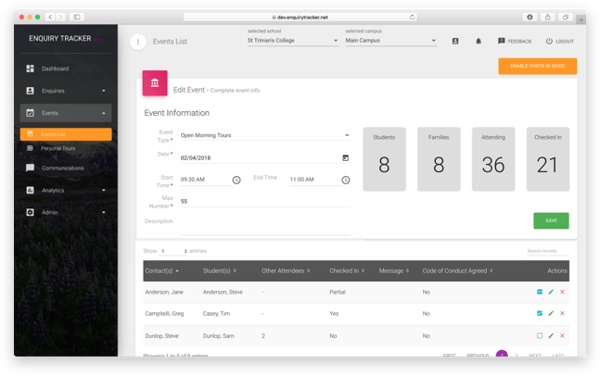 Source: Enquiry Tracker website
Digistorm also offers an events module through Funnel. Registration is managed through a custom-built event form that you can add to your website whenever you have a new upcoming tour, open day or information session. You can turn the event on and off, or you can limit the number of attendees so that when your event reaches that number, the registration will be automatically taken down.
You can use Funnel's lead nurturing capabilities to send reminder emails leading up to the day and also check in attendees using the Funnel Attendance App (available on iOS or Android). The App not only allows for basic check-in information, but you can also see important lead detail information (such as year level and level of entry) for each lead. You can also add notes about the lead directly from the app that feed into the Funnel pipeline to be accessed in the future.
Feature comparison: lead analytics
Enquiry Tracker offers important visibility to monitor your leads' progress. Their analytics functionality is somewhat limited, but includes data such as demographics information, geographic data, event performance and feeder school information.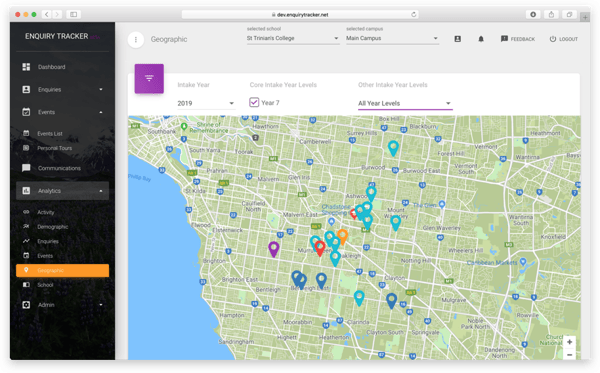 Source: Enquiry Tracker website
Digistorm Funnel has a comprehensive dashboard feature that is customizable so that you can see data that is applicable to your job role. These dashboards contain all of the information that you need, at a glance, to see how your Funnel leads are progressing through your pipeline.
These reports break down your most important data into visual snapshots of your lead activity, including: demographics information, geographic information (to see an overview of where your leads live), stage analysis (trends and conversion rates at each step of your processes) and closed lost reports (to help you understand where and why leads are being lost).
Feature comparison: enrollment forms
Currently, Enquiry Tracker does not offer enrollment form functionality, however they have indicated that this feature is in development and will be available to customers in the future.
Digistorm offers full enrollment form functionality that feeds all information directly into their CRM system. This form functionality makes it simple for parents to complete, edit and process their child's enrollment application without the need for printing, scanning and uploading a PDF. The beauty of Digistorm's online enrollment forms is that they are built completely custom to your school's brand and enrollments process. This means, all of the information that you need to process an enrollment (including documents, data and even fees!) can be collected directly from the form. All your enrollments team needs to do is process it!
Here's an example of a Digistorm enrollments form for Genazzano FCJ College: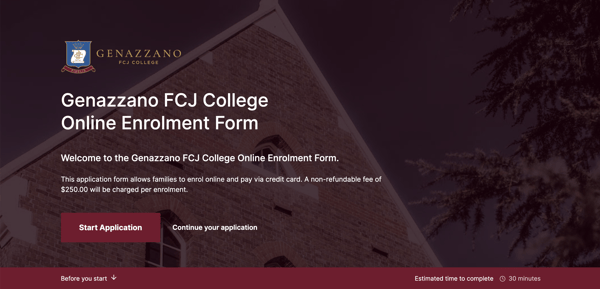 Source: Genezzana FCJ College
Pricing comparison
Both Digistorm and Enquiry Tracker offer bespoke pricing options based on the school's enrollment numbers. Enquiry Tracker offers a once-off setup fee (with a reduced rate for additional campuses) and then an ongoing monthly fee for the lifetime of the product. They charge a data upload fee to get started with your product, and also charge additional cost to access their communications module.
Digistorm charges a once-off setup fee and then an ongoing, annual fee for the lifetime of the product. A once-off data upload to kickstart your Funnel journey is complimentary.
Other features and functionality comparison
| | | |
| --- | --- | --- |
| Feature | Digistorm | Enquiry Tracker |
| Lead scoring | ✔ | ✔ |
| Enrollment forecasting | ✔ | ✔ |
| Branded email communications | ✔ | ✘ |
| Enrollments pipeline overview | ✔ | ✔ |
| Task-setting/reminder functionality | ✔ | ✘ |
| Communications module | ✔ | ✔* |
| Custom enrollments stages | ✔ | ✘ |
| Lead analytics | ✔ | ✘ |
| Reporting dashboard | ✔ | ✘ |
| Events management | ✔ | ✔ |
*Additional cost for feature
What Digistorm can offer
When you're comparing admissions management software, it's important that you find the best fit for your school. Digistorm is proud to be offer the leading school admissions software for K-12 schools in Australia and the United States. When you choose to purchase Digistorm Funnel, you'll not only be working with a world-class development team to tailor Funnel to your pipeline, but you'll also be supported by our large in-house support team to make sure your experience runs as smoothly as possible.
Our team are constantly working to improve our Funnel offering, by implementing new features and updates based on feedback we've gathered from hundreds of schools just like yours. We're proud to say that over the next few months, you'll notice a whole suite of new Funnel updates, including one of our most exciting releases to date: automations.
Automations are a tool that enrollment and marketing teams can leverage to streamline a number of their daily tasks. They are an incredibly powerful feature that (just like the name suggests) automate repetitive processes, while maintaining a highly personalized experience for prospective families. Keep an eye out for automations — they'll be here before you know it!
If you're looking to see what Funnel can do for your school, why not book a demo with one of our friendly and knowledgable team members? We can walk you through all the features and functionality your school can take advantage of to increase your enrollment numbers in 2021. Contact Digistorm to book your Funnel demo today!
Still hungry for more? Why not check out how Concordia Lutheran College doubled their online enrollments using Digistorm Funnel: