Marketing Strategy
Digistorm Design: The Anatomy of a Perfect Homepage
October 8, 2020
When it comes to creating the perfect website homepage, there's no secret recipe or one-size-fits-all approach. No two schools are the same, so why should your website be? The goal of any homepage is to provide visitors with a snapshot of all the exciting features your school has to offer while encouraging them to dive deeper and explore your website. At Digistorm, our team of talented designers have years of experience creating custom websites for schools across Australia and the world. In this post, we share their top tips for creating the perfect homepage for your school.
Define your purpose
Before getting stuck into the design, our team recommends taking a step back to lay some important groundwork first. If you've done your research, you might have noticed that all great websites have two things in common: they speak directly to their target audience and they have a clear call to action to guide visitors. Start by defining who the target audience is for your school website. We know that for many schools, their website is their single most important marketing tool for attracting and engaging prospective families. On the other hand, many schools also use their website to nurture and community with their existing community.
Once you've defined your target audience, consider what actions you'd like them to take once they land on your homepage. Are you looking to increase enrollment applications, boost school tour inquiries, or highlight information about upcoming events at your school? These questions will help to guide and inform the structure of your homepage. Finally, consider what makes your school rise above the rest. Every school has a unique selling proposition (USP) – a tangible or intangible quality that sets it apart from competitors. Make a note of your school's key USPs and how they might be communicated on your homepage.
Structure your content
When a prospective parent lands on your homepage, it's only a matter of seconds before they make a judgment call on whether to stay or exit your website. In fact, research shows that it takes less than 0.05 seconds for consumers to form a first impression of a website – now that's quick!
The first thing a visitor sees when they land on your homepage is what we call 'above the fold' content.' This includes everything you see before scrolling down on the webpage (and what your visitors will judge your website on). We like to think of this content as your school's elevator pitch and your first chance at making a stellar impression. This is also where the visual elements and aesthetics of your website will play an important role. Studies show that 94% of first impressions are directly linked to design elements such as visual complexity and familiarity.
St Patrick's College
Our design team created a winning combination of simplicity and familiarity for the St Patrick's College homepage through a series of clever design elements. Clear calls to action and a minimalistic navigation menu help guide prospective families to find relevant information, while brand colors, student imagery, and logos foster a sense of familiarity.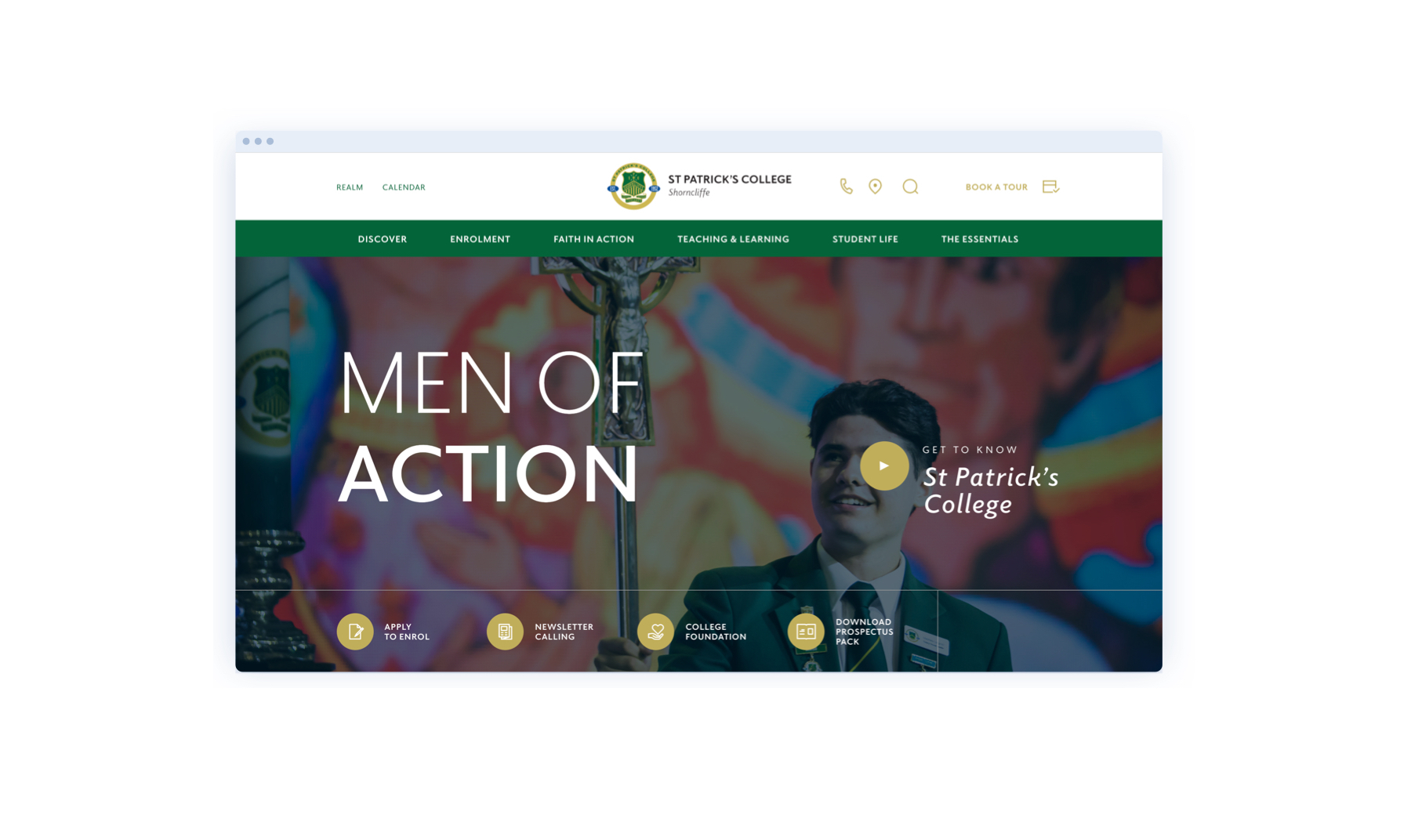 Did you know that website visitors spend 74% of their time on the first two screen-fulls only? Some might make it to the bottom of your homepage, but these two areas are where you have the best chance of capturing the attention of your audience, so it's important to focus your content efforts here. The rest of the content on your homepage should follow the inverted pyramid method, ensuring that relevant information is always at the top. For example, if the target audience for your school website is prospective families, all content related to existing families at your school (think social events or news) is best placed toward the bottom of your homepage.
What's the right amount of content?
If you ask us, there is no 'right amount' of content – this tends to vary from website to website. The length of your homepage will depend on what content you choose to include and the types of content your school does best! For example, your school might be known for uploading frequent social media posts, inspiring testimonials, or immersive campus videos. The only rule we have here is that you should only include the highlights – try not to overload your homepage with too much information.
St Peters Lutheran College
St Peters Lutheran College is a key example of how a short homepage can be extremely effective. The website uses a simplified navigation menu with easy access to quick links. We created a rotating hero image banner to showcase the College's environment and facilities, while creating a sense of familiarity through branding elements like; student uniforms, brand colors, logos, and typefaces.
We also included a brief explanation about St Peter's values and ethos on the second screen-full, highlighting the College's key point of difference. When landing on this homepage, visitors are immediately persuaded to explore the Indooroopilly or Springfield campus, further simplifying the user journey and removing irrelevant information, thereby boosting visitor satisfaction.
Woodleigh School
Our friends at Woodleigh School, on the other hand, opted for a longer website homepage, proving to be equally as effective. Simple top navigation allows the school's video to make an impact. As visitors scroll through the page, the content maintains a consistent flow that's easy to follow and provides an understanding of Woodleigh's best features. Content blocks enable visitors to easily scroll through the website and navigate to the content of interest without feeling overwhelmed by all the information provided.
To wrap up
'The perfect homepage' looks different for every school, however, there are some key elements to consider to ensure that your school's best features are elevated. Take the time to define your target audience, determine what you would like to communicate to them, and what defining qualities sets your school apart from competitors. Putting the work in to establish these key objectives will provide you with the right structure and guidance to build your perfect homepage.
Digistorm has years of experience designing world-class websites for hundreds of schools throughout Australia, the USA, New Zealand, the UK, and Asia. If you'd like to learn more about starting a website project with Digistorm, get in touch with our friendly sales team today!
Otherwise, feel free to keep exploring our school website design resources: