Events
Best Practice for Virtual School Tours
October 2, 2020
In the majority of the states across the United States, hosting in-person events has ceased due to the social distancing restrictions with COVID-19. For the education industry, most schools are continuing the state-mandated school closures, which also means no open days or school campus tours. In light of the pandemic, we've seen a bunch of schools getting creative and introducing virtual tours into their enrollment process! In this post, we will be looking at some best practice tips for schools wanting to run virtual tours to continue to engage their prospective families during this unprecedented time.
So, how can you portray your community spirit, school grounds, and classroom tools and technologies over a screen? We get it, it's not easy, but it's definitely achievable as there are several options for schools to create an interactive tour experience, all virtually. Some popular styles that we have seen schools use are school culture videos, Zoom meetings, and 360° virtual tours. All of these options are attainable and can be combined to create an engaging user experience. In this post, we will be looking at the St Mary's Academy virtual tour experience as an example.
Create a promotional video tour
School promotional videos are a great way to showcase your school culture, whilst showing off your school grounds at the same time. Engaging video content isn't all about high-quality equipment and special effects, but it's heavily dependent on your video strategy. Your strategy for a virtual tour should have a purpose, an audience, and a goal. This way you know who you are making the video for and what you want to achieve from the video tour. An example of SMART goals for a promotional video could be:
To increase website traffic by 10% by the end of the school year
To gain 15 new YouTube subscribers each month
To increase lead generation from social media posts by 15% by the end of the year
All three of these goals focus on improving brand awareness and lead generation. To realistically achieve these goals, the video strategy would have to be focused around creating short, inspirational, and interview-based videos to appeal to a prospective audience. This means creating a video strategy that focuses on capturing your school's unique selling points (USP) to engage this audience. Below is a video example from St Mary's Academy, that includes inspiring music, footage from school grounds, students interacting, extracurricular activities, and student ambassador interviews.
To create an engaging tour video you will need to:
Find a time where you can invite select students and staff to film on the school grounds
Ensure that you are following all COVID safe social distancing procedures
Organize a filming crew or someone from your school staff to film on the day
Have a video strategy plan that includes filming locations and specific shots that you want to film
Include footage that provides an audience point of view, so it feels as though they're experiencing the campus through their own eyes
Search through video footage from previous in-person events, to see if you can include any appropriate footage into the video
Finalize the edit for your video and upload it to YouTube or Vimeo, so that it can be viewed and shared with prospective families
Showcase your school with a 360° tour
A virtual 360 tour is exactly what it sounds like! It's a 360° walk-through that you can access in the comfort of your own home. These virtual tours are often filmed using a camera with a fisheye or wide-angle lens. It's recommended to shoot several overlapping photos that can then be stitched together using panorama software. This all sounds a bit confusing, right? Well, lucky there is another option! Many businesses or schools use third party filming companies to help them out! There are companies such as Matterport, Virtual Media 360, and Virtual Tour Group that will take care of this for your school. These companies come to your school, take scans, edit them, and send the final version usually within a week or two. This virtual tour can then be uploaded directly onto your school website using a URL link.
The St Mary's Academy hosts a link to their 360 virtual tours on their school website. When prospective parents click the link they can access a 360° view of 9 different areas in the school including the front entrance, auditorium, gym, and classrooms. This is an effective way to show a detailed view of your school grounds. It's also handy that parents can click through at their own pace and aren't rushed through with a guide or a set video time.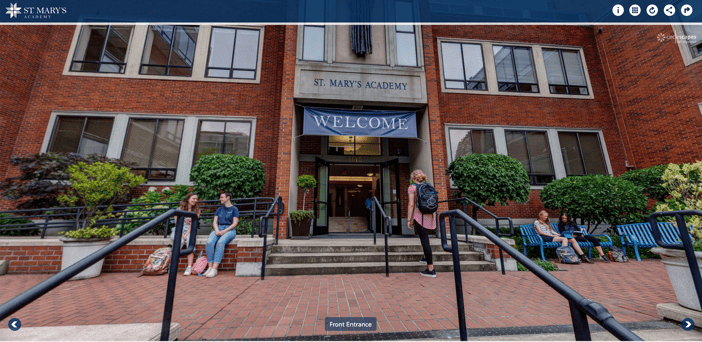 Source: St Mary's Academy
Lastly, we also recommend including a zoom meeting with prospective parents and students in your virtual tour process. Tying in a "live'' aspect to the experience will allow parents to ask any questions that may have arisen in the 360 tours and promotional video viewing process. St Mary's Academy has done this by creating a Virtual Visit Program. This program allows for current 7th and 8th graders to participate in a zoom session where they can access:
Speeches and Q & A's session with teachers and staff members
Participate in a variety of different activities
Ask questions and chat with current student ambassadors
Learn about the school's enrollment process
We understand that continuously hosting, managing, and communicating several zoom meetings over a few months can be difficult! To help your school manage and promote these virtual events, you can use a CRM, such as Digistorm Funnel, to send email communications, manage event registrations, and follow up with attendees. Another great feature is that you can add notes to your registered leads in the event modules within Funnel. For example, if you spark up an important conversation with a lead during the Zoom meeting, you can leave a note about the conversation for your admissions team to view and follow up on if necessary.
Creating a killer combo
If you combine these three techniques, you'll be able to create a killer virtual campus tour experience! After a prospective parent has watched the promotional video, completed the 360° tour, and attended a Zoom meeting you can follow up with them on Digistorm Funnel to ensure that the relationship is sustained. This will provide you with the opportunity to create and nurture relationships with prospective families and students during school closures. If your lead turns into a customer after your virtual event, you can easily transition this student along the lead timeline in Funnel for easy visibility and management across your team.
If you would like more information on how Digistorm Funnel can help you to manage and deliver your events, reach out to our friendly team today!