Social Media
Boosting Facebook Posts: A Walkthrough
July 23, 2020
A note from Digistorm: This post was originally published in December 2017. We've updated it to include more valuable, relevant content and more recent statistics.
Is your school posting regular organic Facebook posts but you aren't seeing the results in your analytics? While Facebook can be an effective way for schools to connect with the wider school community and prospective parents, you may notice that only a small percentage of your total business page audience actually sees your organic Facebook posts. This is due to Facebook's recent change in algorithms where they are focusing on building a stronger connection between users by prioritizing posts with higher interactions, such as likes and comments. This means that business posts that may receive little engagement are more likely to be "hidden". One way to increase the reach of your school posts is to 'boost' them! Keep reading for a simple walk through on how to boost your Facebook posts.
What does it mean to 'Boost' a Facebook post?
Boosting a Facebook post is a form of paid promotion that's exactly what it sounds like! It's the action of paying for your pre-existing organic post to be 'boosted' and placed directly in front of a wider Facebook audience. You can set up your boosted posts to target by location, demographics, and interests.
Generally, the more relevant the post is to its audience, the better it performs. You can choose to boost your posts to users that already like your Facebook page or beyond those users to new or mutual audiences. Worried about Facebook overspending on boosted promotions? Don't stress! You can always set a daily budget, so that Facebook will never spend more than this amount. In fact, you may even find that on some days you don't even come close to reaching your maximum daily budget. This is because Facebook picks and chooses the audiences and the amount it spends by using algorithms to select optimal times and audiences for your budget. This means that Facebook may spend more then the daily budget on a day with increased opportunities and then less then the daily budget on a day with low opportunity to even it out. You can rest assured that Facebook will not overspend and rather will average out the daily spend over a calendar week.
Before you start boosting your posts
There are a couple of points to remember before you start boosting your posts. The first is that Facebook will limit the performance of a boosted post that contains an image with a large amount of text on it. Facebook's ad guidelines recommend posting images with little or no text for boosted posts and ads. They also suggest choosing an eye-catching and high-quality image that will intrigue users and nudge them to click on your ad.
Some of your organic posts may require more text than others, so pick and choose which posts are best to boost. Remember, you don't need to boost every single post – the best way to choose is by jumping into your 'Insights' tab on the Facebook business page and under 'Posts' you can see which posts are getting the largest reach and the highest engagement rate.
You'll also need to consider that the reach of a boosted post is not fixed and will constantly vary due to factors such as; ad competition for that audience, and time of day the ad is posted. What this means is that a $10 boost one week might reach 2,000 people, but a $10 boost in another week might reach only 1,000 people.
Factors such as the effectiveness and engagement of your post can also affect its reach. As there are a few factors that affect post boosting you need to set a clear goal from the start whether that is to target new users to increase brand awareness, increase conversions on your website or improve engagement on your Facebook business page.
What's the difference between a boosted post and a Facebook ad?
Boosted posts are a form of Facebook advertising, however, it's a simpler option than other ad formats offered by Facebook Ads Managers such as link click ads, photo ads, or video ads. These other ad formats require extensive effort with detailed targeting, scheduling, and creative options and at times can be entirely targeted to specific audiences, without even showing on a Facebook timeline. Whereas boosted posts take a decreased amount of time and effort in the sense that they are an existing, scheduled or live post that gets pushed through more news feeds.
How to Boost a post.
Boosting a post is easy and shouldn't take more than a few minutes. Let's walk through the process now.
While logged in to your business page, navigate to the post you'd like to Boost and click the 'Boost Post' button which can be found under the image.


Source: Digistorm Facebook
2. Once you have clicked the 'Boost Post' button, this pop-up window will appear. This is where you will enter your targeting, time, and budget information.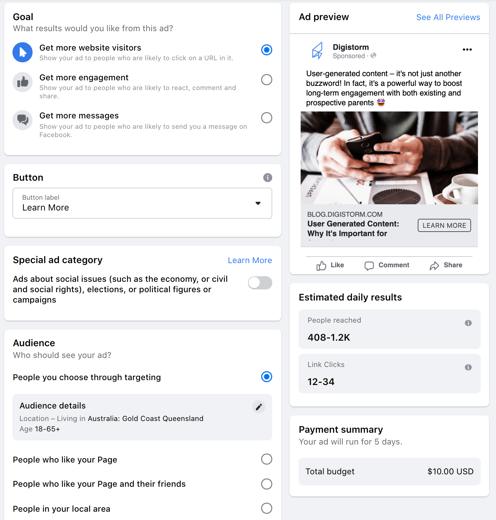 3. If your post contains a link preview, your first option will be to select a goal for your post. You can choose from the options of 'website visitors,' 'engagement', or 'messages'. If you are attempting to direct more traffic to your school website or enrollment page the website visitors option would be the most appropriate goal, whereas if you are looking to increase brand awareness and to interact with your school community on Facebook choose engagement.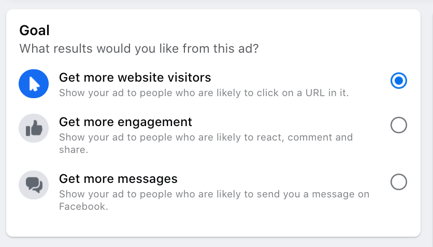 4. If your post contains a link preview and your objective is website visits, you will have a range of buttons to choose from including 'Learn More,' "Send Message,' or 'Sign Up.'
5. Now let's take a look at your audience. For any boosted post, you can either select a saved audience that you have previously created, or you can select and save a new audience by clicking 'Create New'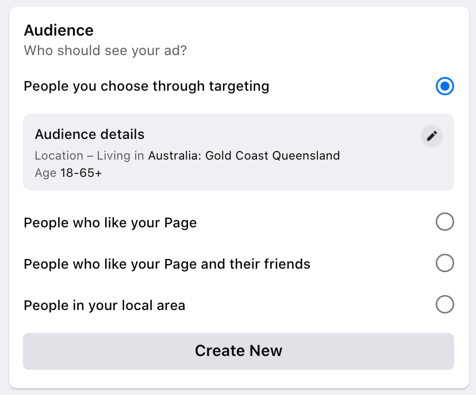 6. For the purpose of this post, we'll select 'Create New'. Clicking this will allow you to select the name, gender, age, location and detailed targeting of your audience.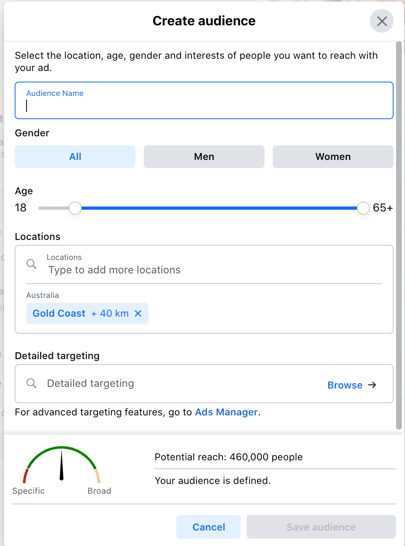 7. Facebook collects data on its users which is helpful when choosing options in the 'Detailed Targeting' section. You can refine the group of people that your ad is shown by selecting options from demographics, interests, and behavior details to access areas such as fields of study and job titles. Once you're happy with your audience selection, you can preview your potential reach down the bottom and click 'Save Audience'.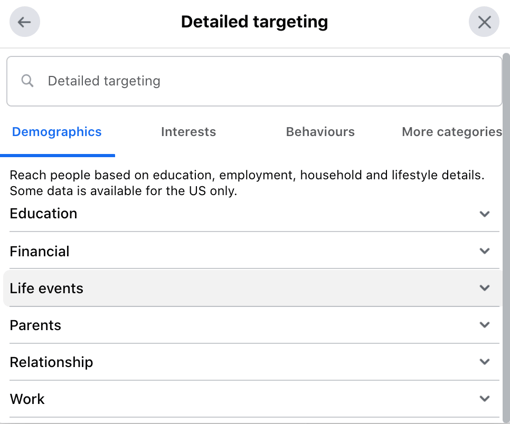 8. You can then decide on your total budget and duration for the post-boost. Facebook provides you with a recommended range for your budget to help guide you with your spending. You can also select the number of days for the duration or set an end date for a custom duration. After you have selected your budget and duration you will then receive another indication of the estimated amount of people you'll reach, the number of clicks you will receive, and an overall payment summary. If you have installed a Facebook pixel for tracking activity from Facebook on your website, you can turn this on. You can also choose the placement of your ad to be placed on just Facebook or Messenger and Instagram as well.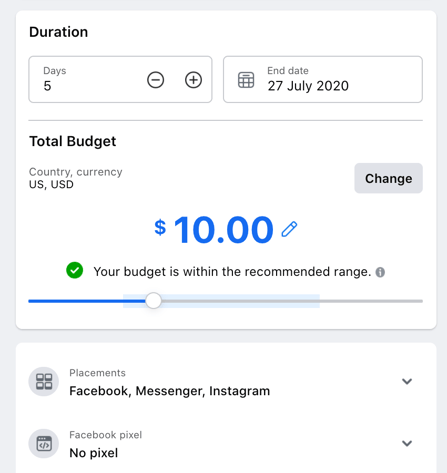 9. The final step before boosting your post is to add a payment method and to click 'Boost Post Now' once complete.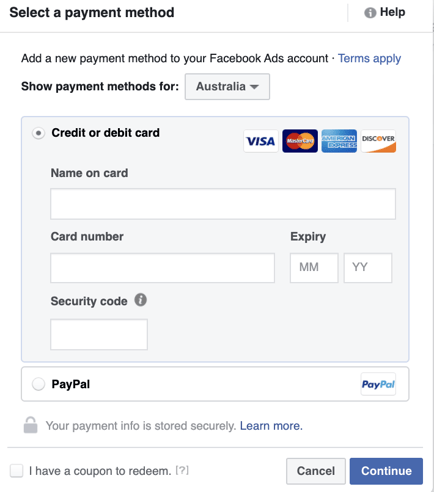 Once you've clicked the button, your boosted post will go into Facebook's review process. This is where Facebook will check through your post to approve the copy, image and targeting. From here your ad should be approved and start running within anywhere from an hour up to 24 hours.
Keep an eye on your results
Make sure you view your results so that you know which Boosted posts perform well. To access your results, click 'Insights' on your Facebook business page and then 'Ad Centre' to view the performance of your boosted posts. Alternatively, you can access all of your published posts, both paid and organic, under 'Insights' and 'Posts'. Here you can compare how your paid boosted posts are performing against your organic posts in terms of reach and engagement.
If you are interested in learning more about how your school can leverage social media, check out some of our other resources on the Digistorm blog: