Company
Digi People: Meet Chris Love, Our Software and Implementation Developer
December 2, 2019
Every month we sit down with a team member at Digistorm to talk about their life, their career before Digistorm and what their experience has been since working here. Chris has been working at Digistorm for three years, first in a tech support role and now working alongside Gus as a part of the Digistorm development team. In this interview, we chat about his career progression in Digistorm, a Hackathon highlight, and why a shoe visionary is his biggest inspiration right now.

Tell us about yourself.
My name is Chris Love, and I'm a developer here at Digistorm. I spend a lot of my time obviously developing things, sometimes I help the other guys out in support, implementations, things like that.
In my spare time, I'd say it's a mix of hanging with friends, going to live shows, gigs, skating around the place, taking photos, designing shirts.
What was your journey to joining Digistorm?
It was a bit of a long one actually. Before Digistorm, I was studying, and also just working at Dick Smith. I'd done a bit of development work, but nothing professionally. When I was working at Dick Smith (and I was at uni), it was closing down, so I thought I'd better get a job. I was just sort of searching through Seek and I saw the ad, and I thought, that seems like a pretty good place to work. So I applied, and the rest is history!
Tell us about your career progression with Digistorm.
So when I first started with Digistorm, it was sort of a mix, doing support and a bit of implementation stuff and a little bit of development in amongst that. As the years have gone by I've sort moved from less and less support to more development and quite recently I've gone full-time developer — working on websites, working on the app, working on our CMS.
What's your favorite part about working at Digistorm?
It's honestly all really good. I have no one thing I like. The people are great, I enjoy the work, the office is amazing, we work in a good spot. Yeah, the whole thing is good, top to bottom.
Can you share one of your Digistorm career highlights?
Probably most recently Hackstrom. We had a three-day Hackathon where a bunch of different teams joined in to basically hack something together, whether it was a new product or an update on an existing one. I personally built a new interface for generating dashboards for our app.
Hackstrom was good fun, hanging out with the team for a few days, hacking away! There's a nice competitive vibe to it. I'd say that's probably the most recent highlight for sure.
What excites you about the future of Digistorm?
I'd say the most exciting thing about the future of Digistorm is probably the rapid growth of the company. Since I've been here, I think the company's more than doubled in size, which is pretty cool in just a short couple of years. And, who knows what's coming next, you know?
What's your greatest passion outside of work?
Outside of work my greatest passion as of late would probably be designing shirts. So earlier this year I started a clothing brand. So yeah, there's just something almost therapeutic about sitting down and knocking out a good design and seeing people enjoy it and wearing it.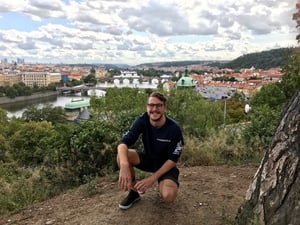 Who's your greatest inspiration?
Whoa, you're really digging deep on this one. Can I ask what other people's answers were to this one?
At the moment, I'd say my biggest inspiration is probably Phil Knight. I've just started reading his book Shoe Dog. He's the creator of Nike. And it's crazy just to read about how he started with basically nothing, running a business out of his bedroom, and just taking it worldwide from there. So that's who it would be currently.
To wrap up, can you describe yourself in three emojis?
👽🤘💃
We're always on the lookout for talented people to join the Digistorm team. Think you'd be a great fit? Then we'd love to hear from you! Send a copy of your resume and cover letter to jobs@digistorm.com.
Want to meet more Digi People? Check out the rest of our series: