Marketing Strategy
How to Build the Ultimate Content Calendar for Your School
January 8, 2020
A note from Digistorm: This post was originally published in February 2018. We've updated it to include more relevant information.
If your school marketing team is feeling under the pump, it's no wonder! Schools in 2021 are constantly pushing out social media posts, blogs posts, website updates, photos and videos to keep their school community in the loop — and it can feel incredibly overwhelming. That's where content calendars can come in to save the day.
What is a content calendar?
A content calendar, much like a social media calendar, is an editable schedule that you and your team share to:
keep track of every piece of content you have coming up
outline who's responsible for various tasks associated with getting it published
For example, at Digistorm, each piece of content is 'owned' by one person, but individual tasks must be assigned out to other team members. In our staff interviews, the person conducting the interview will own the responsibility for the entire piece of content, but the filming will be assigned to our videographer, and the graphics will be assigned to a member of our design team. Once the interview is written, we will often assign another writer in our team to proofread the article before it is published.
It's a lot of work, and we need a lot of visibility and planning to ensure it's not a mad scramble on the day of publish. That's why we need a content calendar. Here's how we created ours.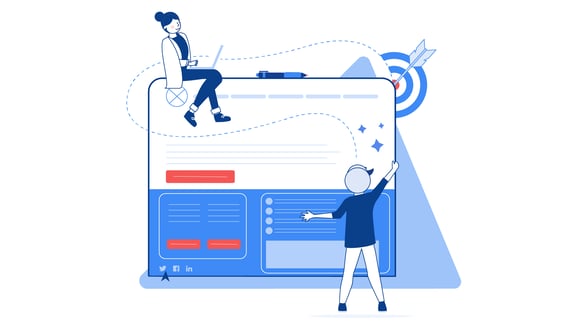 Map out all your content types
Open up an excel document or a Google sheet and start listing all of your content channels and ideas about the types of content you publish. This step not only gives you visibility about how much work you're doing every month, but it can also help you to spot some useful content that you can repurpose.
At Digistorm, our channels included our:
Blog — that's right, this one!
Website
Email marketing platform
Webinar provider
Downloadable resources.
Set your posting goals
At Digistorm, each piece of content works towards a goal that is outlined in our overall marketing plan. A marketing plan is a document that shows the activities that your team will undertake to work towards your team's overall objectives (including content)! It's important that you have this in place before you begin to create your content calendar, as it will help to guide the types of content you should be posting, and your frequency of publishing. Not sure where to begin? Check out our handy guide.
Once you have this in place, plan how many times per week you will be looking to publish. It's important that you're realistic with this goal! You may wish to publish a blog post every day and a video every week, but if you don't have the capability in your team, you will be setting yourself up for failure. Our recommendation? Start small, and build up your frequency each quarter.
Pick your content publishing tools
Now it's time to get to work building your content calendar. There are a range of tools that you can use to map out your content, and different tools will work better for different teams. At Digistorm, we started out using a good old fashioned spreadsheet, which worked really well for us for a while. In time, however, we upgraded to a software program called CoSchedule, which allowed us to:
give various team members and managers more visibility across our marketing channels,
break up each piece of content into smaller tasks
assign clear deadlines to team members.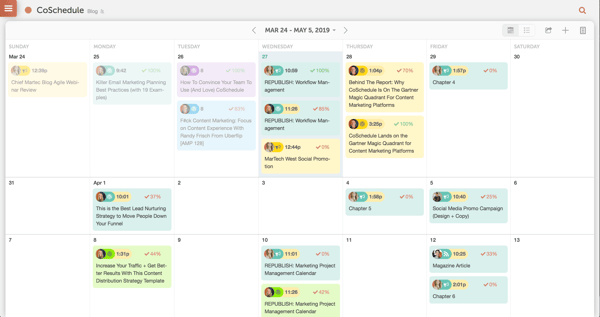 Source: CoSchedule
You could also explore using a spreadsheet, like we did, or a regular old calendar, or adapting a free project management program, such as Trello. You can read more about these three methods in our post, How to Create a Social Media Calendar for Your School.
Start scheduling
Once you have your channels, goals and your calendar tool sorted, you can start trialling your content schedule to see how it works for your team. As with any new process, there will likely be a few teething problems, so give it a few months and then reassess your schedule. If you are finding that a lot of a deadlines are being missed, you may need to scale back your content publishing. On the other hand, if you are finding your team is able to smash out work faster than you can schedule it, you've got a different problem! This is where you might look at diversifying your channels, and posting more regularly in different places.
Resources to get you started
Here are a couple of posts we've found helpful in our content calendar journey:
This awesome blog post from CoSchedule that gives seven examples of content calendars from different brands
This post by Portent about categorising different content types and how to organize your content calendar around your team
Here are a few of our own posts to check out when you're planning your content schedule: