Social Media
Creative Ways Schools Are Using Social Media to Stay Connected
March 25, 2020
If there's one thing that we know for sure, it's that we're all in this together. 'This' being, of course, the current sense of uncertainty and anxiety surrounding the global COVID-19 outbreak. While schools across the globe are doing their best right now to navigate new challenges, adapt to health recommendations, and find innovative ways to take learning online, it's essential to continue to nurture connection within your online communities too (especially when social-distancing can leave us all feeling a little lonely).
In this post, we're taking a look at some examples of how Digistorm schools are leveraging social media during these trying times to engage with their communities, provide informative updates about e-learning solutions, and spread some joy in the world.
Ambrose Treacy College
We know the drill, social distancing and proper hand washing is vital to reducing the spread of COVID-19. To get the word out and #StopTheSpread, the clever team at Ambrose Treacy College are leveraging their own students to model healthy hand hygiene practices and are sharing it with their community through video content. In the Instagram post below, we can see Year 4 student, Jack, showing us how to stay clean and safe.
Source: Ambrose Treacy College Instagram
Earlier this year, we sat down with ATC's Communications Officer, Rhonnie Sparksman, to learn more about how communication processes have changed since implementing a Digistorm App. In light of the recent outbreak, Rhonnie says that she's taking full advantage of the push notification feature to provide the community with instant updates around event and sporting cancelations.
Redeemer Lutheran College
Let's take healthy hygiene practices to a more musical level now with Redeemer Lutheran College's 'Redeemer Loves Healthy Hands' promotional video. Keeping things informative, but lighthearted, Redeemer enlisted the help of some of their Senior School and Prep Students to show their community how, why, and when to wash hands correctly. If you ask us, they do a pretty stellar job of it too!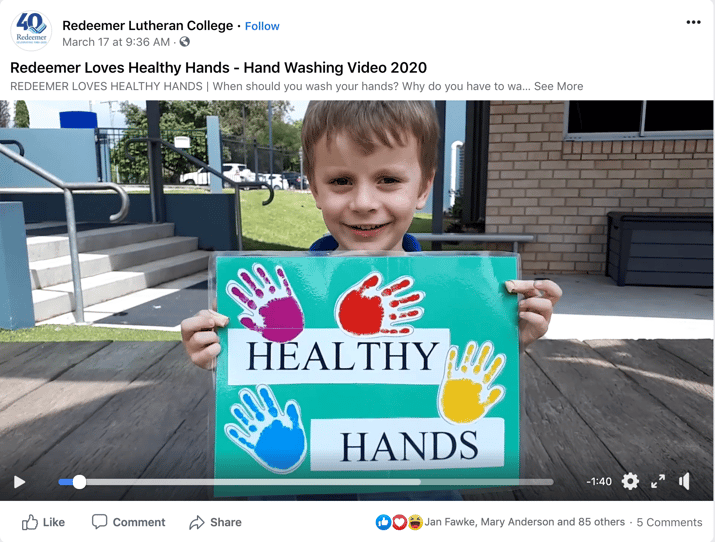 Source: Redeemer Lutheran College Facebook
St Joseph's College Gregory Terrace
Take a walk through the isles of just about any grocery store in Australia right now and here's what you're likely to see: shelves stripped bare and signage, outlining purchasing restrictions for essential items. But among the reports of 'panic-buying' and toilet paper shortages, we have some tiny heroes ready to assist. Students from St Joseph's Gregory Terrace delivered a truck-full of non-perishable items to the team at Brisbane Youth Service recently – keeping their supplies well-stocked for young people in need.
Source: St Joseph's College Gregory Terrace Facebook
Mentone Grammar
One of the greatest challenges schools are facing amidst the COVID-19 outbreak, is determining how to take student learning completely online. A tricky feat, but not impossible! We're thrilled to see Mentone Grammar's recent LinkedIn post, announcing the kick-off for their 'off-site learning environment' trial. The team at Mentone have also recently launched a dedicated 'Info Hub,' which includes all key updates, contact information and developing news for their community.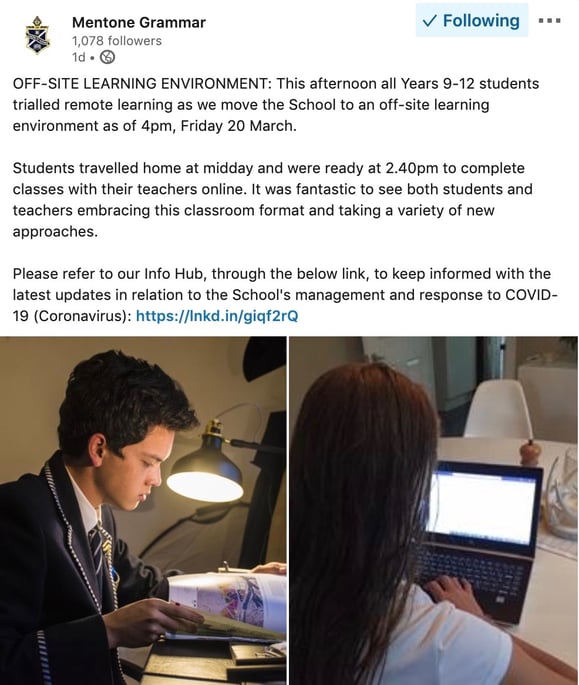 Source: Mentone Grammar LinkedIn
Ipswich Grammar School
Here's another great LinkedIn update from the Information Communication Technology team (aka Tech Wizards) at Ipswich Grammar School. The team have been tirelessly prepping to deliver learning online using software that makes collaboration simple – like Microsoft Teams. Despite the chaos, it's wonderful to see how so many schools are quickly adapting to the changing environment, while doing their absolute best to continue engaging learning experiences – regardless of whether they're in the classroom or online.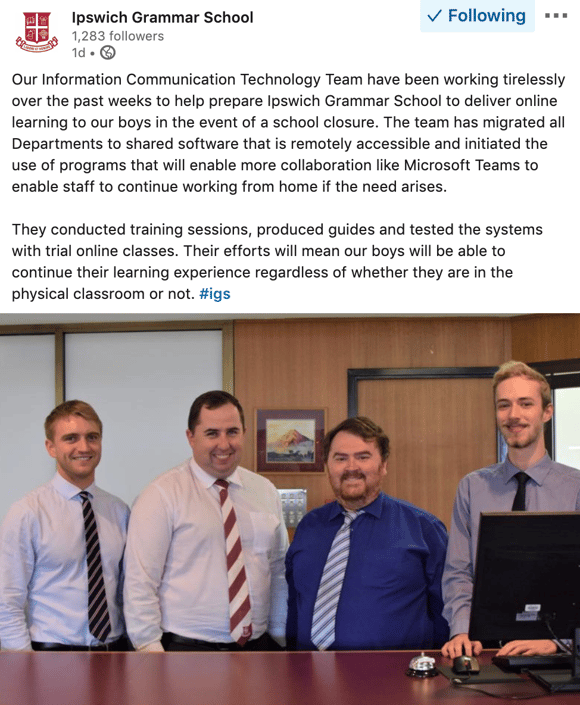 Source: Ipswich Grammar School LinkedIn
Colorado Academy
Looking to our friends in the United States now, Chef Paul at Colorado Academy has been getting creative in the kitchen by running a virtual cooking skills video. By leveraging the power of Zoom, Paul has been helping students sharpen their culinary skills by learning how to create new dinner recipes to share with their families. Chef Paul's initiative is a great way to keep kids entertained, while encouraging them to take a break from screen time.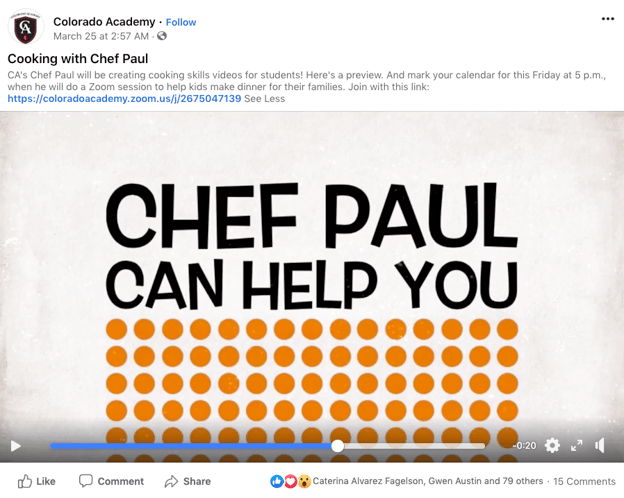 Source: Colorado Academy Facebook
Ravenscroft School
There's nothing like a good hashtag campaign to unite people on social media, and Ravenscroft School has achieved just that. Using the hashtag #RavensTogetherAtHome the community are sharing some at home performances from members of the school community–including current students, staff, and alumni.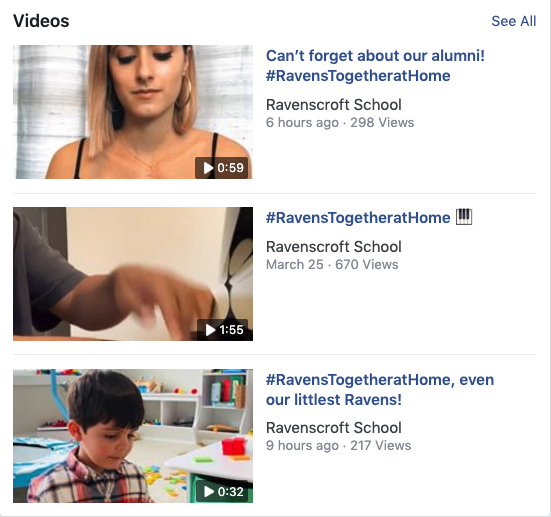 Source: Ravenscroft School Facebook
Christ School
Self-isolation is no excuse for missing the gym thanks to Coach Parham's daily workout videos. We know that maintaining daily exercise routines isn't just important for keeping our bodies fit and healthy, but it's essential for our minds too. Every day, Coach Parham sets new workout challenges which students can follow online to stay strong and burn off extra energy.
Of course, these are just a few examples of the many ways schools are connecting and engaging with their communities, despite current events. These are difficult times and we know that navigating communication during a crisis can be stressful. To make life a little easier, we've put together a helpful resource to ensure that you've got all of your bases covered.