Company
Digi People: Meet Mark O'Keeffe, Our Senior Full-Stack Developer
March 11, 2020
Every month, we sit down with a team member at Digistorm to talk about their life, their career before Digistorm and what their experience has been since working here. Mark (known as MarkO to the Digistorm team) has been working at Digistorm for over four years in the role of full-stack developer. Along with our Lead Developer, Gus, Mark works in our development team building products for schools in Australia and around the world. In this interview, we chat with Mark about his journey to Digistorm, a lunchroom cooking competition and a surprising after-work hobby.

Tell us about yourself.
My name is Mark O'Keeffe. Everyone in the office calls me MarkO. I'm a Senior Developer here at Digistorm. I'm originally from England. I moved to Australia five years ago — my wife's half Aussie. Just came over here looking for something different and found Digistorm. I've got two young kids at home: Ayla, who's three and Rory, who's just four months old and they're keeping me very busy at the moment.
I recently became an Aussie citizen, which I'm stoked about. Now I have the same passports as my kids!
What was your journey to becoming a developer?
I was a bit of a dropout after school. I was working in Burger King, not really knowing what to do with my life, lacking a bit of direction. And I quickly realized that I needed to do something with my life, so I took myself to college and thought, what do I study? And I love the internet and computers and I just thought, right, IT is going to be a go-to. And found my love for programming. I love the way you can just create something from nothing. Taking it from there, I went to university and came out with a first. I found myself looking for jobs as a web developer straight away as I loved it — I still do.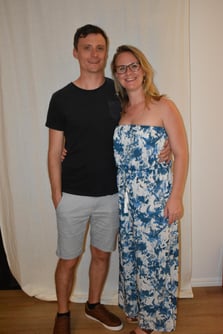 Why did you decide to join Digistorm?
I was working in Surfers Paradise, living in Burleigh Heads and a job came up on Seek for Digistorm on James Street in Burleigh Heads and I read the ad and it just spoke to me. Everything about it: the technology they were using, the culture and the company and the type of projects we'd be working on. I checked out their website and I just thought, wow, this is the type of work I want to be doing and got myself an interview!
What does a typical day look like for you?
A full stack developer is somebody who can not only build products and work on client-side code as well as server-side code, but they're also able to manage hosting infrastructure and generally think about performance, keeping things online. Every day is different in this role. A lot of days you can come in to work thinking, 'Right, I'm going to take a serious chunk out of that project work that I was going to work on'. And then some bugs roll in or a server goes down, and who knows what can happen? But it can take out your whole day. Yeah it's always interesting, and I love it.
What skills do you need to become a Digistorm developer?
I think probably the most important skills would be problem-solving and just being able to conceptualise things in your head when they might not be very concrete — there are a lot of abstract concepts that you have to play around with in your head before you really come up with a solution.
Communication is also really important. The more developers we have, the more we need to communicate with each other and just sort of have a really consistent process that we use to get our work out there.
What's your favorite part about working at Digistorm?
My favorite part about working at Digistorm? Well there's a few parts. It's the amazing people and the culture that we have. It's a really open, honest culture. I don't feel that one department is segregated from another. I feel like we're all pretty equal and we're all really happy to kind of socialize throughout the whole office. It's a really cool little group of people that we've got.
And I love the work that we're doing and the technologies that I get to work with are, in my mind some of the most recent, best, up-to-date things that we can work with as developers and I love it.
Can you share a career highlight with us?
A career highlight of mine is being able to fully automate our app deployment process. So, when I started we were managing I think just over 20 apps for our clients. Every time we had to update one, somebody would have to make sure the app was all set up on their local machine and go through a bunch of manual processes to get it deployed to the Apple App store and the Google Play store. And now, with over 300 apps, we pretty much just click a button and after a little while it's deployed to both app stores, saving us a huge amount of time!
What's something that you're reading, watching, or listening to right now that you'd recommend?
Currently watching some new episodes of Death In Paradise, which I love. It's just a really lighthearted murder mystery. It's a bit silly. It's great.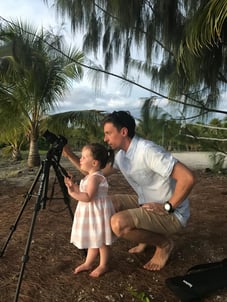 What are your hobbies outside of work?
I spend a lot of time playing with my kids. I dabble in a bit of photography every now and then. There's some amazing wildlife here on the Gold Coast. Most of my favorite shots seem to be of some sort of animal. I like to do a bit of Bikram Yoga just to counteract the stresses of sitting at a desk all day. Don't really have time for much else at the moment! I really enjoy cooking — I think I won our Digistorm cooking challenge? Recently a few of us got together and did our take on My Kitchen Rules so every Friday we took it in turn to cook for the other guys and I went first. But yeah, I loved it, it was awesome. Looking forward to the next one.
Speaking of cooking, what's your foolproof dinner recipe?
Oh that's a good one. A good foolproof dinner recipe I reckon is good homemade pizza. I've got a foolproof dough recipe. I just chuck it in the machine I've got at home and then leave it overnight, cook it on the barbecue on a pizza stone and you can't fail, it's awesome.
To wrap up, can you describe yourself in three emojis?
🙂 🤘 😬
Are you interested in working with Mark in the Digistorm development team? We're always on the lookout for talented developers in the Gold Coast area. Email your CV to jobs@digistorm.com — we'd love to meet you!
Want to meet more Digi People? Check out the rest of our series: