Company
Digi People: Meet Tara, Our Content Lead
June 9, 2021
Each month, we sit down with a team member at Digistorm to talk about their life, career, and experience since joining our team. In this edition, we chat with Tara; our Content Lead here at Digistorm. We cover Tara's journey into content, the qualities she thinks are essential for writers, and how she balances working remotely.
Lucy: Can you tell us about your role at Digistorm?
Tara: Sure, I'm the Content Lead here at Digistorm. In my role, I look after all things content. From strategy to execution and everything in between, I write, edit, proof, and manage all of Digistorm's content. In addition, I look after our website, blog, resources, social media — basically, anything and everything to do with words.

Lucy: Why does working remotely work for you?
Tara: I'm based in Brisbane, so I split my time between Digistorm HQ and my home office. My flexible working arrangement is perfect for my role and my working style. When I write, I need much focus to get into a flow state, so working in my own environment allows me to create my best work.
Lucy: What does your professional journey look like? Was writing always the plan?
Tara: Growing up, I've always loved reading, writing, and exploring my creativity. My favorite subjects were English and Drama. I ended up studying Journalism and Communications at The University of Queensland, so I think a passion for storytelling has always been there. During my time at Uni, figuring out what to do with myself, I wrote for local cultural publications, theatre reviews, and myself! With all of this in mind, I think ending up where I am has been a natural transition.
Lucy: Why did you decide to join Digistorm?
Tara: I've been with Digistorm for a couple of years now, but at the time, I was ready to take on my next challenge and saw that Digistorm was on the hunt for a writer. The ad was written quite well (brownie points for that), and I could immediately sense the passion and culture of the team. So, I applied, and the rest is, as they say, history!

Lucy: How would you describe 'Digistorm' to someone outside of our company?
Tara: I think a 'Digistorm' is what happens when the brightest, most talented experts in their fields join forces to create products that transform school processes.
Lucy: What do you like most about working at Digistorm?
Tara: My answer is definitely not original, but it's the people. I get to work with the friendliest, most switched-on bunch of humans, who make logging on every day a joy. As someone who works remotely, it could be easy to feel a little disconnected from the team and culture, but I've never felt that way at Digistorm. There's also a tonne of trust between our team and a willingness to try new things.
Lucy: Can you tell us about a project that you're proud of?
Tara: It would have to be one that I'm working on now. I can't say too much, but our audience can expect exciting changes to our blog and resources! It's a project that I've been advocating for and will play a central role in driving it this year, so stay tuned!
Lucy: What qualities do you think you need to be a good writer?
Tara: I think many people assume that being a good writer means nailing grammar and punctuation or having a rich vocabulary at your disposal. Don't get me wrong, that's important, but you also need to have empathy, a passion for storytelling, self-discipline, and perseverance. You're not always going to open a blank document and create a killer piece of content on the first try. Here is where perseverance, a passion for the written word (and a love for coffee) helps!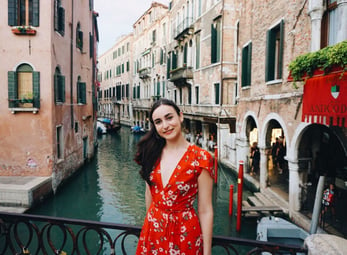 Lucy: What's something that you think people would be surprised to know about you?
Tara: That's a tough one! Maybe, that I'm half Italian? Although my excessive hand gestures probably give it away. My Mother's family are from a little town in Sicily at the foot of Mount Etna. I've actually been scratching up on my Italian speaking skills for a little while now and am hoping to be fluent by the time we're able to travel again.
Lucy: Who's your greatest inspiration?
Tara: Honestly, I don't think I can give you just one name. The people who inspire me most are those who have the courage to put their work into the world, anyone who is brave enough to start again, and those who have the passion and drive to change the world for the better.
Lucy: How do you keep the creativity flowing in your life?
Tara: I absolutely crave creativity in my life — whether that's watching or participating in it. I spend my free time dabbling in painting, cooking, and ceramics. As long as I'm creating in some way, I'm happy! I also need a regular dose of nature to keep the creativity flowing, so you'll rarely find me in Brisbane at the weekend.
To wrap up, describe yourself in three emojis.
🎭🍝📚