Company
Clipboard for Digistorm App: Our Latest Integration
April 23, 2020
Great news! Schools that are currently using the Clipboard Extracurricular Management System can now provide a seamless delivery of targeted extracurricular activities and events to their community with the brand-new Digistorm App and Clipboard integration.
What is Clipboard?
As you may have already guessed, Clipboard is an extracurricular management system that's designed to help schools better manage all of the administration behind their extracurricular activities.
What are the key integration features?
There's a lot to be excited about with our latest integration, but here are some of the key integration functionalities that'll be available:
Send the right message fast: send targeted and personalized push notifications via your Digistorm App to instantly notify your school community about new events, sessions, games, cancellations, key updates and more!
Get results at a glance: sport results can be seamlessly pulled from Clipboard through to your Digistorm App, so that you're able to share the news with your community.
Track all of your groups in one place: easily track all of your extracurricular groups in one place, gain detailed performance insights and view seasonal attendance records.
5 minutes with Clipboard's co-founders
We sat down with Clipboard's Co-Founders, Sam Clarke and Ed Colyer (pictured below left - right), for a quick Q&A about Clipboard's conception, the key benefits of an EMS, and how Digistorm schools can benefits from the integration – enjoy!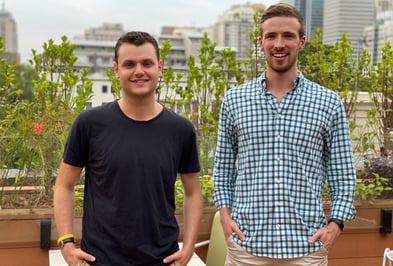 Where did the idea to create Clipboard come from?
While working as basketball coaches at our former high school, we personally experienced the problems schools face in the management of their extracurricular programs. The school used a lot of different manual systems, like paper and spreadsheets to mark attendance, record incidents, and communicate with students and parents.
We noticed that this led to the school falling short in its duty of care to students and wasting hours in admin work each week. We also witnessed the mass confusion of students and parents about what was going on and where they needed to be.
What are some of the key benefits of a school EMS?
An EMS (Extracurricular Management System) provides schools with a single source of truth for all of their extracurricular activities. It helps schools save time and money, uphold their duty of care obligations, and streamline communication with students, parents and staff. If you're interested in learning more about where the EMS fits in within the overall landscape of your school systems, we recently wrote an article on our blog that we'd recommend you take a look at.
How does Clipboard help to streamline processes for schools?
Clipboard helps schools free up hours of admin work each week by providing a one-stop-shop for all extracurricular data and processes. The platform streamlines things like; maintaining and communicating the extracurricular schedule, tracking student attendance, managing teams and groups, recording results, reporting incidents, and processing staff timesheets.
How can schools with a Digistorm App benefit from this integration?
The Clipboard and Digistorm App integration is a life-saver for students and parents who can now see all of their personalized extracurricular commitments in one place and get instantly notified of any changes. Students and parents can view all of their training sessions, lessons, and sports fixtures and even access information like a Google Map with directions and the result of the fixture.
Additionally, if any changes are made to the Clipboard calendar, all relevant students and parents are automatically sent a push notification with the updated details via the Digistorm App. This is extremely handy when a location changes at the last minute or you need to communicate that a fixture has been called off for wet weather!
Any final thoughts?
We think it's critical that we help schools reduce the number of systems that they use (such as paper, spreadsheets, or custom forms) and, by providing students and parents with personalized extracurricular information in the app they already use, that's exactly what we're doing with our Digistorm integration. We're really looking forward to the added value that this integration will provide to schools and all users of the Digistorm App.
Ready to get started? Get in touch with your designated Digistorm Client Success Manager or contact our support team to learn more about our new Clipboard for Digistorm App integration.