Company
Let's Celebrate: Digistorm Turns Nine!
September 4, 2020
And just like that, Digistorm is nine!
Although our celebrations may look a little different this year, we still wanted to take the time to give ourselves a huge round of applause for all that our team has achieved so far. To mark the occasion, we thought it would be fun to take a look back at five of our proudest moments from the past year – and there were plenty to choose from!
1. We launched our global office
Back in February, we hit an exciting milestone by launching our brand-new global office in Denver, Colorado! Lead by our effervescent Senior Account Executive, Jamie Giblett, we've grown our US office into a team of four. Although we can't say that launching the month before a global pandemic is how we always imagined moving into the US market, we're proud to be able to support schools in need of digital solutions now more than ever.

2. Our team embraced remote work
The pandemic propelled many schools and businesses into remote work this year and Digistorm was no exception. Since March, our team has been working remotely and finding new ways to stay connected and communicate. To keep our culture alive and well, you might have seen our 'at home' edition of our staff interview series, Digi People. Take a look at our latest interviews with the team below!
3. Funnel and Enrol become one
In June we started our migration process to turn Funnel and Enrol into one, powerful, end-to-end enrollment platform for schools! Since then, you might have noticed that Funnel has been undergoing a makeover. You've probably seen a few of the updates that have gone live, including a new and improved navigation bar and a new design for pop up modals!
We believe our new and improved Funnel platform will not only provide a more streamlined solution but will also enable schools to more easily manage the entire enrollment process. To stay up to date with all of our Funnel releases, make sure you keep an eye on our Funnel updates page.

4. We moved into our new HQ
Last October we officially outgrew our office and moved into our brand-new Digistorm HQ just moments from the beach in Miami. Like everyone, we were gearing up for a big year of in-house events, but unfortunately, we've had to put that on hold for the time being. Looking ahead to 2021, we can't wait to give our clients a proper tour of our new space!
5. Hackstrom became a new tradition
Our first-ever Star Wars-themed hackathon took place last November at Digistorm HQ. We were so blown away by the passion and innovation that emerged from the hackathon, that we've decided to make Hackstrom an annual event. Plans for this years' hackathon are currently in the works, so you'll have to stay tuned to see that pop culture theme we have in store this year!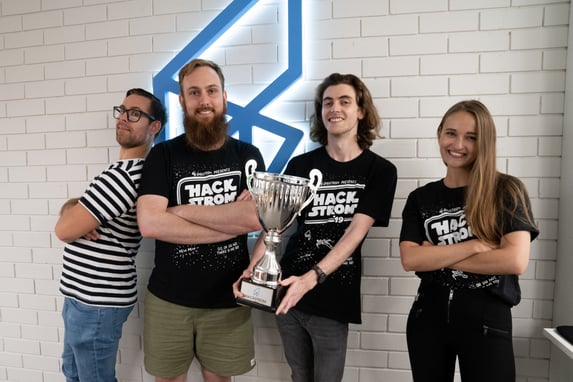 Hackstrom 2019 Winners
Here's to another year of creating leading software solutions for schools across the globe! We can't wait to see what our tenth year brings. To stay up to date with the latest Digistorm news, make sure you're subscribed to our blog.