Enrollments
Does Your School Pass The Online Enrollment Test?
June 8, 2020
A note from Digistorm: This post was originally published in July 2017. We've updated it to include more valuable, relevant content and more recent statistics.
It's no secret that attracting new enrollments is key to your school's success. Your enrollment numbers determine how much revenue and funding your school will accumulate in the year, which significantly influences your school's budget and staffing decisions.
So what is the best result for an effective enrollment process? Obtaining a simple and clear process that delights parents, is user-friendly and drives them to apply. The following test will allow schools to assess how their enrollment process measures up and if it's set up to deliver the most success. From here schools can see if they may need to re assess or update their enrollment process.
How does your school measure up?
Acquiring new enrollments requires a lot of coordination and continuous nurturing from all of your school staff, so it's often perceived to be a complex process. But, the truth is that by simplifying your enrollment process, you can actually have a significant impact upon the number of enrollment numbers that your school receives. First and foremost, it's important that schools have an enrollment system in place that allows them to capture and nurture their leads. Ideally, prospective families should be moving through an automated enrollment pipeline, so that you're able to track the stage students are at and then forecast, communicate, and chase up student data effectively.
To assist schools with clarifying their enrollment process, we've put together five enrollment questions that are based on methods that have been successful with Digistorm schools to see how you measure up.
1. Does your school website feature useful enrollment information?
Parents perform extensive research on a number of schools before they make their final decision, so it's crucial that your school website provides clear information and is easy to navigate. All of your enrollment information should be easily accessible on the one page on your school website and the answers should be easy to find with only one or two clicks. We recommend that you list what each step of the enrollment process entails and what exactly happens at each step. This allows for the prospective parent to be entirely aware of the enrollment process before they lock themselves in to an application.
You can also change up the way that you portray your enrollment information by switching it up with text, photos, and videos that are hosted on your enrollments page. Recently schools have begun including virtual school tours, on their school websites to provide parents with a quick and easy way to view the school buildings and facilities. This is a great way for parents to get an understanding of the school before attending an open day or a meeting with school administrators.
2. Can parents apply and pay for their child's enrollment online?
A parent may be choosing between two schools that have similar locations, fees, values, and programs. Having a clear, easy-to-use digital enrollment form could be that feature that gets your school across the line against competitors in the final moments. In today's technological environment parents expect that they can begin, complete, pay, and lodge their enrollment process — all online, in less than a day. If you don't have an efficient online process you may be falling behind. Online enrollment portals are popular with a variety of schools as they are automated and eliminate the need for excessive use of paper, spreadsheets, and other resources. Below is an example of an online enrollment portal from All Saints Anglican College.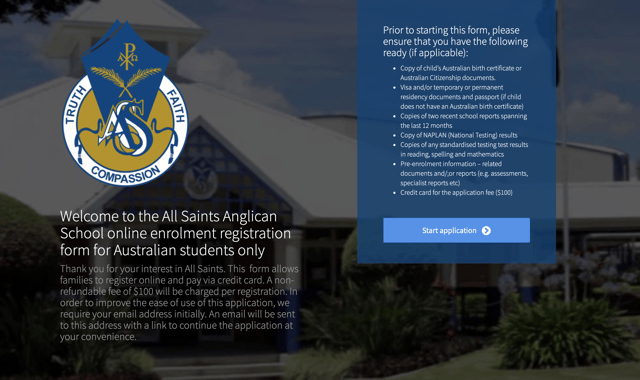 Source: All Saint Anglican College
A hot tip for streamlining your enrollment portal is to have an area in your online enrollment portal where parents can easily upload and attach any legal documentation, as well as a secure payment portal with leading financial providers so that prospective parents feel safe and secure when making the online payment.
3. Are you leveraging social media to drive enrollments?
Social media is a great tool for connecting and engaging with your current school community, but it's also a fantastic way to showcase your school's brand and culture to prospective families and students. Consider how you can leverage your social channels to paint a picture of the experience their child will have when they attend your school. If parents can easily access and view these resources it may nudge them to visit your school website for further enrollment and application information. You can leverage social media accounts such as Instagram, Facebook, Linkedin, and Youtube to showcase your school through photos, videos, and school blog posts. We have covered a range of unique posting ideas for different social media platforms on some of our previous Digistorm blogs which can be seen below:
4. Are you frequently analyzing and cleaning your enrollment funnel?
Analyzing and cleaning your enrollment funnel is one of the most important parts of keeping an up to date and effective enrollment process. Having visibility across every stage in the enrollment process helps you to understand where your prospects are, what's working and what can be improved upon. Tracking leads is quickly becoming an essential part of the enrollment process, as it helps you to quickly diagnose issues and capitalize on successes to grow your enrollment numbers at a fast pace. You should make sure that every lead is being effectively and efficiently tracked.
If your enrollment information is in a CRM, such as Digistorm Funnel, you can capture and store all of your leads in one place and assign someone from your school staff team to monitor, analyze and clean the data on a weekly or fortnightly basis. You can update your database by regularly cleaning your contacts to make sure that your lead data is up to date, there are no duplicate or "junk" contacts and checking that all of the information within the contact profiles are correct. Keeping a clean CRM database will help you understand what stage the prospect is in so that you can send the appropriate and relevant email communications, support and information.
It's also important to make sure that you are using the data that you capture – this may sound obvious however when you are capturing a large amount of data and registrations at school events it is easy to lose track and it is what it's what you do with that information that's important. If you're hosting a school event, such as an open day, you should ensure that all collected data is uploaded to your school CRM in the following days. An initial point of contact should then be scheduled with the lead whether it's in the form of an email or a phone call.
5. Is your lead nurturing process automated, but personal?
Nurturing leads through your conversion funnel can be complex and time-consuming. Individually contacting every family who gets stuck in the enrollment funnel is almost impossible. A way to improve your prospect nurturing and increase engagement is to add automation and personalisation.
You can avoid missed opportunities and losing track of your leads by setting up automated email campaigns. Having pre-set emails allows you to contact parents in a way that is personal, informative and nurtures them into the next stage — without you having to lift a finger. You can choose to send automated emails to different persona groups to fast track your email process. Personas are fictional characters that your school can use to represent different audience segments and leads based on demographic and psychographic information. When creating personas for your school you should include things like name, age, gender, interests and location. Personas are useful for a school CRM and your enrollment process as you can select a persona group to send specific email communications to instead of spamming your whole database.
You can add personalization to your automated emails by adding email tokens to the subject lines and body of your email content. Email tokens can be used to pull information into an email that is specific to a contact. This could be a guardians name, a students year level, gender or date of birth. If you keep your CRM data clean these email tokens are effective and easy to add to emails.
How did you do?
If you answered yes to most of the above questions, you pass our enrollment process test! Creating a simple and personal path to enrollment is incredibly important if you want to meet your school's enrollment targets each year. If you found yourself answering no to these questions you may need to look at improving and streamlining your enrollment process to benefit your school. Check out how Concordia Lutheran College doubled their online enrollment applications with Funnel.

If you are interested in offering easy online enrollments to your prospective parents and students contact us about Funnel and our Digistorm products today.