Social Media
Encouraging School Leaders to Connect Using Social Media
April 24, 2019
We've talked about the importance of user-generated content for your school in the past, and we're sticking by it - not only is it free, but it also provides your school with authentic and readily accessible social proof. But, what about intentionally engaging your 'users' in the content creation process?
Every school has leaders, whether they be school captains, house captains, prefects or in other positions unique to your institution. Not only are your leaders pillars of your school community, but they also possess a lot of insight and experience that administrators don't. This makes them an ideal resource to tap into for content, especially on social media. After all, what better way to engage your students than via their peers? They're far more likely to want to interact when the purveyors of information are on their level, so to speak.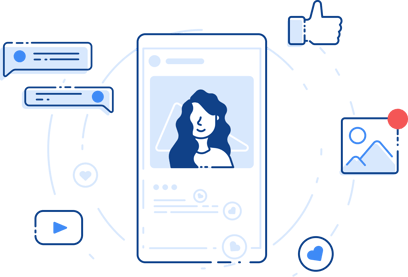 Think utilising your school leaders as social media ambassadors could be the way to go? Here are a few tips to guide you through the encouragement and execution processes.
Getting them on board
We know that juggling school work, extracurriculars, home responsibilities and leadership can be tough on kids, so the first step to encouraging social media activity from your captains and leaders is not to overwhelm them. It should feel like a natural progression from their existing duties rather than an added burden that will interfere with their other weekly tasks. More often than not, leaders are outgoing and empathetic to the needs of the school community, so are likely to want to help however they can anyway.
Selecting your platforms
It's also important to gauge what kind of platforms they'd feel comfortable using, and whose accounts they'll be posting on. After all, most of Gen Z count Instagram, Snapchat and YouTube amongst their favourite social networks, with less consideration given to platforms like Twitter and Facebook. As a result, they may be more comfortable using their preferred platforms, so this is something you should take into consideration. Then comes the logistical decisions - will they actually post themselves, or will a staff member conduct quality control first? Is there information your marketing team needs to add in post for a better user experience? Whose accounts do you actually use - theirs, yours or a newly created offshoot designed for student engagement? These are all valid questions, and the answers will differ from school to school, but our rules of thumb are as follows:
Stick to platforms that are at least semi-professional
Instagram and Facebook are good starters. Snapchat may work depending on your school, but it's important the account doesn't open itself up to impropriety - Instagram stories serves the same purpose, minus the disappearing images.
Have someone vetting your content
Trusting your school leaders is all well and good, but it's also important to have someone check content before it goes live for any errors and to ensure your school's branding and messaging is consistent. Get students to save their videos, photos and text down to phones or laptops and then send them off to your designated staff member for a final check before posting.
Use the school accounts, or create new ones
When you're creating a plan for school leaders to connect via social media, it's important to take a step back and assess your existing social media accounts. Are they very professional, or more of a snapshot of a day in the life at your institution? If it's the former, it may be worth creating dedicated 'offshoot' profiles that leaders can post to. The latter will lend itself better to this kind of content.
What kind of content works?
You're probably thinking, 'okay, but how do I work out what they actually post?' This is where your leaders' unique insights come into play. If you can, have a sit down with them (and any other trusted, interested students) and brainstorm ideas for social media posts. They may suggest tactics you'd never even consider that will have great uplift with their peers. Here are a few ideas we've come up with for quality posts from your student leaders:
A regular photo series on Instagram
Much like 'letters from the captains' in school newsletters, an Instagram photo series could be a fantastic way to engage your leaders. Students can be responsible for all aspects of the post creation process, from the image to filters, the caption, emojis and much more. Brainstorm ideas for images with them to have control over the kind of content that's posted - for example, you could feature different classes and highlight what makes them great, or talk to different clubs and groups on campus.
Instagram or Facebook live takeovers for big events
Particularly well-spoken and confident leaders will really excel at this one, as they'll essentially act as your social media emcees on the day. They can narrate what's going on in the background, have their say and even interview their peers if they're so inclined!
Student leader profiles
Students usually know their leaders' names, but do they really know who they are and what makes them tick? Beneficial especially for fostering friendships between students of different ages, a weekly or monthly student leader profile is a great way to encourage engagement on social media. Get your leaders to write up a few fun questions (What's your favourite subject? Do you have any pets? Do you have siblings at the school?) and interview one another, accompanying the text with a fun image of them enjoying school life.
The benefits
There are a whole host of benefits that will arise from having your student leaders be more visible and connected on social media. For instance, your school's social media accounts see more genuine engagement in the form of comments, likes and shares from peers and family members! This kind of outreach is also a great way to get people talking about what makes your school great, and conversely, maybe a few things you could focus more on. Finally, positioning your student leaders as friendly, approachable and knowledgeable is bound to encourage better interpersonal interaction on campus.
For more tips on making the most of your social media, consider subscribing to Digistorm Weekly Updates — a host of best practice marketing tips, delivered to your inbox weekly.