Email Marketing
5 Key Learnings on Email Marketing Opportunities and Trends
September 11, 2019
Email marketing is undeniably one of the most effective methods available to digital marketers. It's cheap and consistent, so it's a no-brainer why so many brands make email marketing one of their main acquisition channels (Digistorm included!).
Last week our marketing team attended a sold-out email marketing workshop run by the team at Interactive Minds to learn more about key trends, opportunities and innovations within the space. Throughout the workshop, we heard from three engaging speakers; Darren Sutton from XCOM Media, Eloise Gillespie from Ladbrokes, and Kaylah Buckman from the Brisbane Airport Corporation.
We gained some great insights into each speaker's own email marketing strategy, as well as the latest in industry best practice and some data-backed predictions for the future! The learnings from this workshop were too good to keep all to ourselves, so we've put together five of our favourite takeaways that your school can put into action.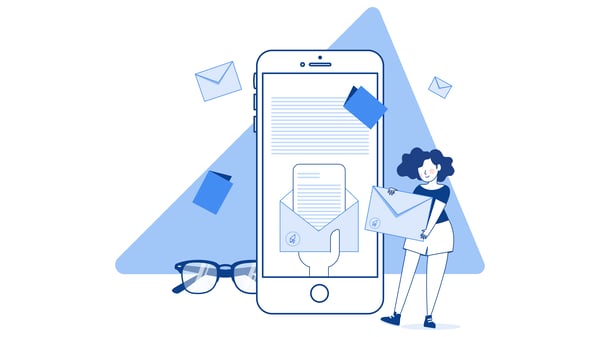 1. Personalization is more relevant than ever
'Personalization' it's the marketing buzz word of 2019 and with good reason!
Data-driven personalization plays a key role in improving the consumer experience and is becoming more and more expected. In fact, consumers value personalisation in email marketing so much that 57% of them are willing to swap their data for more personalized marketing experiences — now that's saying something.
It's clear that personalization is important, but to what extent do you need to personalise your email content? According to Eloise, personalization doesn't always have to be on a 1:1 level — there are a number simple of ways that you can ensure your email marketing is relevant to your subscribers.
For example, segmenting your audience based on your parent personas or building data sets based on repeated behaviours can help ensure that you're sending relevant and more personalised emails to your subscribers. As Kaylah pointed out in her presentation, we're often sitting on data goldmines, we just don't know it yet. She recommends looking within your school's CRM is usually a great place to start.
2. Know the value of your subscribers
Email is a trusted marketing method because it's based on true consent and is one of the few channels left that isn't controlled by a third party algorithm. You know what they say, with great power comes great responsibility and this is certainly the case when it comes to email marketing.
Did you know that the average return on investment (ROI) for an email marketing campaign is a massive 3800%? It's true, for every $1.00 spent, you're likely to receive a $38.00 return. Pretty impressive right? So, it's crucial that we respect our subscribers by being deliberate with the emails we send and by creating content that's relevant and engaging.
We know that sometimes this is easier said than done. Let us paint a picture for you...
Your colleague (usually from outside the marketing team) comes to you to because they've promised to send an email to your entire subscriber database. You try to explain that it's not as simple as just pressing 'send,' but they don't really understand why. Sound familiar? Well, you're not alone, we've all been there. But, it's important to educate internal teams about the value of your subscribers and why sending blanket emails are never a good idea.
3. Content is still king
No huge surprises here, your content is still a key driver for subscriber engagement. But what exactly does 'good content' look like? For us, we like to ensure that our content ticks off at least one of the three e's: engage, entertain or educate. As always, remember to keep your content authentic to your school's brand and always value quality over quantity.
In terms of ways to make your content more engaging, we know that interactive elements like GIFs and videos always out-perform text — just check out these stats if you don't believe us: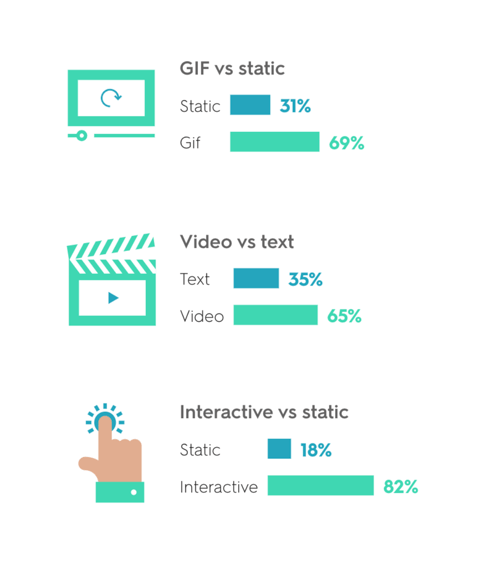 Source: Darren Sutton, presentation for Interactive Minds 2019 / Campaign Monitor
4. AI will change the way we do email marketing
Just like personalisation, marketing automation has been another exciting trend in 2019.
We love automation here at Digistorm, especially when it comes to marketing. Not only does it improve efficiency and reduce menial tasks, but ultimately helps to boost revenue as well. There are a number of tools out there that help automate email marketing by creating workflows and streamlining internal processes, but let's take it one step further.
How do you think AI will impact email marketing in a larger sense?
Voice search is on the rise, we're all purchasing devices to create 'smart homes' and we've even seen how AI can perform handy tasks like booking a hairdressers appointment for you over the phone. So what does this mean for email marketing? Well, according to Darren, we should keep an eye out for new tools that automate content writing, craft subject lines and select engaging images as well as the possibility of virtual assistants like Alexa and Siri becoming the new audience for your email content.
So, with AI predicted to play a greater role in email marketing moving forward, what does this mean for our roles and skills as marketers?
5. Creativity is essential
We know that automation and AI tends to strike a little fear in the hearts of many, often because it's been drilled into us that robots will replace our jobs. But rest assured, this fear is futile. While it's inevitable that AI will replace the need for humans to perform many of the repetitive or manual tasks that come with email marketing, the upside is that marketers will be left with more time for creative work.
Marketing will always be about finding that balance between science and creativity, between the left-brain and the right-brain. But moving forward, the ability to problem-solve, think creatively and execute emotional intelligence will become crucial skills for marketers as AI expands its role in marketing.

Source: Darren Sutton, presentation for Interactive Minds 2019
Wrap up
Of course, there were so many more takeaways we could have written about, but we hope you found our top five insightful. It's clear that the value of email marketing is stronger than ever so if you're not currently making the most of your subscriber base, it's time to get stuck into it!
A few key points to remember:
Look internally to find where data is hiding and use it to create more personalized experiences for your subscribers
Value quality content that's engaging, relevant and interactive over quantity
Know the value of your subscribers and share that knowledge with your internal teams
Consider ways automation and AI can help to streamline your processes
Nurture your creativity and problem solving skills
Ready to step up your school's digital marketing game?