Search Engine Optimization
5 Easy Ways to Drive More Traffic to Your School's Blog Posts
October 10, 2019
If you write for your school's blog, you can testify to just how much time, effort, and research it takes to create a valuable piece of content for your audience. As a blogger, you also know that in our increasingly crowded digital environment, where over 4.5 million blogs are published every day, getting eyes on your content can be tricky.
You've worked hard on your content and it deserves to be seen, so in this post, we're arming you with five practical SEO tips to help drive more traffic to your next blog post.
1. Do your keyword research
Did you know that 95% of people only look at the first page of Google's search results? How about the fact that of those results, more than half of the clicks go to the top three results? It's clear that if you want to get eyes over your content, you need to ensure it's at least making it to the first page. But that's easier said than done, so just how exactly do you achieve this? The answer my friends are keywords.
Carrying out keyword research should be an essential step in your blog post creation process. This is because keywords are still reported as the number one strategy for SEO in 2019. There are a number of keyword research tools out there to give you a hand, but if you're after a little more guidance, you can head over to our previous post that's all about making sure you're choosing the right keywords for your blog post.
2. Nail your meta description
We should probably start with a quick explainer of what a meta description actually is. The meta description of a blog post is essentially the first line of text that appears under the search result's title – check out the example below for clarification.

Example: Meta description for Digistorm's blog post
The meta description is usually no more than three lines in length, aiming to provide a short and sharp description of what your content is about while encouraging readers to click-through to the post. When you're crafting your meta description, here are a couple of best practice tips to keep in mind:
Keep your text to 50 - 300 characters in length (Google truncates your snippet after 300 characters)
Ensure your text is accurate and concise
Include a call to action that encourages readers to click through to your content
Use keywords in your meta description
If you haven't already read our post on how to nail your meta description, we highly recommend that you check to gain even more tips and tricks.
3. Build your link strategy
At the beginning of this post, we talked about how difficult it can be to get your content noticed when over 4.5 million blogs are published online every day. Another method that can significantly boost your blog post's visibility is through the strategic use of internal and external links.
Internal and external links use descriptive anchor text (that usually incorporates keywords) to point to content on another web page – the key difference between them being where they point to. It's relatively straight-forward: Internal links point to pages on the same website domain, while external links point to an outside domain.
You've probably noticed that we've sprinkled internal and external links throughout this blog post to point to credible and relevant content. The key to remember when building your link strategy is relevance. Search engines can tell when you're cramming links into your content that don't add any real value to your topic or to your readers. We wrote an entire blog post about Black Hat SEO vs White Hat SEO that goes into this issue in a lot more detail, but all you need to remember here is to only include relevant internal and external links.
4. Add alt text to your images
Adding alt text to your images is another way that can help optimise your blog post, but its primary purpose is to provide greater web accessibility to visually impaired users or provide context to images that have been blocked by browsers.
When it comes to SEO, alt text helps search engines to better "see" your images and ensure you rank for your intended keywords. Writing the perfect alt text for your image is a balance of including an accurate description of the image and the keyword(s) you're trying to target.
Here's an example of how to write alt text for your next blog post image.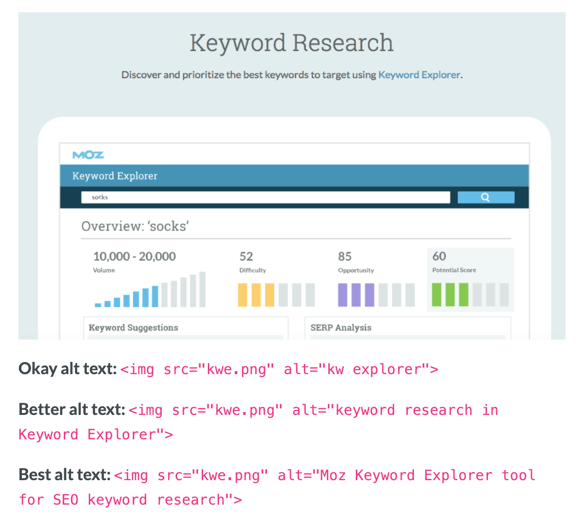 Source: MOZ
5. Create long-form content
The best length for a blog post is a contentious topic that tends to shift just as quickly as search engine algorithms do. It wasn't that long ago that the ideal blog post length was around 500 - 800 words, but over the last couple of years, long-form content has taken its place.
Take the following graph from SerpIQ that charted the top 10 search results by content length for example – the higher the ranking, the longer the word count.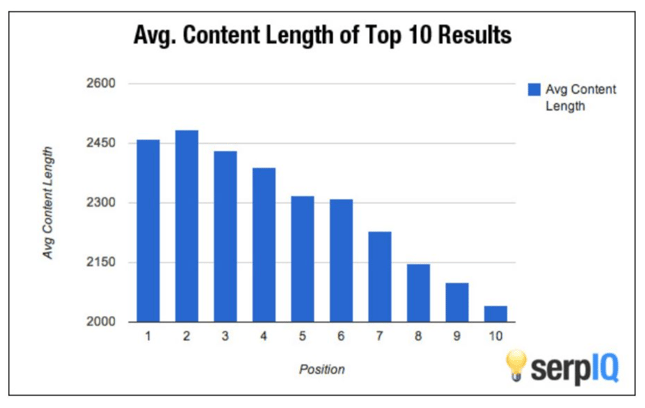 Source: SWEOR
While long-form content undeniably performs best, it's important to recognize that search engines aren't just looking at the word count to determine how a page ranks – there are many other factors at play. Long-form content tends to be more comprehensive, include more keywords and provide more opportunities for link building, all of which search engines look for when crawling your page to determine where it should rank.
Well, there you have it, five quick and easy optimisation tips to help drive more traffic your next blog post. While you're here, don't forget to grab your free SEO checklist for schools.