Paid Advertising
Get Started With Google Ads for Your School
July 16, 2019
At Digistorm, we create a lot of resources about marketing activities that will set your school up for the long term. Inbound marketing, search engine optimization (SEO), blogging, video content production, social media strategies… these are all highly valuable activities that will provide increasing ROI over time. On the other hand, they take time, effort and persistence to get tangible outcomes for your school — sometimes a blog post will take months to get traction online.
So what if you need results today?
Google Ads provides schools with an easy-to-implement way to get your message in front of prospective parents. In this post, we'll look at how you can use Google Ads to see some great results for your school — fast.
What is Google Ads?
Until mid-2018, Google Ads was known as Google AdWords. It's is a type of pay per click (PPC) advertising, like Facebook advertising, where you only pay every time someone takes a desired action (usually a click) on your ad.
Google Ads offers you two places that you can show your ads:
The Google Search Network: a text ad will appear in Google's search results
The Google Display Network: a banner ad will appear on third-party websites.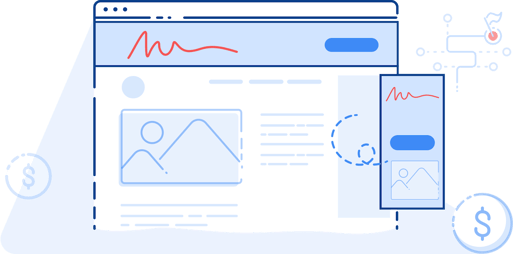 Regardless of where you advertise, Google uses an auction system, where you place bids to have your ad shown to your audience. You compete against other people who are also bidding for their ad to appear in the same search. When determining who wins this lightning-fast auction, Google looks at how much you are willing to pay for a click on your ad (CPC) but also takes into consideration the quality of your ad and the landing page that you are directing users to.
Why does my school need Google Ads?
There are two big reasons why you should consider starting a Google Ads campaign.
First, it's a relatively cheap, easy and strategic way to get your messaging in front of prospective families. Unlike other forms of advertising, such as putting up a billboard or cinema advertising, you aren't communicating into a void and hoping that someone who sees it is looking for a school. Instead, you are showing your ads to who people who are actively researching schools in your area.
Second, it's highly likely that your competitors are running effective Google Ads — particularly around key enrollment times. Here is an example of a Melbourne girls school bidding on the keyword "all girls school near me":
This ad appears right at the top of the page, above all other schools in the area and above the Google Maps results. In this case, the only way your school could appear higher in this particular search result is outbidding the other school in Google Ads.
Do people actually click on Google Ads?
77% of people surveyed by Clutch said they were confident they can recognize paid search advertisements. Looking at the above example, with the "ad" tag, you are probably confident as well.
So, with the majority recognising that an advertiser paid for their spot in the search results, what is the likelihood that someone would click on your Google Ad? Quite high, in fact. That is, if your ad is relevant to what they're looking for. In the same Clutch survey, one-third of respondents said they click on a paid search ad because it directly answers their search query.
How can I get my school advertising on Google Ads?
If you'd like to get started with Google Ads, you have two options:
Learn the basics of Google Ads, and run your campaign in-house.
Hire a marketing agency to build and monitor the campaign for you.
Creating and running your own Google Ads campaign is certainly the most cost-effective option. If you engage a reputable marketing agency, you can expect to pay upwards of $500 each month just to monitor your campaign and perform a few small optimization tasks.
If you are looking to run a very basic campaign, it could be worth it to learn the basics of Google Ads and keep the work in-house.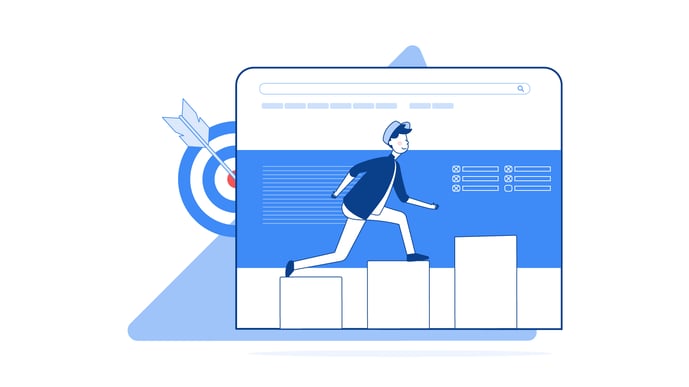 However, if your campaign is more complex — particularly if you have ambitious goals in mind (like a large increase in enrollments) — it will likely be worth it to engage a marketing agency. Learning and mastering every feature within the interface is incredibly time-consuming… not to mention setting aside dedicated time every week to analyse the performance of your campaigns, make recommendations and implement optimization tasks.
Need help choosing a marketing agency for your school?
Before you begin advertising
Whichever route you decide to go down, there are a few things that you will need to decide before you begin.
Your budget
When you build your campaign, you set a daily budget for each campaign that you run. It can be helpful to set a monthly budget and divide that number by 30.4 (the average number of days in a month). You don't need to spend a lot in Google Ads to see some great results — even spending $200/month can give you some decent exposure in your area.
Your advertising goals
Whenever you undertake a new marketing activity, it's always important to ensure it fits in with your marketing plan. Your marketing plan is a document that outlines your school's business objectives and that initiatives that your team will undertake to work towards them.
Your Google Ads campaign should be working towards specific goals. Some common Google Ads campaign goals include school brand awareness, driving enrollments, engaging alumni and encouraging donations.
The types of search terms you would like to appear for
This step will be driven by both your budget and your advertising goals. Start by thinking about the actions you would like users to take, and the types of searches they will be performing. If you are targeting prospective parents, the keywords you'll target will be different from the keywords you'd target if you were trying to encourage donations.
After you've come up with your list, enter them into Google Ads Keywords Planner. This will show you the average cost of bidding on that keyword, how competitive it is and some related keywords that you could bid on. If you have a small budget, aim to bid on cheaper keywords with lower competition to ensure you don't exhaust it early in the day.
Image via KeywordTool
Check out our handy guide to the 3 Keyword Research Tools you should be using
(including Google Keywords Planner!)
Your landing pages
A landing page is a destination where your client will "land" once they click on your ad. While landing pages may be a homepage or another static page on your website, often advertisers will create a specific page that is designed to:
Provide messaging that matches the ad they clicked on. For example, if they clicked on an ad about enrollments, directing them to a landing page with messaging about enrollments.
Capture the visitor's information — usually in exchange for something. For example, a landing page could promise that you will email visitors a school prospectus if they provide their contact details.
Google Ads is a useful and easy way to advertise, with lots of marketing opportunity for savvy schools. If you've got an amazing school website, it's time to start driving visitors to it! Are you looking at implementing Google Ads in your school marketing plan? Get in touch and let us know!