Social Media
5 Simple Hacks to Get Your School Leaders to Create User-Generated Content
December 6, 2020
There's no denying that user-generated content is one of the easiest and cost-effective ways to create social proof for your school. But, the tricky part is recruiting and encouraging students to leverage their social media channels to promote your school. In this guide, we'll provide you with 5 simple hacks to turn your school leaders into resources for user-generated content.
But first, who counts as a 'school leader'?
These students can include your school captains, vice captains, sport leaders, prefects, mentors, or any other position of student leadership that's unique to your school. Students are more likely to engage with content shared by their peers, rather than your marketing team, so getting your school leaders on-side is always a great idea.
Getting your leaders onboard
Your platforms and guidelines have been confirmed, so now it's time to get your school leaders onboard. School leaders have their work cut out for them juggling school work, extracurriculars, home responsibilities, and leadership. Adding on further responsibility may overwhelm them, so you need to make sure that the task feels like it's a natural progression from their existing duties.
More often than not, leaders are out-going and empathetic to the needs of the school community, so it's likely they want to help out if you approach them in the correct way. Before meeting with your leaders, it's important to reach out to their families to fill them in on the campaign and get permission for their child to be involved. Once you receive the go ahead from the guardians, you can start to condense information into a social media campaign plan that you can present to them. This plan should outlay the campaign timeframe, the tone of voice, photo examples for inspiration, selected platforms, content guidelines and the goals that you want to achieve. To avoid overloading your leadership team, you should evenly distribute the content duties across three to four students that you think would be open to the task.
Set content guidelines
We can't stress enough just how important it is to set posting guidelines for your school leaders to avoid any unwanted surprises. You can trust your school leaders to post appropriate content, but it's also important to have a staff member checking the content before it goes live.
Consider these three questions:
Who will check the content for quality control before it's uploaded?
Which account will students post from?
Does your marketing team need to include additional information?
Don't forget, if a student posts directly to their own social media accounts there is no way to monitor what's going out. Instead, you could ask students to send their videos, photos, and the caption to a designated staff member two-to-three days before the post goes live. This leaves enough time for your team to check the content and make any necessary changes.
Choose the right platforms
We have no doubt that your school leaders are already using a variety of popular social media platforms, but it's important to gauge which ones they're comfortable promoting your content on.
Research shows that in 2020, Instagram, YouTube, Snapchat, and TikTok were the top four social media channels for Gen Zers, with less consideration given to platforms like Twitter and Facebook.
It's important to keep in mind that your leaders are representing your school's brand, so it's okay to be a little picky with which platform they use. If you're feeling unsure, we recommend starting with Instagram and Facebook. Instagram is the perfect platform for your students to use as it's a creative space that focuses on engaging photos and videos. It also has features such as Instagram Stories, IGTV, and Highlights, which are all perfect for hosting different student segments. Take a look at the example below from St Hildas School, here we can see a dedicated 'students' highlight on the school's Instagram page. Tapping on this highlight reveals a collection of student takeovers, lunch-time activities, and home-made videos.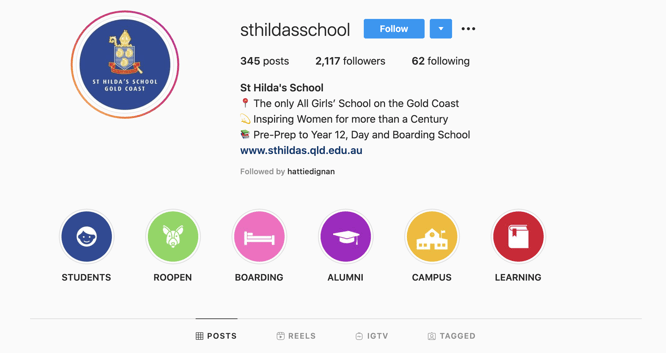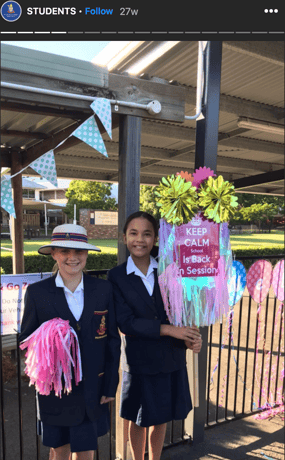 Facebook is another great platform for hosting your user-generated content, as it has a wider audience reach, consisting of students and their families. Facebook enables you to host a variety content types, providing greater flexibility for your student leaders. Users can easily share and interact with your content, making it a great way to create social proof and connect with your school community.
Brainstorming content ideas
The idea of user-generated content sounds great, but how do you actually work out what your leaders should post? This is where your leaders' unique insights come into play. Organize a group meet-up with your school leaders to start collaborating. To kick off the meeting, start by getting them excited about your school's social media accounts and that you're looking to share more 'organic' content with your community.
Next, run them through your campaign plan and then allocate time at the end to brainstorm social media post ideas. While brainstorming content ideas, it's also a good time to collaboratively come up with a hashtag that you can use across all of the user-generated posts. A hashtag will help you categorize and group your content in one place and differentiate your leaders' posts from other content on your social media accounts.
Here are a few ideas we've come up help get your brainstorming moving:
A weekly photo series on Instagram
Students can be responsible for all aspects of the post, from capturing the image to adding filters, writing a caption, and choosing emojis. Brainstorm ideas for images with your students to gauge an idea of what kinds of content they believe to be appropriate. If the photo ideas seem off-brand, try to bring them back to some photo examples that you may have found in your research. Some photo ideas include features of different classes, special events at your school, or talking to different sports clubs or extracurricular groups on campus.
Instagram or Facebook live takeovers
One of the newest and most popular features of Instagram and Facebook is the live feature. 'Going live,' otherwise known as live streaming, is the process of sharing real time video content with your audience on your social media accounts. This can be filmed directly from a smartphone or you can also use professional camera equipment to produce a higher quality stream. A school event is the perfect opportunity to leverage your student leaders and assign them to control the live broadcast for the event. They can moderate comments, narrate what's going on in the background, have their own say on the event and even interview their peers. This gives your audience an opportunity to experience an authentic and live interaction with the student leaders.
Student leader profiles
A profile series is the best way for your current students to get to know their leaders' on a more personal level. It's especially beneficial for fostering friendships between students of different ages and encouraging them all to connect on social media. Ask your leaders to write up a few fun questions (What's your favorite subject? Do you have any pets? Do you have siblings at the school?) and interview one another, accompanying the text with a fun image of them enjoying school life. This is also a great resource for prospective families and students to view to get an idea of the current leadership team at the school, their values, and what it may be like to interact with them.
Avoiding content clashes
To avoid doubling up on content, provide leaders with a campaign content calendar outlining when their piece of content will be published. This will help students to effectively plan for the posts and put aside time in the month to think of an idea, create, and edit their content. It's a good idea to set up a shared calendar between the school leaders where they can submit their content idea at the start of each month. This way they can see an overview of other students' planned posts and ensure that there are no overlaps in content ideas. We recommend using a platform such as Google Calendar or CoSchedule to create a shared schedule and organize your campaign.

Key benefits of user-generated content
There are several benefits that you'll see from having your student leaders feature on your social media accounts. For example, you might notice more genuine engagement from peers and family members, or perhaps it may nudge more interactions between peers on campus, as your students are positioned as friendly and approachable and lastly it can provide your prospective families with an authentic point of view of the school culture. As always, make sure that you're monitoring the performance of your leader-generated campaign to see the difference it can make. Schedule a quarterly catch up with your student leaders to see how they are going, what they like and dislike about the campaign, and where improvements can be made. Depending on how many leaders your school has, you might like to rotate the leadership posting groups every month or so, to give each leader a chance to participate in the campaign.
We hope that these tips will help you to create a strong user-generated campaign with your school leaders. For more social media pointers visit our Digistom blog and sign up for our weekly dose of ed-tech news.