Company
Highlights From Hackstrom 2019: Our First-Ever Hackathon
November 25, 2019
A few weeks ago, we ran our first-ever Star Wars-themed hackathon right here at Digistorm HQ. The event (which we've fondly dubbed 'Hackstrom') took place over two and half days and was fuelled by passion, innovation and A LOT of snacks!
Hackathon's aren't just a great way to shake up the usual working week — they also provide an opportunity to work with new technologies, solve exisiting problems for clients, foster cross-team collaboration, boost staff retention, and the list goes on! In this post, we share some of our key highlights from Hackstrom 2019.
Wait, what's a hackathon?
In a nutshell, a hackathon gives creative and talented teams an opportunity work on ideas they wouldn't typically have time to pursue. It shifts the day-to-day routine, bringing different team members together (typically over 48-hours) to 'hack' and idea or problem. This means starting from scratch, creating a solution, and developing software to put that idea into action. The cherry on top is that most hackathons involve a prize for the winners, helping to spark a little friendly competition between teams. This year, winning Hackstrom 2019 meant securing a place on the official Hackstrom cup, a cash prize, and of course, eternal glory!

Seven teams, two judges and a referee
Seven teams took part in Hackstrom 2019, each captained by one of our senior developers (or as we like to call them, master Jedis). Their first mission was to nominate a memorable, Star Wars-inspired name for their team — some of our personal favourites included; Admiral Hackbar, Han Trio and Livin' La Vida Yoda.
Once team names had been sorted, it was time to let the hacking begin! Each team set out to impress our judges with their pre-approved hack idea. Teams were at the mercy of our CX and Implementations Manager, Monica Gill, and of course, our Managing Director (aka fearless leader), Tim Oswald. Points were to be awarded based on the following key criteria; customer experience, tech capability and implementation readiness. Allocating points was no easy feat for our judges, but thankfully, our designated Hackstrom 2019 referee, Chris Lang, kept our teams above board (no bribes to be seen here, folks).
Snacks, bonus points, and more snacks!
With just two days to bring their ideas to life, our teams were fully immersed in their hacks and took full advantage of every last minute. But, of course, taking breaks to stretch and refuel is essential and what better way is there to lure our teams away from their desks than with food and an opportunity to win bonus points?
We made sure no one went hangry during Hackstrom 2019, with breakfast, lunch and dinner all catered for over the two days. Next, to get our teams up and moving our ref organised a good old-fashioned, egg and spoon race in the Digistorm car park. Although a bare-footed Bentley snapped up the bonus point, it was Nathan who showed us that slow and steady (almost) won the race.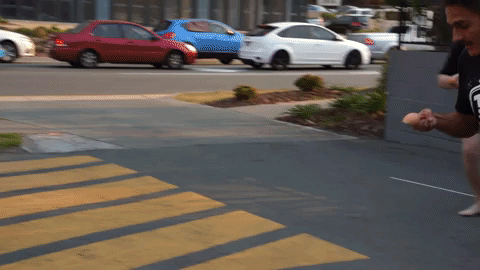 The Dev Star takes the win
There was no doubt that every team gave it their all over our 48-hour hackathon, but, there can only be one winner. A HUGE round of applause goes out Ben, Bentley, Richard and Tatiana, aka The Dev Star, for taking out first place in Hackstrom 2019 with their project, "Beyond."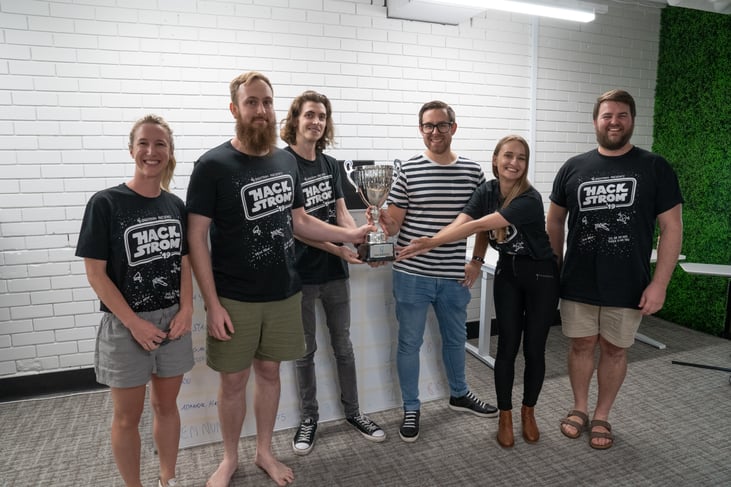 From left: Monica, Bentley, Richard, Ben,Tatiana & Tim.
"Beyond" is a brand-new concept for the next generation of the Digistorm App. We can't say too much more at this stage, but keep your eyes peeled for more information on this one. All-in-all, Hackstrom 2019 was a hit! We were absolutely blown away by all of the creative ideas our teams developed to improve our products and grow company culture. Nice work team! We can't wait to see what you come up with for Hackstrom 2020.
Are you interested in working on amazing products in a great team? We're always on the lookout for talented developers in the Gold Coast area. Email your CV to jobs@digistorm.com.au — we'd love to meet you!