Event
A Guide to Postponing Your School's Upcoming Events
March 27, 2020
We recently published a blog on how your school can convert in-person events to online events during COVID-19. We understand that in certain circumstances an event can't be delivered online, in which case, it has to be canceled or postponed to a new date. Delivering the news of an event change can cause disappointment and frustration for attendees, so we're here to help guide you on how to break the news.
Why events are being postponed
The Australian Government recently announced that all non-essential outdoor and indoor gatherings may not proceed to help control the spread of COVID-19 and adhere to social distancing. At this point, the ban could be in place for six months or longer, which means a lot of schools are looking at postponing their events. It's important to announce your event reschedule as soon as possible, but before you send out the communication there are steps that you should follow to ensure your attendees are correctly informed.
1. Choose a new date
At this time, it's hard to tell when you'll be able to set a new date for your event. In light of recent recommendations, the safest bet is to reschedule the event to 12 months from the original date – this allows time for your attendees to schedule and for suppliers, catering and the venue to be re-booked if necessary. Run through your school calendar with your team and select a new date for the event that doesn't clash with any pre-existing events or important dates.
If you're hoping to reschedule your event within 12 months of the original date, but are uncertain when this will be possible with the COVID- 19 outbreak, you can also choose to advertise your new date as TBA (to be advised) for now. If you choose to advertise your re-scheduled date as TBA it is important that you attempt to release a new date 30-90 days from the rescheduled announcement to keep your attendees in the loop.
2. Carefully construct your communication plan
This is the most important step to rescheduling your event and it needs to be executed correctly to help diminish disappointment and frustration amongst attendees. A well-executed postponement can demonstrate your school's honesty and ability to respond to unexpected change.
Here's what you need to include within your communication:
An apology for the cancellation
A refund request option
New date and venue details
Contact information for further questions
Begin your communication by extending your apologies for postponing the event. Be sympathetic with your wording and make sure that you're clear and concise with the information. You might like to also think about including official information from the Australia Government, providing further information on mass gatherings to support your communication. If your school event was ticketed, you'll need to offer refunds to your attendees in case they can't attend the rescheduled date or they wish to no longer attend. Be sure to include how attendees can request a refund and the date they need to request it by.
You also need to include the new event date and any venue changes if necessary. Provide your attendees with contact information for any further questions and a link to any upcoming online events or webinar's that may be related. Of course, you'll also need to be prepared for an influx of questions and have the resources readily available to reply and communicate to your attendees.
3. Alert registrants of the postponement
Once you've drafted up your communication, decide on the channels you're going to leverage. It's likely that your attendees are already regularly checking their emails during this period, so we recommend sending your first communication via email.
Next, it's essential to also communicate your postponement via any other platforms used to promote the event, this might include: LinkedIn events, Facebook events, Eventbrite, or your school website. Take a look at the examples below from Redeemer Lutheran College and Villanova College.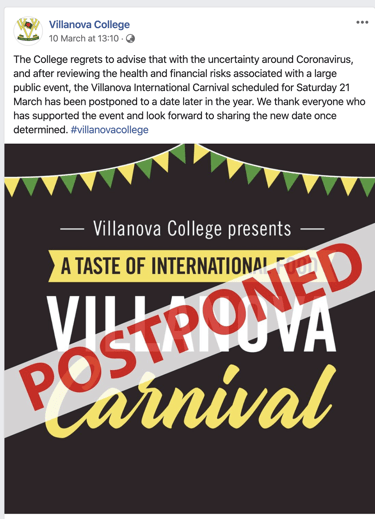 Source: Villanova College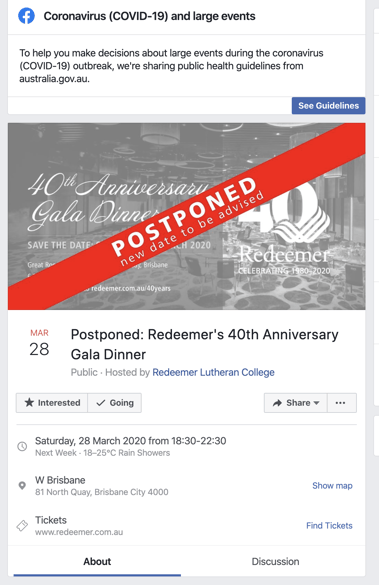 Source: Redeemer Lutheran College
If you also promoted the event through your school app, we recommend sending a notice with a push notification, to fill any potential communication gaps that may arise from the event change.
We hope this guide will help your school constructively postpone your upcoming event during this difficult time. If you're in need of additional support, take a look at some of our other COVID-19 communication resources: