Social Media
Ideas for School Social Content Over the Break
November 22, 2020
A note from Digistorm: This post was originally published in November 2017. We've updated it to include more relevant information.
Every school break, we see the same thing happen — your school is no longer abuzz with students, activities and excitement, so social media can get a little bit quiet. In 2020, this is even more true! Without regular school activities happening, it can be hard to find content to post to stay connected with parents and students.
Even though it seems like less is going on, it is important to remember that your audience is still checking social media throughout this period. In fact, they are probably using social media more than usual with their extra free time! To help you to keep you posting engaging content, we've put together some quick, easy and interesting ideas to keep you going over the holiday period.
School updates or improvements
Holidays are a prime time for renovations — there's no one around, so there's less of a chance that construction work will get in the way of school operations. Updates and improvements to your school grounds and facilities are always a positive that can be appreciated by current school families and prospective families alike.
Are you having some gardening done? Share some before and after snaps of your beautiful new grounds.
Putting up a new building? Post weekly updates to keep families engaged with its progress.
Getting a mural painted on a school wall? Share a time lapse video of the work.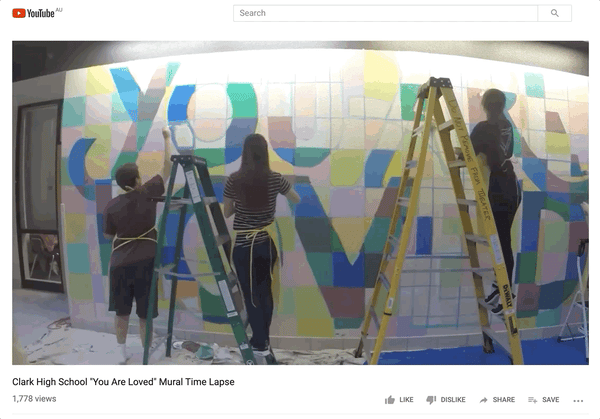 Source: Clark High School Mural time lapse
Behind-the-scenes teacher preparation
At the beginning of the new school season, teachers will often get together for some planning days. If you pay attention, this day is rich in interesting content that will engage parents and get students excited for the new school term.
It's rare to see a glimpse of the inner-workings of your school, so snap a few photos of staff enjoying themselves at the planning day. Are any teachers preparing an interesting unit in the upcoming year? If they're comfortable speaking on camera, video a quick teaser of what students in their class can expect.
Alumni updates
Your current students are taking a break, but it's likely your past students aren't! Showing off your accomplished alumni goes a long way towards positioning your school as a destination for successful people, and will also give them a little exposure in return.
Source: Redeemer Lutheran College Facebook
Throughout the year, ask alumni (and in particular, parents of alumni) to share details about what they are up to and what they're doing. You can also connect with past students on LinkedIn to stay informed about their professional and academic achievements. Once you have this information, schedule alumni posts for the school holiday period when you know school updates won't be as frequent.


For more tips and tricks about engaging past students,
Throwback Thursday or Flashback Friday
Throwback Thursday (#tbt) and Flashback Friday (#fbf) are two very popular social trends — and for good reason! Digging into your archives and sharing school history can encourage your wider community to share their memories, and can also provide you with a wealth of interesting content during slow seasons. What's the difference between the two? Not much — just the day of the week you post!
Enjoying the hashtags dedicated to days of the week? You can create new themes that suit your school, such as #MotivationMonday or #WednesdayWisdom to share relatable quotes from your school leadership. Have your graphic designer create a branded template for you to share on social media. Don't have a designer? Check out Canva!
Holiday volunteering posts
Over the holidays (and particularly at Christmas), there's a good chance that staff, parents and students from your school will be looking to put their free time to use with some volunteering efforts. Why not post opportunities for them to give back to their community? You can find a list of charities and volunteering organisations in your area by checking your local council website.

Source: Ambrose Treacy College Facebook
Messages from your Principal or other school leaders
At holiday periods, your school leaders, including your principal, chaplain or even your future school captains may have messages that you can share with your school community. Whether the message is recorded on a video, published on your blog or written out in your post, make sure you share messages from school leaders across all of your social profiles. At times such as Christmas, it's not unusual for these posts to be shared a couple of times — first, at the close of the school year, and again closer to Christmas Day.
Whether the messages focuses on the religious elements of the holiday, school achievements over the past year or is simply a 'stay safe' message to parents and students, a message from school leaders goes a long way to showcasing your school's values through social media.
For more about building a personal connection through your communications, check out our post,
User Generated Content
We've written an entire post on user generated content (UCG) before, but we'll say it again — there is no better place to get content than from your community! Ask your social media followers for photo highlights from the past year, and you'll find that you'll have a range of new and interesting photos to share — all from different points of view and from different community members.
We love seeing your posts, so like the Digistorm Facebook page or follow @digistormed on Twitter and we'll do the same. Happy posting!