Admissions
Improving the Prospective Parent Experience Online
October 12, 2020
A note from Digistorm: This post was originally written in 2017. We've updated it to include more relevant information and recent statistics.
A big focus of our content this year has been to help schools improve their online experience. Whether it be your social media channels, parent communication app or school website, your online communication channels play a large role in the experience that prospective parents have with your school.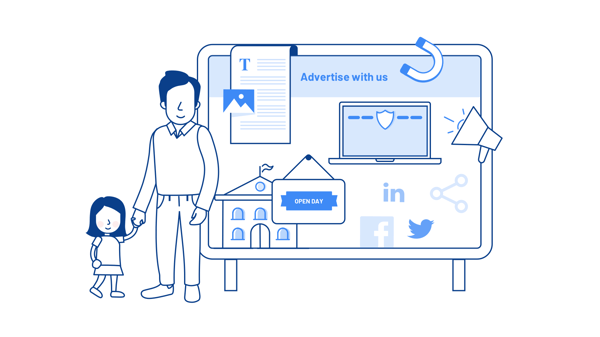 But there's always room for improvement! In this post, we're going to be looking at a few ways that you can make the prospective parent experience even better. So read on for our top 3 tips!
1. Sharpen your messaging
In order to quickly capture attention and gain clicks or conversions, schools should ensure that all of your messaging is:
short, sharp and easy to understand
memorable
geared towards the prospective parent.
We know, we know — this is easier said than done. However, studies show attention spans are shortening rapidly, due to the sheer amount of information available to internet users (including prospective parents). That's why you need to get to the point with your messaging, and get to it quickly.
The best way to do this is by honing in on your school's USP (unique selling position) — this is the reason that other parents in your school chose you rather than the alternatives in your area.
2. Create simple pathways to the information they need
Both digital marketing channels and a school's website should offer simple methods to access information that is important to prospective parents. Here are some ways to ensure that prospective parents can easily access information they need from your school:
add your school's website link to every social media profile
keep your school's social media profile information current and updated
ensure that your website's navigation is clear and provides obvious links to common information searched for by this group
if you provide online enrollment, provide a quick link to the form from your website.
Your school's contact information should also be clearly presented on your website footer, on your Contact page and on each online marketing profile that the school has. Ensure that your contact information is kept updated, and provide your preferred method (usually your website URL) in any digital marketing that you run.
3. Offer simple and fast online enrollment
Online enrollment forms have a huge number of benefits for prospective parents, making your school a more appealing option than those that ask parents to print, complete and return a hardcopy form. We've already discussed the multitude of improvements that online enrollment offers, but here are our top 3:
Parents can complete the form on any device (including their mobile!), and can save their progress and return to complete the form later.
Parents can easily upload any files directly from their computer or phone — including taking a photo of those important documents and attaching them.
Parents who stop completing the form can be 'nudged' to complete their application through a completely automated process — greatly improving your completion rates.
All of the above greatly cuts the amount of time that parents spend enrolling their children, as well as reducing the time administration for your admissions team.
In summary
We hope you've picked up a few tips to help you support your online prospective parents' experience! If you'd like to discuss a branded, custom online enrollments portal, why not talk to the friendly Digistorm team about Funnel?
If you'd like to learn more about what you can do to improve your online experience (and drive enrollments!), check out these other Digistorm resources: