Email Marketing
How to Increase Opens and Clicks on Your School Newsletter
November 27, 2019
School newsletters have evolved a lot over the past few years. While some schools are still creating beautifully-designed, printed versions to send home with students, many schools have abandoned printing in favour of a digital format. The upside to this is that newsletters are no longer found crumpled and torn at the bottom of a child's backpack at the end of term. The downside is that digital versions are getting missed, ignored or are, at best, lightly skimmed.
The school newsletter is an incredibly important part of school communication, so if parents aren't engaging, they miss out on crucial information. Here are some steps that your school can take to improve your newsletter strategy and ensure it's a piece of communication that actually gets read.
Why do you need a digital school newsletter?
Even if your school is sticking to a print format, offering an alternative digital version is a smart move. Parents are increasingly consuming more information on screens (and less in print). For an easy option, you can upload your PDF newsletter to a service such as issuu.
Another option (and one we'd strongly recommend!) is to place the school newsletter directly on your school website. To maintain this, you will simply need a school news page that has a content management system (CMS) and a member on your team who has been trained to use it. A CMS allows you to make quick and easy content changes to your website without needing any coding knowledge. Here's a great example of an online newsletter, Redeemer Blue: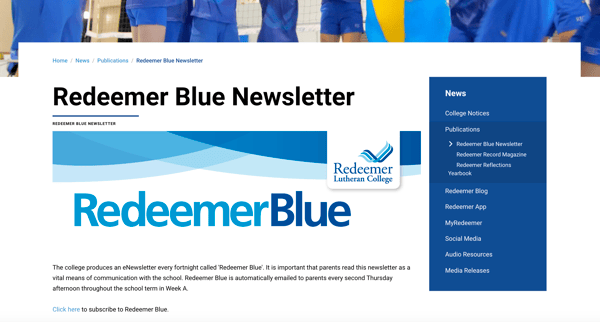 Source: Redeemer Lutheran College
Once you've worked out how you're publishing your online newsletter, it's time to get some eyeballs on it. To do this, you'll need to ensure people are actually opening it and then clicking on the relevant sections to learn more. The percentage of people who open your email is known as the open rate. The click-through rate (CTR), on the other hand, is the percentage of people who click on a link within your email.
Both opens and clicks are important statistics that help you to measure engagement with your newsletters. In this post, we'll look at a few strategies that will help you to boost your readership in your school community.
1. Consider your distribution methods
A big part of boosting your newsletter open rates is getting it in front of your parents in a format that suits them — this is called distribution.
Using an email marketing provider such as MailChimp or Campaign Monitor is a great way to distribute your newsletter. Email marketing providers can help you to measure the results of each email (including what percentage of parents opened it, and which links they clicked on). You can also use segments to tailor content to certain subsets of your community so they are only being presented with information that is relevant to them.
Another great distribution method is a newsletter module in your school communication app. A newsletter module allows you to publish your newsletter directly in the app and alert parents when it's ready to read by sending out a push notification. Schools are finding great success by sending out a combination of distribution methods to target different segments of parents who consume content in different ways or on different devices.
Whichever method you choose, make sure it's responsive (mobile-friendly). The majority of your readers will be viewing your newsletter on their mobile phone, so don't make them squint and zoom to be able to see your content.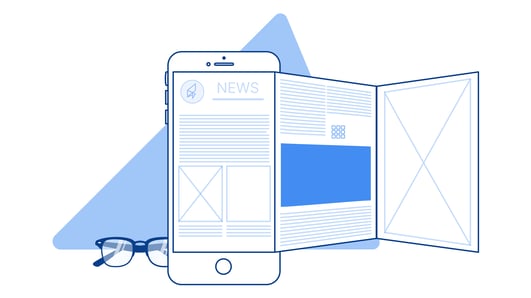 2. Put energy into your headlines
We've had a lot to say recently about nailing your school marketing headlines and email subject lines — for good reason! Parents in your community are drowning in a sea of interesting, impactful content, so to capture clicks, you first need to capture their interest. The headline, "College Newsletter - Vol 29 Issue 4" isn't the hook that will get parents interested.
Take a leaf out of the journalist's playbook and get creative with your headlines. Pick the most important or exciting piece of content in your newsletter, and make it the feature (for example: "Our OP Results Are In!").
You can also perform A/B tests of different headline variations to see which ones improve your open rates. Upworthy, viral content creator, gets 80,000,000 unique visits to their website per month by testing 25 different headlines per story to find the most engaging version.
3. Write interesting content (really!)
This one seems like a no-brainer, but school content can sometimes be information-heavy and light on the entertainment. Notices, event updates, sports results, music timetables... put it all together, and you have a newsletter full of very dry content. Unfortunately, boring content will stop clients from reading your emails in the future, and may even cause them to unsubscribe or turn off newsletter alerts. You can add value to your school newsletters by including well-written, educational and entertaining content. It's also a good idea to supplement your content with engaging images and interactive features, such as GIFs, videos or surveys.
Segments (based on parent personas) are a really great way to keep the newsletter content relevant to your audience. Segmentation ensures you aren't sending out Junior School notices to High School parents or instrumental announcements to parents whose children aren't involved in music.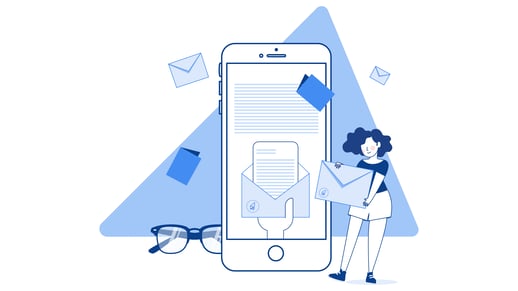 4. Optimize your CTAs
A call-to-action (or CTA) is a clickable element in your newsletter that encourages the user to do something. They come in a variety of designs and styles, from social share icons to buttons to links, but they all have the same goal: getting your readers to take action. The most common CTA that you'll use in a newsletter is one that encourages parents to Find out more or Read more. In our Digistorm newsletters, we trial a few different types of CTA formats, placements and wording to encourage our readers to engage with our blog content. CTAs are also another element of your newsletter that you can A/B test to see which ones work the best.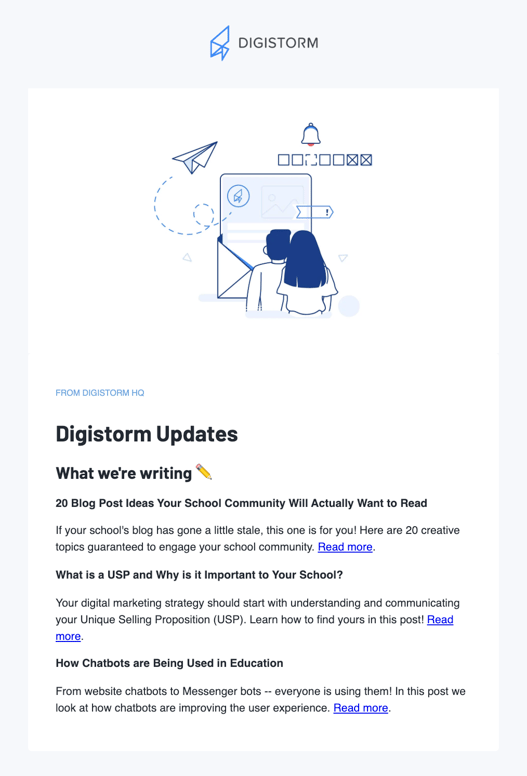 5. Put your data to work
Once you've produced a few newsletters, you'll start to gather data about the types of content that your audience is interested in. Do they like short, sharp updates or longer-form stories? Do they prefer to watch videos or read blog posts? Are behind-the-scenes posts engaging your readers? Which headlines encourage readers to open your emails? Let your historical click-through rate and open rate data guide your newsletter production.
6. Don't be afraid to resend it
If you are using an email marketing platform to distribute your newsletter, you can often set up automations, or triggers to resend the newsletter to anyone who didn't open it the first time you sent it. You can resend the same newsletter with a different headline or at a different time of day to see if you can catch them the second time around.
Are you interested in exploring newsletter distribution through a school app? Check out Digistorm's school app with a custom newsletter module that puts your content directly into parents' hands. Find out more about the Digistorm app today!