Events
Here's How to Leverage LinkedIn For Your School's Next Event
March 17, 2020
When it comes to organizing events, LinkedIn isn't usually the first social media channel that comes to mind. But, hear us out, with its diverse audience it's on the up and coming! Last October, LinkedIn made some nifty updates to its event features, making it easier than ever to plan your next in-person event on the platform. Users can now create both private and public events on desktop and mobile devices – pretty handy, right?
So, if you're thinking about leveraging LinkedIn for your school's next professional event, here's a quick guide to getting started!
Create your LinkedIn event
To create your new event, head over to your LinkedIn profile and select the "Events" button on the left-hand side. Be sure to choose a concise event name and double-check that your location, venue details, date, and time are all accurate. Next, you'll want to choose an event description that will catch your network's attention. Why not try including interesting details such as; guest speakers, event activations, catering options or topics that may be covered in the event?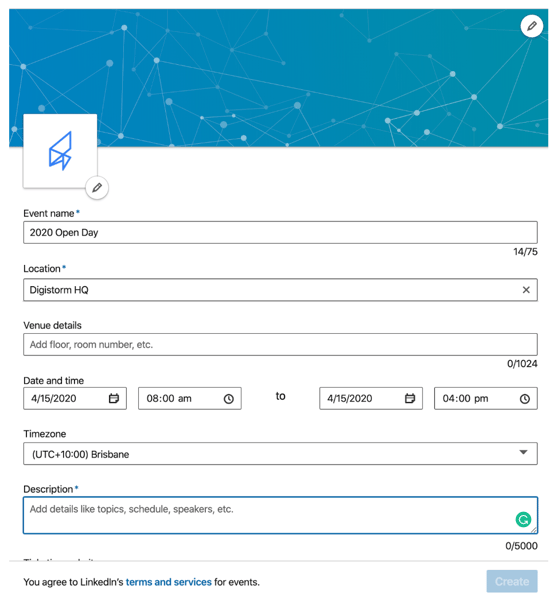 Try to keep in mind that you don't want your description to be too long and cluttered -- sticking to around 100 words is your goal. LinkedIn also gives you the option to add a link to ticketing websites which is a handy way to get people to purchase tickets! Don't forget to upload your school's logo at the top to align your branding and create that personalized touch!
Invite your school's network
Now that you've created your event, it's time to extend the invite to your LinkedIn network -- this works similarly to Facebook events by selecting the specific users you wish to invite. As users accept your invitation you can begin to interact and track attendance. If you need to change the event details at any time you can manage your event by selecting the "Edit Event" dropdown located on the event page.

Boost visibility on the home feed
So you've created your LinkedIn event, you've invited key users, now what's next?
Promote, promote, and keep promoting! We find that it's best to work backwards from your event date to determine how many weeks you actually have between the date you created the event and the actual event date. Why is this important? It'll help you to figure out how much content needs to be created and scheduled into your school's content calendar to promote the event effectively (don't forget this includes pre and post-event content). Try to aim to repost your event around at least twice a week, with an increase in posting during the final week before the event. Now, keep in mind that you definitely don't want to spam your connections, but you do want to ensure you're optimizing your visibility in the feed and leveraging that LinkedIn magic!
For extra visibility, you might want to think about adding a couple of hashtags to each post and ensure that you're posting regular updates and new details the event page for attendees to see. If you're connected on LinkedIn with your guest speakers or local sponsors who are supporting your event, reach out to them and encourage them to repost the event for their connections to see!

Leverage your event day content
It's easy to get swept on event day, but don't forget to capture photo and video content that you can store and use for later! Think about writing a post-event blog post, sharing some key takeaways, or uploading a video highlight reel. LinkedIn users are often searching for trustworthy and honest content and posting video content can be an effective way to showcase your schools brand in an authentic way.
Your school website is the main source of information for your event. Need to talk to a professional about getting a custom-designed events page? Talk to a friendly member of the Digistorm team today!