Social Media
LinkedIn for Schools: How to Grow and Engage your School Community
July 4, 2019
A note from Digistorm: This post was originally published in November 2017 and has since been updated to include more relevant information.
LinkedIn, it's the social media platform for professionals and the wider business community. Known for its ability to drive career opportunities, enable networking, and connect like-minded professionals from across the globe, LinkedIn is an invaluable tool for any professional looking to expand their network. However, it's usually for these reasons that the platform is often overlooked by those who work outside the corporate world.
As we explore throughout this post, LinkedIn can play a valuable role in your school's social media strategy. Stop for a moment and consider the diverse audiences that make up your school community. Now, how many of these people could you potentially engage with through LinkedIn? Chances are, there's quite a few. If your school has a LinkedIn profile set up, but you know that it's not getting the attention it deserves, you're missing a huge opportunity to engage with your parents, staff and alumni. So, without further ado, let's dive into how you can leverage LinkedIn to grow your school community.
Update your information
If your aim is to attract more visitors to your school's LinkedIn profile, you're going to want to ensure that your profile information is accurate and up to date when they land on it. Head over to the 'About' section on your profile and make sure everything from your school size to your contact information is current. While you're there, you'll also want to check that your profile image is a current, high-resolution image of your logo and that you've added an engaging header image — just like Brisbane Grammar School have done in our example below.



Post regularly
Like any other social media platform, LinkedIn allows you to create and share content with your network connections. The goal here is to curate engaging content that your audience will want to click on, read, and share. Keeping your audience in mind (parents, staff, and alumni), you'll need to tailor your content to match their interests. This means that you won't be able to do a quick cut and paste job of content you've already shared on Facebook or Instagram, instead, you'll need to craft your content to be informative and professional. A couple of ideas for content that performs well on LinkedIn includes; blog posts, news updates, events, and behind the scenes videos and photos of your school.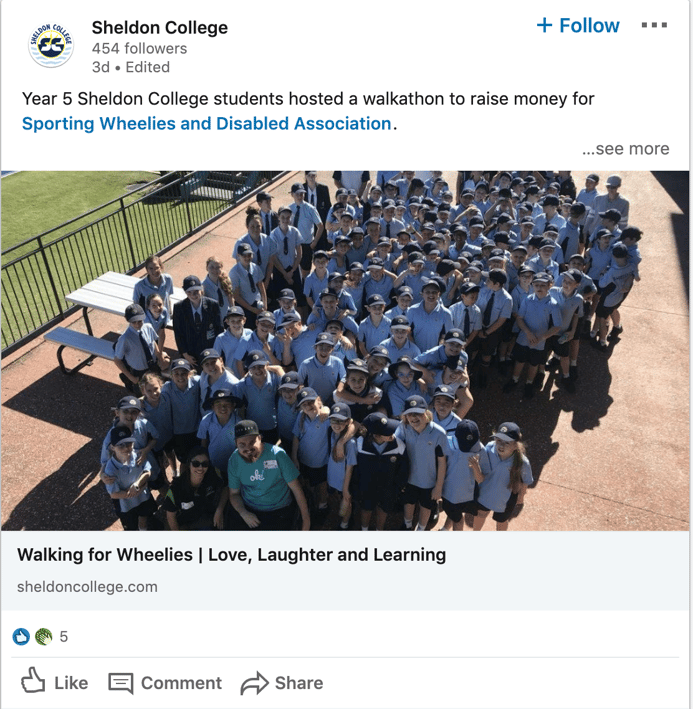 Encourage employee advocacy
It's no secret that engaged employees are the lifeblood of every successful business, so it stands to reason that employee advocacy should be a part of your LinkedIn strategy. By leveraging your current staff members as brand ambassadors and encouraging them to like and share your content, you'll be able to increase your reach and engagement, while fostering a sense of community. What better way is there to boost brand awareness and attract new talented teachers to your school than by having your own staff as brand advocates?

Position your staff as thought leaders
What better way is there to gain credibility for your school than by positioning your staff as thought leaders? Thought leadership is all about building a professional brand and LinkedIn provides the perfect platform to do just that. You don't need to be the smartest person in the room to be a thought leader, but you do need to be engaged with your industry, enthusiastic, and ready to share insightful information with your network. Encourage your staff to become thought leaders and build their professional brand by leveraging LinkedIn to publish articles, share key insights from industry events, post relevant news, and engage with other thought leaders. Of course, with all things, it's important to remember that consistency is key! You're not necessarily going to become a thought leader overnight, but if you commit to posting frequently your content will reach your audience.
Celebrate your Alumni
LinkedIn is the perfect platform to keep in touch with your alumni members and encourage the next generation to enrol at your school. A great way to engage with your alumni members is to post regular content to celebrate the achievements past students have made. Take the post from Clayfield College below, for example, this past student's Scholarship award is a brilliant way to demonstrate that Clayfield College produces academic excellence. Reach out to your alumni members to learn where they are now and ask to share their achievements.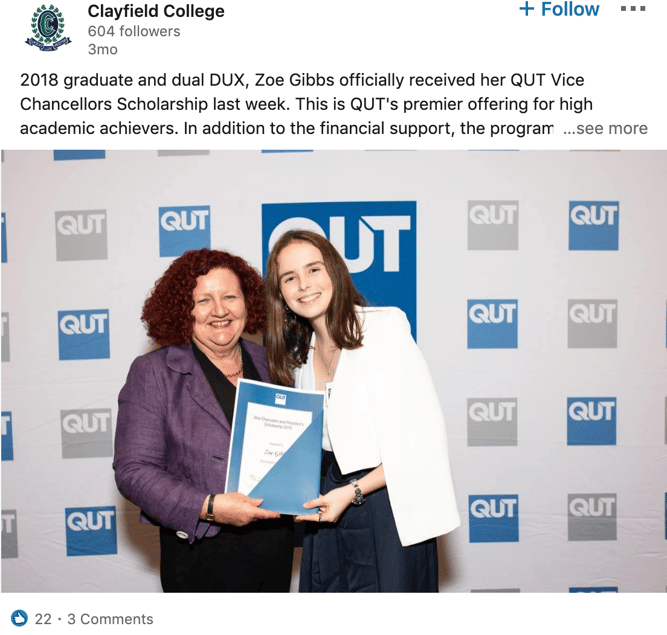 Review content performance
LinkedIn offers a range of analytics on your visitors, updates, and followers to help inform you about how your LinkedIn page is performing. You'll want to pay special attention to the analytics around your updates as this tells you everything you need to know about how people are engaging with your content. Some key metrics to review include; clicks, click-through-rate (CTR), comments, likes, and shares. Taking the time to understand the analytics behind your content will enable you to better gauge which posts are resonating with your audience, and which posts need to be altered to maximise engagement.



Want to learn more about how you can use social media to grow your community? It all starts with learning which social media platforms are right for your school. While you're here, be sure to check our free guide: The Complete Social Media Marketing Toolkit for Schools.