Company
Digi People: Meet Monica, Our Customer Experience and Implementation Specialist
November 6, 2019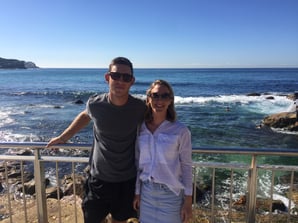 Every month we sit down with a team member at Digistorm to talk about their life, their career before Digistorm and what their experience has been since working here. Monica has been working at Digistorm for two years, first in the role of Client Success Manager and now as our Customer Experience and Implementation Manager. In this interview, we chat about her journey to joining Digistorm, project highlights, hobbies outside of work, and her favorite part of working at Digistorm.
Tell us about yourself.
My name's Monica and I'm the Customer Experience and Implementations Manager here at Digistorm. My role is quite a new one, so it's very exciting! I'm working on our implementation processes, all of the training materials and am building up our resource centers to ensure that everybody has all they need to get the best out of our products.
What was your journey to joining Digistorm?
I was initially working in the mining industry, so it's a little bit different from education, but I was working with a team doing similar stuff, really. Then I wanted a little bit of a sea change, so I moved up from Melbourne to the Gold Coast and went back to Uni to study digital communications at Bond University. I finished up and was actually kind of planning to go back home, but found this role before I made the move. So, we've been here for about three and a half years now and I'm happy on the coast, happy at Digistorm.
Tell us about your career progression with Digistorm.
I initially started at Digistorm as a Client Success Manager, when there was only a small sales team of three. That was a busy little time, taking on a lot of clients, working with them to get the most out of their Digistorm products and making sure that the relationships were nice and strong.
As the team has grown, I've started stepping away from direct client success management and have taken a more holistic approach — overseeing how everything is going from start to finish and how client success and support fits in with all of the other touch points as well. It's a really exciting time to be at Digistorm, especially knowing where we're going as well and where we've come from. It's awesome to be a part of making that happen.

What's your favorite part about working at Digistorm?
Mainly the team environment and the collaboration. No idea is a stupid one. You can hear something from a client, bring it back and discuss it with the team and say "look, this is what they're thinking and feeling, how can we look at alleviating that problem? Is it something that's on the cards for the future. Could it be? Should it be?" And fleshing out what that looks like.
Can you tell us about one of your favorite projects you've worked on?
Probably to date, one of the most exciting projects to be a part of...well there's a few. There's always fun and exciting things happening! But, the strongest one that comes to mind was developing our on boarding process for our product FUNNEL. We wanted to streamline the process as much as possible and make it a nice experience. It can be quite daunting for a lot of clients to implement a new process and system. So, we built that process from the ground up — automating it as much as possible.
The project was really exciting because we built something from nothing and it was ours to run with. Everyone trusted in the end goal, which was to streamline the process and make it a nice experience for the client. We're still tweaking and changing and it will always evolve — that's the exciting part as well — it doesn't stop. We're always pushing and seeing how we can improve even more.
How do you measure success in your role?
Having as many users of the systems being pros at everything that they do and growing confidence in the product and the results that it gives as well. Making sure that it's a nice, seamless process from initial inquiry all the way through to a loved Digistorm client. Making sure they're completely happy with the service that they're getting and that we're supporting all of their ideas and hopes and needs in order for them to get the best results, internally for themselves so that we can support that from start to finish.
What's your greatest passion outside of work?
My greatest passions outside of work would probably be getting outdoors, doing a lot of hiking and trekking. Food, good wine, good gin. Sport, all types of sport — mainly AFL and netball. Family time, friend time, dining out and exploring new places.
What's something that people might be surprised to know about you?
Maybe that I'm the youngest of five kids? I feel like that isn't very common anymore — big families. And I'm from regional Victoria and I went to boarding school. I don't know, there's a few!
To wrap up, can you describe yourself in three emojis?
😂🌳🍷
We're always on the lookout for talented people to join the Digistorm team. Think you'd be a great fit? Then we'd love to hear from you! Send a copy of your resume and cover letter to jobs@digistorm.com.
Want to meet more Digi People? Check out the rest of our series: