Marketing Strategy
Powerful Ways to Encourage More Online Donations For Your School
May 30, 2020
A note from Digistorm: This post was originally published in March 2017 and has since been updated to include more up-to-date information.
Donating online is fast becoming the most popular way of giving. In today's technologically savvy world we do everything online, so gone are the days of collecting coins in buckets and processing cheques from donors. In fact, 54% of donations are now being made virtually. Whether your school is seeking donations to support a charitable cause, equipment upgrades, or for an upcoming school project, effective messaging is essential for encouraging more donations. In this blog post, we've put together some key factors that you should consider when creating an online campaign to collect donations on behalf of your school.
Create a simple online donation process
Choosing to take your donation process online means that you're able to automate processes and enhance the overall giving experience at the same time. It's simple really – the easier you make it to donate online, the more donations you're likely to receive.
If your donation page has poor website navigation, cluttered forms and misleading information you may be hindering your online donations process.We can't stress how important it is to avoid complex processes that require donors to print, complete, and scan forms back to your school.Research shows that multi-step donation forms can encourage form abandonment and in fact, on average non-profit organisations lose 60% of their potential donors to complex forms that are either too long or require the individual to complete several steps which sways the donors to drop off and put it in the 'too hard' basket.This is where online forms come in. To simplify the process, create an online donation form that collects all of your donor's details. Be sure to include fields that ask for the donor's full name, email, phone number, address, and organization if applicable.
Next, provide your community with different options for the donation amount. Sometimes when individuals are willing to give, they are unsure of how much to donate and require guidance. You can create predetermined amounts on your online form that donors can select from to improve the user experience and nudge higher donation amounts. For example, you could set the predetermined amounts to $50, $100, $500 and $1000. Research shows that individuals are likely to give more when present amounts are shown as they act as a benchmark and make people aware of an amount that other donors are giving. One study shows that donation amounts can increase by 12% when impacted by social influence and donation tiers. So If an individual was initially going to give $20 they are more likely to be nudged by preset amounts to donate a higher amount instead of reducing their donation amount once they land on the form.
If the donor would like to leave a specific or higher amount outside of the preset amounts you should always leave a single-line text field where they can type in any donation amount. Below the donation amount you should include a drop-down box or single-box click option where donors can choose for it to be a one-time donation or a recurring monthly or yearly donation. This strategy can help encourage one time donors to transition into regular, loyal donors. A great example of this is from Villanova College who utilises a single line text field for the donation amount and a donation frequency option below this.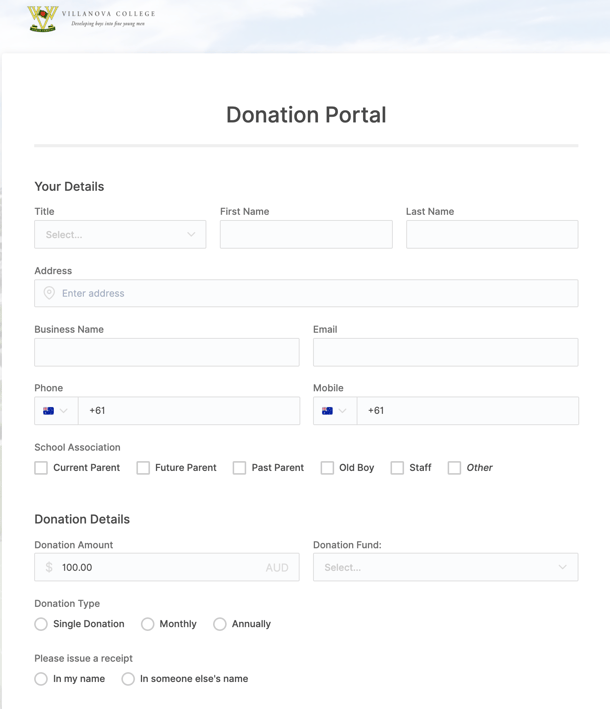 Source: VillaNova College Online Donation Portal
It's important to ensure that your online donation form is linked to a secure payment gateway with leading financial providers. This will help streamline payments and make it safe and easy for your donors to pay online.
Set clear donation goals and communicate them!
From the beginning of your fundraising campaign, you should be clear about how much money you're hoping to raise and when you would like to raise it by. Your community will be more inclined to justify their donation when they can visualize a goal as they know it is going to a tangible result. A tangible result is also easier to communicate to your community, for example "We need your help" is much more impactful when supplemented by, "to make improvements and introduce new technology to the Digistorm College library." You can be even more specific by identifying different thresholds and letting your community know what reaching them will mean for the project.
For example:
If we raise $1,000, we can replace the library shelving.
If we raise $5,000, we can replace 5 computers.
If we raise $10,000, we can install new projectors in every classroom
Your community will feel more compelled to act if they feel like they're making a difference to something tangible. You can also provide your community with something in exchange for their donation. Many successful donation campaigns have been centered around the purchase of a physical item. Even if the dollar amount requested doesn't match the perceived value of the item, your community is likely to enjoy purchasing an item in return for their charity. Some examples of appropriate donation gifts include: student art, branded school merchandise such as tote bags or a hat, or even a membership into an alumni club or group. You can promote the gift on your donation page by stating 'Buy any piece of art created by our students and all proceeds will go toward our library renovation!'
Create an emotional connection
Now that we've covered how to set up your online donation form , it's time to create an emotional connection to boost those donations. You want to attempt to tell a story to your audience instead of just stating information and facts and you can create this emotional connection by making your alumni feel a sense of nostalgia.
This can be done by reminding them of the school traditions during their time. Video marketing is a great way to evoke an emotional response from the potential donor's as pairing video and the appropriate music often allows viewers to make a connection. Last year, the team at Digistom utilized video marketing for our Movember Campaign to show our support for men's health and encourage donations. Your school's marketing team could create a video series with flashbacks to old school uniforms, sporting traditions, or interviews from current alumni that are still heavily involved with the school. Another great way to show off the school is to include some comparison photos of the school grounds and classrooms to showcase "then vs now" and how far the school has come. You can also tap into your school community by reminding them with statistics on how many children's lives the school has impacted. These video and photos ideas can be hosted on your school website donation page and sent out through email communication so viewers can easily access and watch this information. Providing these emotional connections will make your target market more likely to become invested in your campaign.
You can also add visual elements to your online campaign to influence an emotional response. This could include a photo of what the finished project may look like, a fundraising thermometer, your school's branding and logo, and current donor's/alumni testimonials. Once you've told your online story and captured the emotion and attention of your community, provide them with a strong call to action to take the next step. Large, clear buttons with text such as, "DONATE NOW" or "MAKE A DIFFERENCE" are examples of impactful CTAs. Make sure that this CTA is effectively placed on the donation page and form
Create an on-going relationship with your donors
Once you've received a donation, it's important to make sure the communication doesn't just stop there. Take the time to celebrate and thank each individual for supporting your school, staff, and students. Try to be creative and add some personalization to your follow up emails to keep them fun and engaging for your donors.
It's a great opportunity to reiterate how this donation will help the school and what impact it will make overall. Providing the individual with updates on the school project that they donated to could be a great way to keep them engaged in a way that matters to them. Creating consistent contact can also provide a basis for reaching out for future campaigns and help to form a relationship with the individual to encourage them to become a regular donator to the school. If your school is a deductible gift recipient (DGR) and is permitted to provide tax receipts you can send your one in addition to your thank you email. Try to keep the two emails separate as the tone of the tax receipt email may come across as overly formal.
We hope that our tips will be helpful for your next online donation campaign. To learn more about Digistorm Websites, contact us today.