Email Marketing
How to Segment Your School's Marketing Emails and Boost Enrollments
July 30, 2019
We've seen many digital marketing trends come and go this year, but one that's sticking around is the demand consumers are placing on brands to deliver more authentic and personalized experiences — especially when it comes to content.
Here at Digistorm, we think data-driven marketing that creates more personalized and relevant experiences for consumers should be a number one priority. The good news is that we're on the right track with 63 percent of consumers agreeing they perceive brands more positively if they provide valuable, interesting or relevant content.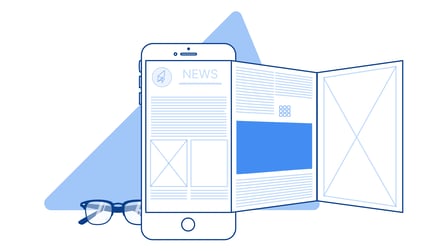 We've previously spoken on the blog about why personas are essential to boosting engagement and the importance of communicating with parents on an individual level. In this post, we're going to jump into how your school can segment prospective parents sitting within your enrollment pipeline to achieve more conversions.
Ready? Let's dive in.
Defining the enrollment stage
The first step to better nurturing your leads through segmentation is to set clear enrollment pipeline stages and assign your leads accordingly. Why is this step so important? Well, as we discussed in our persona's blog post, each enrollment stage has specific roadblocks and motivations, so if you're going to successfully move parents along the pipeline towards enrollment, you're going to need to take a more personalized approach to address their needs. A school customer relationship management system like Funnel will automate this process and save you a bunch of time, however, if you're still working from a spreadsheet, let's cover off some of the stages to include in your enrollment pipeline.
Shaping the enrollment pipeline
Here are six enrollment pipeline stages that your school can use to segment your data and improve your school's email marketing strategy.
Expression of interest
A parent at the interest stage is interested in learning more about your school and is happy to receive more detailed information. At this point, you might like to consider sending them a copy of your school prospectus or inviting them to register for the next open day.
Registration
The next stage in the enrollment pipeline is registration. Here, a prospective parent may have completed a registration form on your school's website to attend an open day or campus tour. It's important to keep this segment engaged with your school and build excitement in anticipation of your event.
Application Received
Once an application for enrollment has been received, you may consider placing parents into an email automation workflow, thanking them for their application and provide further information around next steps.
Interview
Parents with children who are at the interview stage could also be placed into an email automation to remind them about their upcoming appointment and provide tips or resources on how best to prepare.
Offer sent
This is an exciting stage. Hook parents with children who have been offered placement in by promoting upcoming activities and events at your school. Now is also a great time to highlight your school's achievements and accolades to encourage conversion.
Accepted
Congratulations! You've successfully converted the prospective parent into an enrollment. Now it's important to communicate with parents about term dates, resources, and any other important information they should be aware of.
In summary
Rather than sending blanket emails to your entire email marketing list and hoping they land, segmenting your leads into stages of the enrollment pipeline allows for more personalized messaging. To learn more about how Funnel can help your school better segment prospective parents within your enrollment pipeline, get in touch today!