Social Media
Setting Goals for Your Social Media Presence
July 12, 2019
The research is clear: people who set goals are more successful than those who don't. Setting goals helps us to better understand the problems we're trying to solve, provide direction and most importantly, keep us focused on achieving a particular outcome.
Your school's social media presence is about so much more than just pretty images, but often schools (and businesses for that matter) focus too much of their time on content generation rather than strategic planning. Many people also struggle to demonstrate how social media improves the bottom line, which can often be credited to the fact that they haven't set goals for their social media strategy.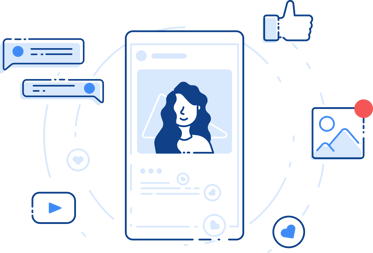 Social media platforms should play an important role in your school's digital marketing strategy to drive key marketing and business objectives. In this post, we're going to take you through the steps to set specific and measurable goals for your school's social media presence.
Define your objectives
To set specific and measurable social media goals, you need to start at the macro-level by defining what your overarching goal is. You should be able to derive this from your school's digital marketing plan, but here are a couple of marketing objectives most schools look to improve:
Generate new leads
Increase brand awareness
Drive website traffic
Increase community engagement
Once you know which objectives you're going to focus on, it's time to choose the right social media platforms. If you're not sure where to start, we recommend completing a social media audit to understand which platforms are working for your school. For example, if receive zero engagement on Twitter, but your Facebook page is buzzing with engagement from your school community, it makes sense to focus your efforts there.
For more social media tips, check out our free guide:
Focus on what matters
When it comes to measuring social media success, it's easy to get caught up with vanity metrics — usually the number of 'likes' a post receives. Sure, everyone loves to see those 'likes' rolling in, but at the end of the day, there's no getting around the fact that 'likes' are a passive action, relatively meaningless and contribute little to your bottom line.
We're not saying that you have to completely disregard these metrics, but rather we encourage you to dig a little deeper and focus on more measurable metrics when defining your goals. Examples of metrics you may want to focus on include; follower growth, post engagement (comments and shares), post and profile reach, and ROI for advertising or any additional costs. Determining what you want to achieve and how you plan on measuring that will ensure that you stay consistent and focused on your goals.
Get specific about success
By now you've defined your key marketing objectives and have a richer understanding of which social media platforms are going to help you succeed — so how do you reach your goal? Well, let me ask you this: would you expect to be able to lace up your sneakers and run a marathon tomorrow? Unless you're superhuman, probably not. Completing a marathon takes months of training, with many smaller milestones along the way to help you reach that overarching goal. Reaching your social media goals are no different — you can't expect miracles to happen overnight.
Use the SMART goal framework
You may already be familiar with the SMART goal framework, but if you need a quick refresher, the framework is designed to help clarify your ideas and focus your efforts to make better use of your time and resources to ultimately reach a particular goal. The acronym stands for: specific, measurable, attainable, relevant, and timely. Here are some examples of SMART goals, based on the general objectives we determined earlier:
Generate new leads: Increase webinar registrations by 15% via Facebook promotion by 10 September 2019.
Increase brand awareness: Gain 500 new Facebook followers by 20 October 2019.
Drive website traffic: Grow social media website traffic referral by 25% by 30 November 2019 (just make sure you have Google Analytics set up so that you can track website traffic).
Increase community engagement: Receive a 25% increase in average views for all native Facebook videos by 1 December 2019.
In summary, setting goals for your social media presence is an essential part of your school's digital marketing strategy and the key to demonstrating its value. If you'd like to learn more about which social media platforms are best for your school, check out our social media channel comparison guide.