Email Marketing
How to Craft a Strong Email Subject Line
September 13, 2020
A note from Digistorm: This post was originally published in January 2017. We've updated it to include more relevant content and recent statistics.
Email marketing campaigns, also known as EDMs, are one of the more popular and effective inbound marketing strategies. Whether you are aiming to engage your community or attract prospective parents, there is no doubt that email marketing presents a great opportunity to build relationships. After all, over 49% of adults in America said they would like to receive promotional emails from their favourite brands on a weekly basis. All this to say, if you are not investing in email as a part of your marketing strategy, you are missing out!
Two of the key metrics that marketers commonly focus on when sending email communications are:
the open rate — the percentage of those who received your email / those who opened the email
the click-through rate — the percentage of those who clicked on an element within your email / those who opened your email.
Both your open rate and your click through rate will be directly impacted by your email subject line, so it's crucial you spend some time crafting and testing yours. In this post, we're going to explore best practice for your school when writing email marketing subject lines and provide you with a few killer examples that you can try out today.
Keep it short and punchy
The #1 thing to remember when writing an email subject line is to keep it as short as possible. This is because different email providers will cut off your subject line if it's too long, particularly if your readers are viewing your email on a mobile phone (spoiler alert: they are).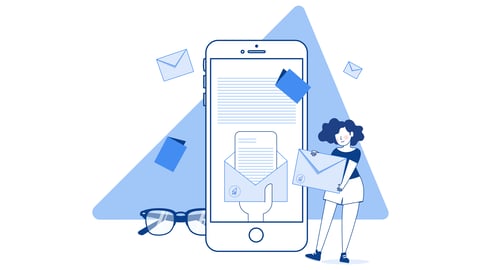 Often there will be words that you can easily remove that still keep the meaning of your subject line intact. As HubSpot recommends, don't bother including "update" or "newsletter" in your subject line — doing so lengthens the text and may even work against you, decreasing your message's open rate!
Keep it personal
The key to a successful holistic email marketing campaign is personalization, and your subject lines are no different! Most CRMs, like Digistorm Funnel, or email marketing providers will have 'tokens' functionality set up and ready for you to use. Tokens are a little snippet of code that dynamically changes based on the email recipient's data.
Name tokens are particularly effective in your subject line, because they grab your attention straight away. If I see an email subject line that includes my name, I am far more inclined to open the email. When I signed up for a class at a local yoga studio, I received a welcome email with the subject line, Welcome to the studio Heather! Needless to say, I felt welcomed and motivated to open the email.
And it's not just me. CampaignMonitor reports that email subject lines that contain personalization are 26% more likely to be opened. So why not give it a try?
Subject lines, content, language and more.
Keep it relevant
It's a good idea to give readers a preview of what's in the email communication so that they can make an informed decision about whether they want to read it or not. Using misleading subject lines may provide you with short-term wins, but it may stop your readers from opening your emails in future.
Click-bait subject lines are only one email no-go. Read the rest in our post,
If you're sending out an automated email, or a regular email as a part of a series, it can be tempting to keep the email subject line fairly generic. Thanks for your download or Quarterly newsletter inside are emails that hit my inbox pretty regularly. Instead, consider adding a little bit of context or picking a key piece of information from the enclosed content and placing it into the subject line.
Keep it a little bit secretive
Withholding information that may be valuable to the reader can be a big driver for readers to open and interact with your email marketing communication. Make your subject line enticing by suggesting that there is a piece of information within the communication that the reader might want to know about. A great example of a subject line that made me click today was, A Big Little Secret.
And finally... keep on testing!
Writing subject lines that work require a little bit of work, a little bit of creativity and a lot of testing. After all, the tried and true subject line formulas that work for some brands may not work for your school, or engage your audience. A/B testing is great, because it helps you to compare two email subjects to see which one gets more clicks. You can run your tests manually or automatically and then use your findings to inform future subject lines.
Don't forget to have some fun with it so that you stand out from the crowd. Because we all know what it's like to open an inbox full of emails that you don't have time to read. Think about the subject lines that have made you take action and see if you can put their formulas to work.
Are you implementing email as a part of your holistic marketing strategy this year? Check out how email plays a vital role in our guide to inbound marketing for schools.