Customer Relationship Management
Fostering Alumni Connections With a Digistorm App
March 9, 2021
A note from Digistorm: This post was originally published in January 2018. We've updated it to include more valuable, relevant content.
When students graduate high school, they're immediately thrown out into the big wide world. As they leave the hallowed halls of your institution behind, it's easy for that connection they've fostered over the years to wane a little — that is, unless you have a strategy in place that specifically caters to your alumni.
Not only do alumni have the potential to be great representatives for your school, but they also go on to achieve amazing things — after all, they were educated by the best! That's why keeping in contact with them through various means is incredibly important. Alumni can tap into potential markets you may not currently have access to, creating a new generation of prospects as they begin to associate with different circles within their community.
Not only that, but eventually many alumni will become parents themselves, making it even more important that you keep them connected with your school (and all of the great things you're doing!). Keeping in touch with your alumni helps you create foundation and development and nurture future admissions. Here are a few tips to best engage past students in the years following their graduation from your school.
Communicate with your alumni
Creating consistent communication with your alumni community can be the biggest challenge. If you're looking at engaging recently graduated alumni (let's say, those who've finished in the past 10 years), then the mediums they'll use will be quite predictable. Two of the most common marketing mediums used by millennials are social media (specifically Facebook and Instagram) and email. A few tried and true methods that you can use through social media and email include surveys to past alumni, hashtag competitions requesting old photos, showcasing alumni achievements, or even setting up 'Class of' Facebook groups.
Although social media and email are effective platforms to reach a large audience there's also the possibility that your alumni students are part of several mailing lists and have a bunch of connections on their social media platforms, which means that your school's content might get lost. A way to keep all of your alumni communication in one place is to create an Alumni module on a school app. In this module, you can post school updates, achievements from alumni students, and even upcoming events that may interest your past students. You can also nudge your alumni to check the school app for information by sending out notices or events with push notifications within the app. Creating a connected alumni community through a school app is likely to keep your school at the forefront of their minds so that if they have to choose an educational provider for their own children, you're automatically in the mix for future admissions.
Create foundations and development
Fostering the connection and communication with your alumni will help them to feel like they're still involved with your school, even years after they graduate. In certain cases, alumni may want to give back to your school in the form of gifts or donations. These donations could go towards updating school equipment, lowering school fees, or renovating school grounds, to continue to provide students with the best possible educational experience. If you nurture a relationship with your alumni there is a higher chance that your school will be top of mind for boost giving or donations.
Keep up with alumni achievements
As we mentioned, your alumni are out there doing amazing things! Keeping track of and calling out their achievements will help position your school as a destination for successful people, and will also give them a little exposure in return.
One way schools successfully do this is through 'past student shout-outs' across mediums like school newsletters, social media, and blog posts. Here's an example from Muskegon Community College, calling out the graphic design career achievements of an alumni student: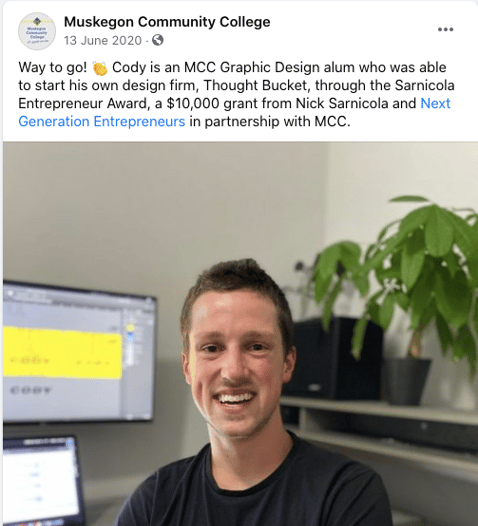 Source: Muskegon Community College Facebook page
Ask your alumni to reach out with any achievements and share the success on your school app and social media channels. It's a great way to encourage communication — after all, people love sharing their success! Be sure not to put limits on what kind of 'success' you accept, either. Showing a good balance of potential pathways demonstrates to current students that there's a variety of routes that can be taken to achieve success.
Learn more about celebrating your alumni in our post,
Involve them in events
Alumni may not be too inclined to turn up to school functions when invited, but special events? There's your drawcard! Everything from your typical 10-year reunion, to big sporting matches, musicals, anniversary celebrations, and gala events have been shown to draw alumni back. To encourage alumni to attend your special events use your school app to host all of the event information including the event date, time, venue and you can even include a map. You can then promote this alumni event by sending it out to alumni with a push notification.
Once you've invited them to the event, make the most of their presence by getting them talking, whether that be in person on the day or via social media. Fostering a stronger connection will ensure your school stays top of mind when they're working out where to send their child to school, or when their co-worker asks what they think of their alma mater.
Set up a portal
Of course, now that your alumni are feeling really connected with your school, they'll want a place to chat with their former peers about the good old days. A common way of facilitating this is through an alumni portal. This not only ensures alumni maintain their relationship with your school but also with one another. A portal can easily be implemented onto your school's website and can be divided by year level, house, and more so that various groups have the opportunity to reconnect. You can then link out to the portal on your Digistorm school app so Alumni know where to find the portal link at any time.
Want to learn more about engaging your school community through digital marketing? Subscribe to our weekly updates email for best practice marketing tips delivered straight to your inbox.