Events
The Ins and Outs of 'Learning Festivals'
March 9, 2020
The education sector is becoming increasingly competitive with school communities pitching creative and innovative ways to host events. As we know, planning a school event is an effective and fun way to access new marketing channels and involve a number of different stakeholders.
Last year the Greater Springfield Learning Coalition hosted the Festival of Learning over six consecutive days. The festival involved 11 public and private schools participating in over 50 events including; workshops, competitions, public event days and talent shows. So how effective are these festivals? Below is an outline of the benefits your school could gain from hosting a learning festival.
Increasing community collaboration
Shaking up your school's regular schedule for a week might seem a little disruptive or counterproductive, however, learning festivals aim to get students out of the everyday classroom environment and into cross-sector learning spaces. What's special is that each event within the festival schedule can be tailored to involve students, parents, teachers and staff individually or as a group.
A great way to create some friendly competition and collaboration is by partnering with other local schools in your area. Not only does this provide your students with the opportunity to showcase their talents and share their knowledge, but the schools can also utilize the event as an opportunity to pool their resources and curriculum.
Creating new content for social media
An exciting event portfolio, such as a learning festival, presents a number of opportunities for schools to leverage their social media channels. A packed event schedule can produce a myriad of content that can be used across Facebook, Instagram, Youtube and other channels. For example, your school might like to run a week-long social media campaign that captures all aspects of the festival from start to finish. Below we've put together some ideas on how to leverage your social media channels.
Instagram
Posting consistently on Instagram is a fun way to create a personalized impact on your school's content. An Instagram campaign could focus on live stories, student takeovers and even an official story highlight of the festival that will permanently stay on the school's Instagram to be viewed in the future.
Facebook
Using Facebook and Eventbrite is an easy way to promote your festival and sell tickets to a number of events within the festival. Parent's and attendees can buy tickets and share them with their friends with one simple click! Posting regular Facebook content before, during and after the festival is a great way to keep parents informed of all of the events included in the festival.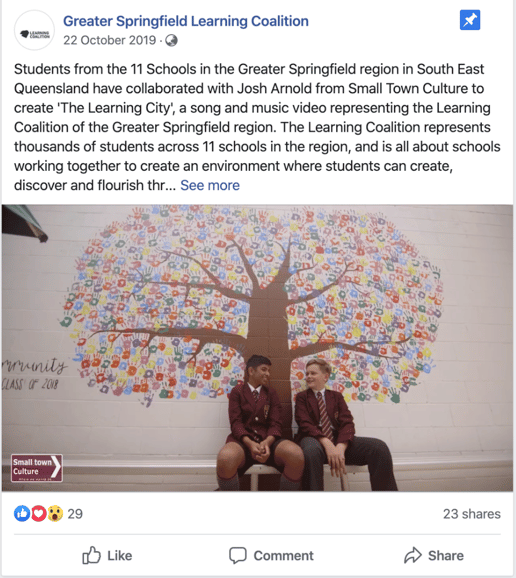 Facebook Post: Greater Springfield Learning Coalition
YouTube
Creating a YouTube mini-series would be an effective way to capture the week-long festival from different perspectives. Workshops, competitions and talent shows can all be covered with some awesome videography! YouTube videos are a great way to create engaging and personalized content that can be accessed by a large demographic.

YouTube: Learning Coalition Greater Springfield
Media coverage
Last but not least, we have media coverage. Getting news about your school in the press can be challenging, but a learning festival could be that push to get your school's name out and into the media. Inviting education journalists to attend your learning festival is a great way to secure a newspaper write up or a feature on television!
Key takeaway
Learning festivals are a great way to foster a community of learning and shake up your school's regular routine. On top of that, you're creating an opportunity for innovative content and positive media coverage for your school. Your school website is the main source of information for your event. Need to talk to a professional about getting a custom-designed events page? Talk to a friendly member of the Digistorm team today!