Admissions
The Role of Emails in the Enrollment Funnel
July 22, 2020
As the enrollment customer journey becomes more complex, schools are needing to think creatively in order to effectively manage relationships with prospective students. We've spoken previously about how schools can use marketing automation to streamline processes, boost efficiency and remove repetitive tasks, allowing your admissions team to spend their time nurturing families through to enrollment. Automating your emails throughout the enrollment funnel is one key way to reduce the time you spend contacting families, while also increasing the number of touchpoints that parents will have with your school throughout their entire enrollment journey.
Each school's enrollment process will vary, however there are some basic stages that prospective students and their families will pass through on their way to admission. In this post, we'll look at how emails can support your marketing team in each stage of the enrollment funnel.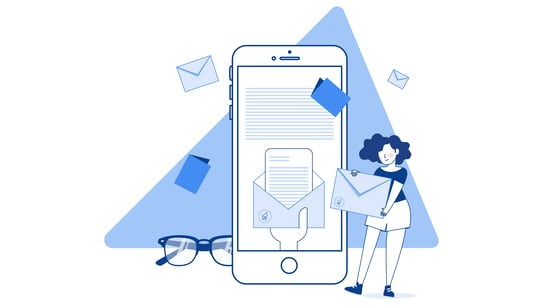 What is the 'enrollment funnel'?
A school enrollment funnel is the process from inquiry (or awareness), through to a successful enrollment. Understanding each stage of your school's enrollment funnel provides you with a clear view of the journey that every prospective student will take within your process. Having this view allows your school to:
pinpoint where each prospective student is within your process (and where they may be dropping off)
make accurate forecasts for future enrollments
effectively plan your resources to target certain stages of the process.
Emails in the inquiry stage
'Inquiry' or 'awareness' is the stage in which a prospective parent makes initial contact with the school. This might be through traditional methods, such as visiting or calling the school, or it could be digitally, such as completing an online form.
For more ideas, check out our post:
After registering their interest in your school, you can set up an automation where prospective parents are sent a welcome email that introduces them to the school. This email could include key information, such as key dates, cut-offs, contact details for your admissions team and a link to your online enrollment form. Doing this ensures that prospective parents have easy access to all of the information they will need to begin their enrollment process.
Prospective parents who drop off after entering the inquiry stage can be nurtured through automated 'nudge' emails to keep them engaged with your school. These nudge emails should contain general information that would appeal to most of your parent personas, such as recaps of school events, overviews of school programs, student testimonials and other engaging news from your school community.
Emails in the registration stage
The registration stage is where the parents take the next step in enrollment and provide an explicit expression of interest in your school. This stage involves a deeper level of information from the prospective parent about their student's potential enrollment. As the prospective parent has now expressed a genuine interest in enrollment, your school needs to maximize their communications in order to sell the school and its benefits to the family.
The most significant email marketing opportunity in this stage is through personalization. Using a CRM system such as Funnel, or an email marketing provider, you can set up filters and segments that allow you to be incredibly specific with your messaging. For example, if the parents have indicated that their child is interested in music, you can send them personalized emails about your award-winning music program.
Check out our email marketing guide for the registration stage,
Parents within this stage of the enrollment funnel can also be sent event invitations through email. This might be for events such as open days, but it can also be for events that are personalized to the child's interests, such as orchestra performances or sports carnivals.
Emails in the application stage
The application stage, is the part of the process where parents will complete a formal enrollment application. This may be through traditional methods, such as paper lodgement or emailed scans of a document, or digital delivery through an online enrollment form. Digital delivery significantly improves the prospective parent's user experience, while also allowing your school to trigger automated emails to nurture them through the process.
For example, when a parent begins an online enrollment, you can send an automated introductory email with the option to lodge it using a direct link. If the parents pause or abandon the process, you can set up a trigger to send a reminder email, encouraging the parents to complete the application.
When enrollment deadlines are drawing near, schools can send reminder emails based on how much time is remaining, encouraging prospective parents to log back in to their incomplete application. Doing this can have a significant effect on the conversion rates of your online applications. Finally, you can send a confirmation email once their application form has been lodged.
Emails in the interview stage
Following a successful enrollment application, the school might invite the prospective student to interview. This is your chance to ask follow up questions and gain all of the information you need in order to decide whether to offer a place at your school. Using automated emails within your CRM can also help to improve the efficiency of this step. If your CRM or email provider offers a meeting or interview functionality, successful applicants can be sent interview time options through email, and can book online with just a few clicks. You can also set up automated emails with interview confirmations and reminders.
Emails in the offer stage
At the completion of a successful interview, the school generally provides the prospective student with an offer, either in person, through a phone call, by email or by mail. This stage then relies on the prospective student and their family to provide a response as to whether they wish to attend the school or not. If you are using a CRM to track your enrollment leads, your team will use the family's response to mark offer acceptance as 'Closed/Won' and offer rejection as 'Closed/Lost'.
Learn more about enrollment offer best practice in our post,
In either case, it is important to understand why your offer was accepted or not accepted. Many schools may not receive this information by default, so it is crucial to understand families' reasoning and whether there is anything your school can do in future to prevent 'Closed/ Lost' opportunities. At this stage, you can set up an email trigger with a short survey or question asking parents why they chose to accept or decline your school's offer.
Emails in the enrollment stage
Parents will reach the enrollment stage when they have decided to enroll their child in your school. If you are lead tracking within your CRM, you will usually mark this stage as a 'Closed/Won' opportunity. At this point, it's important to remember not to stop communicating with the family. While the student is now confirmed, there are still a multitude of communication and relationship-building opportunities available within this stage.
One example is to send a new student email, welcoming them to the school and providing important information that they will need, such as a campus map, term dates, and information about what to bring on their first day.
A quick recap
That was a long post, but hopefully you were able to gain some information about the incredibly important roles that email automations play in the enrollment funnel. Here's a quick recap of which emails to send at each stage:
Inquiry — welcome email and general nudge emails
Registration — personalized emails about student's interests and invitations to events
Application — introductory email, reminder emails and confirmation email once the form is lodged
Interview — interview scheduling, confirmation and reminder emails
Offer — email survey or question about why they chose to enroll or not to enroll at your school
Enrollment — new student email with all the information they need to start at your school.
Schools can use a customer relationship management system such as Funnel to create lists based on the deal stage of the parent, in order to email them the appropriate emails. Is there another way that you use emails throughout your enrollment process? Get in touch with Digistorm and let us know! To learn more about using emails in your enrollments process, check out our post, 4 Common School Emails That Should Be Automated.