Education Industry
Thought Leadership in the Education Industry
March 16, 2020
Education is all about gaining and passing on knowledge. So, it makes sense that some of the most inspiring and passionate educators leverage their influence and knowledge to become thought leaders within their industry. You've probably heard the term 'thought leadership' thrown around a lot in recent years. Put simply, thought leaders are the 'go-to' people in their field of expertise. Some well-known thought leaders that you may follow on LinkedIn include people like Brené Brown or Gary Vaynerchuk, who have built a community around a particular topic to educate and inspire the people who follow them. But you don't need a huge following or to be the smartest person in the room to be a thought leader. You just need to be engaged with your industry, enthusiastic, and ready to share insightful information with your network.
If you're looking to start engaging your network through thought leadership, here's how to do it.
1. Determine your niche
The most successful thought leaders stick to one particular topic or niche and build influence by speaking, writing and producing content around it. Because you're going to be engaging a lot with this one particular topic, it's important that:
you're passionate about it — in order to keep producing interesting content, you'll need to really love your topic
you have some experience with it
you're confident that other people within that niche are keen to engage.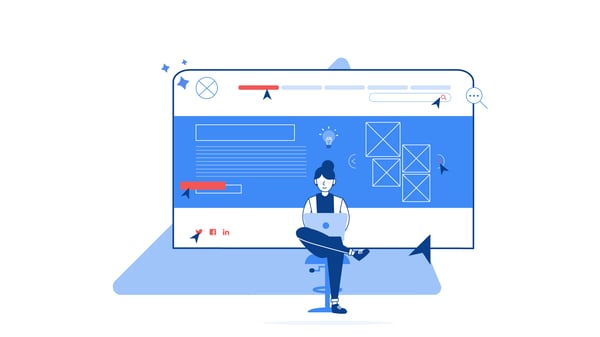 2. Start creating content
If you're ready to have your voice heard, you'll need to start creating content that's designed to appeal to your niche. Keep in mind that content creation can be a bit of trial-and-error until you figure out which pieces appeal to your audience, and which don't. Writing (or creating video content) also helps you to develop your unique voice and sharpen your point of view.
Blogging is one of the easiest ways to start creating content to share with your industry. One option is to start sharing thought leadership blogs on your school's platform. If that's not appropriate for your situation, you can also take advantage of the numerous free blogging platforms that are available and start your own.
Video content creation is another great option that may work better for your situation. While it takes a little more setup and practice to achieve, you'll likely find that you get better results if you invest in video compared to other types of content. Not convinced? A recent Vimeo survey in conjunction with New York Magazine found that 80% of users would choose watching live video over reading a blog, and 82% of users would prefer watching live videos to viewing social media posts.
3. Get social
Once you've developed your content, it's time to get the word out. Social media is one of the best tools that thought leaders can use to get their content in front of their prospective audience. LinkedIn, in particular, enables professionals to connect and share with other like-minded contacts within their industry. You can become a thought leader and build authority by leveraging LinkedIn to publish articles, share key insights from industry events, post relevant news, and join the conversation by engaging with other thought leaders.
Get started on LinkedIn with our guide,
Other social channels can help you achieve your goals as well. Image-sharing platforms, such as Instagram, can be a great tool if you're looking to engage a millennial audience. And platforms that support live video functionality, such as Facebook and Periscope, can also provide more authentic, 'behind-the-scenes' content to supplement your articles or videos. No matter which channels you choose to invest in, make sure you are always interacting with and responding to your audience.
4. Leverage speaking opportunities
Finally, speaking at events is another great way to both introduce your content to a wider audience and become a more familiar face in your niche. But don't wait for the invites to come flooding in — you might be waiting a while! Research upcoming events (including conferences, meet-ups and panels) and pitch yourself to the organizers. A lot of event pages will have expression of interest (EOI) forms where you can provide information about yourself and links to your work. You can also reach out directly to events coordinators through LinkedIn or email. A quick word of warning though, be prepared to be flexible — you might be called upon to fill in for a last minute cancellation.
Are you looking to get started as a thought leader in the education space? What tactics are you looking to try? Connect with us on LinkedIn or Facebook and let us know!