Email Marketing
Tips for Better Prospective Parent Email Marketing
May 5, 2020
A note from Digistorm: This post was originally published in April 2018 and has since been updated to include more up-to-date information.
Let's talk about email marketing!
Whether you're already utilizing email marketing in your strategy or thinking about introducing it as a new channel, there are plenty of tips that you can take on board when communicating with prospective parents. Parents are the decision-makers in their child's education journey, so to get them across the line in the enrollment process you need to make sure that you're communicating with them effectively. With the next generation of technologically savvy Millennial parents entering the school community, email is an easy way to capture their attention and maintain a constant flow of communication. Here are four tips on prospective parent email marketing.
Make your content valuable
Remember, parents receive a lot of email everyday, so you need to make sure that yours is going to stand out in their already overcrowded inbox! It's important to make sure that the information you're sharing is relevant to parents – a handy way to ensure this is by writing your communication with a specific goal in mind. If the content won't help you reach that goal then you can probably go without it.
Prospective parents are looking for more authentic and personalized experiences from your email marketing. To achieve this, you can simply add a few small touches to your next email:
Personalize the salutation with the recipient's first name (generic greetings create a lack of connection)
Use a clear call to action
Include images to support your copy
Tailor your messaging to suit different audience personas
Just by adding these simple, personalized touches to your content, you'll improve your email's open rate, click-through rate, and bounce rate – leading to a boost in lead conversions.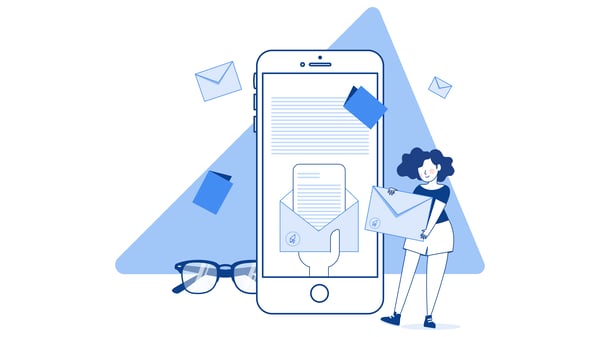 Regularly update your email and lead data
The content you craft for your emails will vary depending on the stage your lead is up to in the enrollment process and their persona. It's important to ensure that you're tailoring your content, so that it appeals to every stage and every persona. To do this successfully, you'll need to be tracking your leads consistently throughout their enrollment journey.
Incorrect or incomplete data is a leading cause of revenue loss for many schools and businesses – this is why your email and lead data must be reviewed regularly to maintain its integrity. Digistorm Funnel is a Customer Relationship Management system (CRM) that produces regular updates on prospective enrollments, an overview of activity, and the ability to manage and nurture prospective relationships. In Funnel, your school can create segments that are dynamic and based on enrollment stages. This means that you can create a segment of all of your leads who are not yet enrolled and from here the enrollment status of each individual can be changed and once the prospective student/parent has been enrolled they will be removed from the list. You can then utilize the filters feature in Funnel to filter, save, and export any segment that you may need or would like to showcase to your school staff.
Once you've created your segments you can then start sending your email communications to your leads. You can either manually select individual leads to send emails to or choose a segmented list. You can then send these emails instantaneously or schedule them in for a later date. Emails in Funnel are simple and easy to use with the choice of customized text, subject line, and call to action buttons in a user-friendly system. To see how your email is performing you can access reports to view your email clicks, opens, and deliverability and from this information, you can alter your communication.
Use an effective subject line
Subject lines are a crucial part of email marketing – they're your hook, which determines whether or not recipients will open your email. While it's important to not write misleading, or click-baity subject lines, it's also important to make them intriguing and punchy.
As a rule of thumb, you should stick to around 40 - 50 characters for your subject line. Try to be creative with your wording and think about how your target market might be encouraged to open your email. You want the subject line to be relevant with a sense of secrecy or urgency. You can do this by asking a question in the subject line, using creative wording or For example, you could remind prospective parents about enrolling by writing: Only one week left to enroll for 2021!
Before finalizing your email, put yourself in the shoes of a prospective parent and ask yourself "would I open this email if I saw this subject line?" If the answer is 'no,' play around with the subject line until you're 100% satisfied with it.
Keep language simple
Your email should be simple and easy to digest, you want to encourage prospective parents to read your email, not instantly click-away because it's too long or difficult. Emails with too many topics or that are too wordy tend to be less effective as opposed to emails with a single messaging objective. If you have more information that you want to share with prospective parents and students you can always link out to your social media channels or school blog within the email.
Make sure each email has a clear call to action, so that your prospective parents know what to do next. For example, if you're sending an email to leads that have engaged with your school, but have submitted an application, you should include a call to action button at the bottom of the email that says "Enroll Now". When prospective parents click on this button they should be taken straight to your school's online enrollment form. The goal here is to reduce the number of steps your leads need to take in order to covert.
We hope our tips have been helpful to improve your email marketing strategy for prospective parents! If you'd like to know more about Funnel, get in touch with us today.