Website Development
Understanding A/B Testing for School Websites
February 20, 2020
When it comes to measuring an improving your digital efforts, A/B testing is a method that you'll come across again and again. It's also known as split testing or bucket testing and it's the process of running two versions of a website, app or ad simultaneously to find out which one converts better. It's an absolute dynamite tool to have in your digital marketing toolkit, but it can be tricky to know where to start. In this post, we'll look at A/B testing for your school website: how to set it up, how to accurately measure performance and how to continuously improve.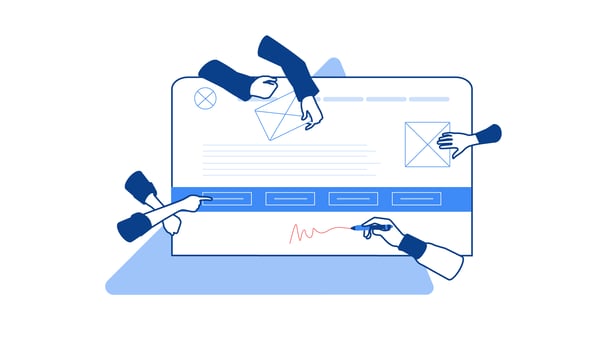 How does A/B testing work?
A/B testing can be run:
Each visitor to your website is shown either the control or a variant of the page at random, and then their actions can be analysed to see what they do when they land on that page. The control page should match what you currently have on your website. The variant can be a simple change, like the colour of a button, or a big change, such as a completely different design. The important thing to note is that you should show 50% of your traffic the control, and 50% the variant so that you can get accurate results.
When looking at the results, you need to determine whether the change had a positive or negative effect, on your visitors' behavior. In some cases, you may also find that the change has no effect at all.
How to start A/B testing on your school website
As with any marketing activity, A/B testing should always draw on the overall marketing plan and marketing goals. If your school goal is to increase enrollment applications from your website, then you should start by A/B testing your enrollments page. Rather than simply testing one element of the page, your strategy should be to make small, careful changes and test the results to discover user insights that will help the page perform better.
For example, you could start by testing the page's headline, the website images that you use and the call-to-action (CTA) button. By testing each element individually, you will find out which change had the biggest impact on enrollment applications, and can roll these changes out to the rest of the website.
Need help writing CTAs that convert? Check out our guide,
Other than the website element that you are testing, all other aspects of the website should remain the same for the highest accuracy. If other elements of the website are changed between tests, they can affect the outcome of the test.
Recommended items to A/B test
Calls-to-action
Your website CTAs are one of the major drivers to encourage users to take a desired action on a page. There are a number of elements that you can A/B test within the CTA, including:
the text that you use — varying the voice, length or style of text to determine what your audience responds to best
the display — trialling using links vs. buttons
the colour
the size
the position on the page.
The on-page content
Your content can have a significant impact on the performance of a page. You can test the content itself — comparing short-form content to long-form content, or you can A/B test how the content looks on a page. This means making changes to the content position, fonts you use, colours and font size.
Forms
Forms are a great place to start when optimising a web page. A common A/B test for forms is to experiment with the fields you use — whether asking for fewer details prompts more enquiries or asking for more details results in better quality enquiries.
Further resources
If you're optimising your school website, here are some more resources to get you started:
Digistorm designs and builds school websites to the highest web standards and best practice, giving you amazing results from go-live. If you're interested in learning more about a Digistorm website, make sure you contact the friendly Digistorm team.