School Apps
A guide to updating your school app branding
June 29, 2021
At Digistorm, we understand that a school's branding is constantly evolving. This is not something that happens overnight but something the school grows with. Sometimes a school may perform a complete rebrand, and other times, it may be more of a brand 'refresh,' changing the tones of their colours or updating their logo.
Whenever rebranding happens, we're quick to respond with a design update!
If a school is planning a rebrand or a refresh, but are in need of a little guidance, we're more than happy to provide suggestions based on our experience and expertise in best-practice website and app design for schools. Once we have a concept the client is happy with, we'll go ahead and get stuck into building the app or website. Of course, if they already have a clear vision or provide feedback, we'll always update the design to accommodate these ideas.
If a school opts to have an app designed according to its current branding but makes changes to its branding, later on, we can easily redesign the app when this happens. Calrossy Anglican School was a great example of this. In this post, one of our designers, Ava, talks us through the updated branding on the Calrossy Anglican School app.

Calrossy Anglican School app
Calrossy Anglican School is an independent Christian school, located in Tamworth, northern New South Wales. They have over 1000 students enrolled, from Preschool through to Grade 12. Calrossy describes their school as a "dynamic, caring and Christian environment in which boys and girls may grow to be adults of faith, integrity, courage and compassion, with a love of learning."
Calrossy recently updated their branding and style guide, which meant that their app was also due for a design update. When we redesign a school app, we look at the school's current branding guidelines, current website and/or marketing material for inspiration. The design team then perform further research on the elements of their branding that they have updated. This includes looking at the elements they've kept and the elements that didn't work for them.
Incorporating the new Calrossy brand into their app
In Calrossy's case, the previous app mostly used dark red elements. The new design was modernized by using more white and incorporating features with their school colours: blue and red. We found that the icons and font in the original design would still suit the new branding, so these were kept, but the colours were updated to give the app a fresh, new look. The client asked to keep their feature image, as this had recently been updated and reflected the school and its students nicely.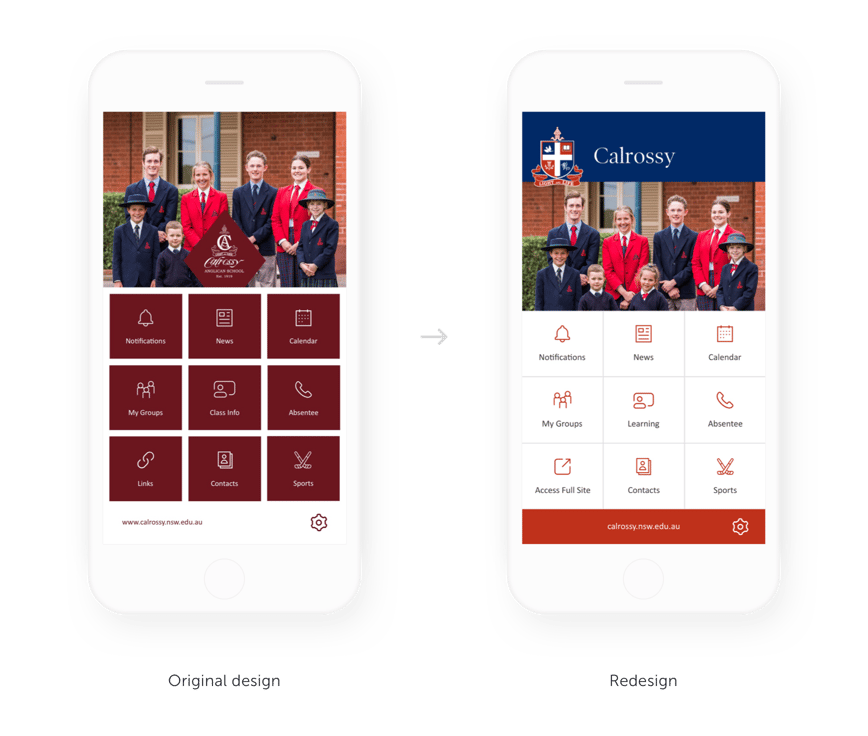 Interested in a school app or website built to suit your brand guidelines?
Digistorm has been designing and building school apps and websites for over a decade. Our apps and websites are built to the highest design standards and UX-best practice, and function as a seamless extension of your school brand. If you'd like to learn more, talk to the Digistorm team today!
Check out our other design resources from the Digistorm blog: