Social Media
Using Social Media to Drive Online Enrollments
July 21, 2020
A note from Digistorm: This post was originally published in September 2018. We've updated it to include more valuable, relevant content and more recent statistics.
Did you first join Facebook or Instagram to connect with your friends? If you answered yes, you're not alone! Social media started as a fun and new way to interact with others but has since become a full-fledged business tool. Digital marketing is a rapidly growing tool that offers an effective and measurable method of driving conversions for businesses. A higher conversion rate means an increase in revenue and income for your school.
Conversions can mean anything from form submission to online sales, but for K-12 schools, the common focus is on converting online enrollments. As parents become increasingly technologically savvy, we are seeing up to 75% of parents logging onto social media platforms such as Facebook on a daily basis and 59% of parents that are active on social media say they turn to these platforms for information. Social media is regularly used for online reviews and recommendations which can create a strong word of mouth impact for businesses.
Customers are using these online reviews to guide their purchasing behavior - so why would it be any different for your school? In this blog post we breakdown how a strong social media strategy can help your school target these prospective parents to drive online enrollments for your school.
The best social media platforms to leverage
Linkedin and Facebook are the best social media platforms for schools to use to reach prospective parents. LinkedIn is a platform that is made for professionals to network, so it's appropriate to advertise more formal content to a specific audience.
Facebook on the other hand has a large and diverse range of users, so it's an opportunity for brands to engage with an online community to make conversation and create brand awareness o You can complete both organic and paid posts on both of these platforms to target your audience. Both platforms have the benefit of accessing large audiences, creating brand awareness, and seeking tangible leads for your school.
About sections and CTAs
Before you start creating your social media posts, let's get back to the basics. Many social media pages are often found via search engines, such as Google, due to great SEO. For this reason, It's important that your social media page provides an easy way to find a link to your school's website. You may be familiar with the "about" section on Facebook. These sections are often overlooked on social media pages but can be very influential to new prospects that are visiting your page and have limited information about your school.
Make sure that this section is up to date with your latest school information and that the school website link that is provided in this section has been tested and correctly links out to your website. You can see an example from our Digistom Facebook page where we have an up to date shortcut "about us section" and then further information in the "about us" tab.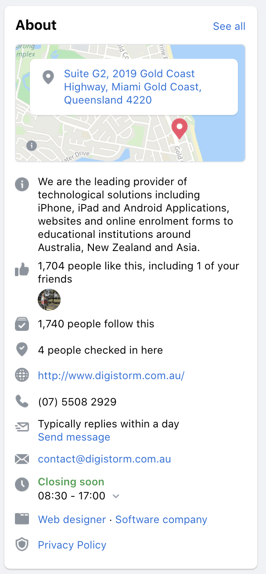 Source: Digistorm Facebook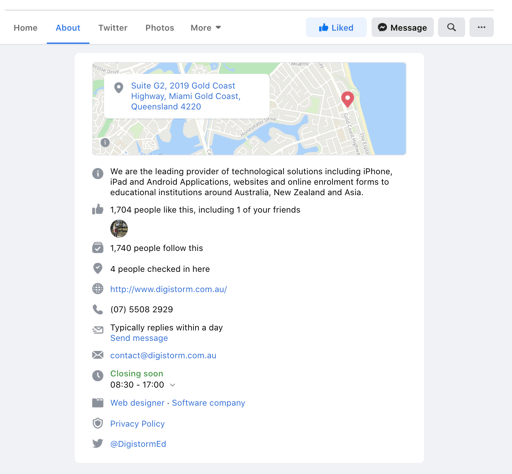 Source: Digistorm Facebook
Facebook's call to action buttons are another way to link your school website or enrollment page. Facebook Pages offers a feature called the CTA, where schools can select a contact method that is displayed below the cover image on desktops, or as a large button across the screen on mobile.
CTAs on Facebook can be helpful in driving traffic to your school's online enrollment page to nudge them to complete a form or make an action. You can add a CTA to a page by clicking the 'add page' button below your cover photo. Once you have clicked this button you will see the 'edit' button option, click this and proceed to creating your button. Users can choose from a few options including:
Make a booking with you
Contact You
Learn More About Your Business
You can use the preview button up the top in the edit section to see how the button will look on your school's Facebook page before you finalize it. You can also customize your button to send a user straight to your school website or to a specific page, such as the enrollments portal.
On the Digistorm Facebook page, we have chosen the 'learn more' button to direct prospects directly to our website.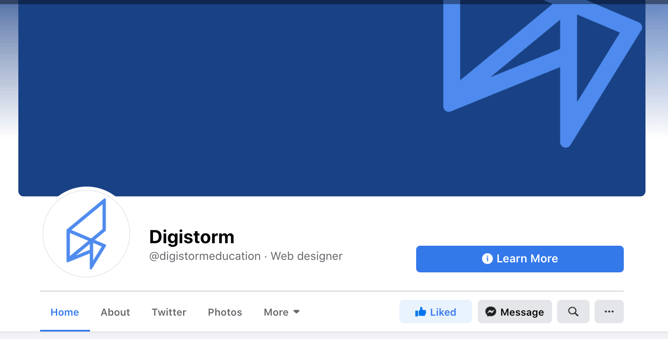 Source: Digistorm Facebook
LinkedIn has a similar feature where you can also add CTA buttons to your school page, under your banner image. Users can choose from 5 button options including:
Contact us
Learn more
Register
Sign up
Visit website
What's great about LinkedIn CTA buttons is that you can access analytics for the button that breaks down how many button clicks you have received.
Organic social media posts
Once your social media pages are up to date, it's time to start thinking about your content. On the majority of social media platforms, you can choose to post organic or paid social media posts for your school. So what's the difference? And how do you know when to use each option?
Like other businesses, you probably use your social media channels to communicate with your school community every day. You want your organic social media posts to provide an insight to parents about what it may look like for their child to attend the school. You can do this by creating social media campaigns that feature a variety of different content.
These posts should have a strong call to action and should include a direct link to your online enrollment form in the caption. For social platforms of Facebook and Twitter, you can "pin" your posts on your page which will ensure that the most relevant posts will stay at the top of your profile when a user visits it. To pin your post, simply click the drop-down on the top right-hand side of the post and choose to 'pin your post'.
Paid social media posts
There is a range of ways that you can use your marketing budget to amplify your social media messages online and to drive more traffic to your online enrollment form. Here are a few of the tools that you can use, specifically on Facebook. If you are going to utilize paid posts on Facebook you can set yourself a daily budget to make sure that you are not overspending.
Custom audiences: Facebook offers paid tools such as Audiences that allow you to use email lists and identifiers to target associated Facebook accounts. You can import a list of your prospective parents to Facebook and by using hashed information Facebook will source the account that is linked to the email address that is provided. Once Facebook has found the account it will then allow you to target them with ads for your school online enrollments. The more information that you provide in your custom list, the better the match will be.
Lookalike audiences: Take your list of existing prospective parents and allow Facebook to find a lookalike audience! The system looks at the attributes of your existing list and finds similar Facebook users for you to target with your enrollment ads. This allows you to reach an audience that otherwise may not stumble across your school's social posts or website. You can tailor your ads to include more information for lookalike audiences as they may have no previous knowledge of your school compared to custom audiences.
Retargeting: If you would like to target prospective parents that have already visited your website or even specific pages without completing an online enrollment you can use retargeting to access them. Retargeting can be done with website custom audiences where Facebook matches people who visit your school website with accounts on Facebook to retarget them with advertisements. Retargeting helps to create brand awareness and top of mind for prospective parents, which can then encourage conversions and the completion of an online enrollment form.
LinkedIn also offers paid posts for their users with their Campaign Manager tool. Users can create a campaign and tailor it by choosing different goals for awareness, and conversions. You can then reach your desired audience with the LinkedIn "targeting criteria" where you can choose from up to 20 different audience attributes including company size, member interests, and job title. Once you've chosen your desired target audience you can choose an ad format from some of the below options:
Message ad: A message ad allows you to reach prospective parents directly in their inbox. A personalized and direct message can help to spark a conversation and it may encourage the prospect to take action and visit your school website.
Sponsored content: Content that will appear directly in the feed of the LinkedIn professionals that you may be targeting by using video ads, photo, or carousel ads. This is a great ad option to post a photo or engaging video content paired with a direct link to your enrollment page.
Dynamic ads: Tailor the content of your ads to different audiences and prospects with dynamic ads. Using LinkedIn profile data, dynamic ads can personalize the content of the ad so you can create accurate and engaging ad text that will influence the user to visit your school website.
Don't forget to regularly check your insights and analytics on your social media pages. You can allocate someone from your team to manage your data and change the ad copy to see what ads are working and where some ads can be updated or improved. Regularly monitoring your ads will allow you to target accurate audiences to create conversions and receive an increase in online enrollments.
Want to know more about online enrollments for your school? Contact us for more information on the Digistorm enrollment management system and CRM, Funnel.