Social Media
What Eventbrite and Facebook Integration Means for Schools
November 6, 2018
Schools can now benefit from having Eventbrite, the online ticketing service connected to their Facebook Page. Making it easy for their followers to book events via the social media platform. Eventbrite is a global event management and ticketing website that allows users to browse, create and promote local events.
Since its integration with the social media giant, many organisations, have taken advantage of having the event tool on their Facebook Page. Now major ticketing and private event companies have connected Eventbrite with their Facebook account. According to Eventbrite, which first teamed up with Facebook in the US in 2016, consumers are less likely to abandon purchase orders if they can buy tickets without being redirected to a separate ticketing page.
Buying tickets directly through Facebook
The Head of Marketing, Marino Fresch at Eventbrite UK, has spoken about the success of the partnership, stating that many Facebook users are twice as likely to buy tickets for an event if they know they can do it directly on the social media platform.
In addition to the US, the integrated ticketing service is now available to Facebook users in most of Europe, the UK, Australia and Canada. This has been hugely beneficial to schools wanting to advertise and sell tickets for private events happening at the school. This allows parents to be kept up-to-date with events, without the need for leaving Facebook and checking the school website. Also, whenever someone engages with a Facebook event post, this is shown on the Newsfeed, meaning that other Facebook followers are notified of the event.
St Aidan's Anglican Girl's School have successfully integrated Eventbrite into their Facebook Page: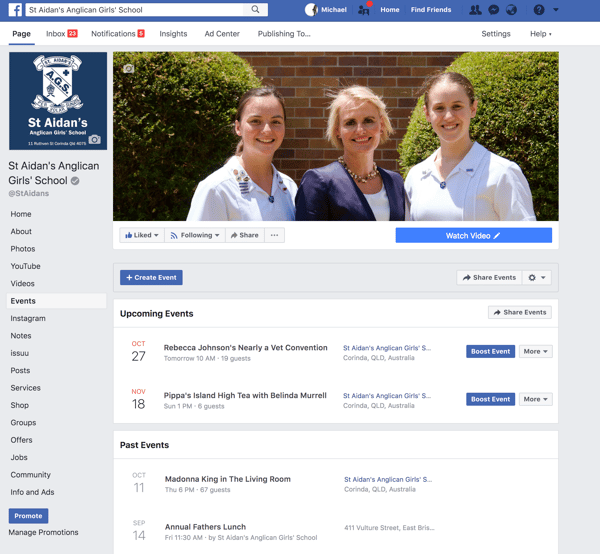 All bookings and reservations can be made directly through the St Aidan's Anglican Girl's School Facebook Page, which means that those attending an event can get real time updates and reminders leading up to the event.
How to get started
If you haven't already set up Facebook Events, the process is really easy. First of all, click the Events app, followed by 'Create Event' and set the event's name, date and time. The event will automatically be posted to your timeline and is visible to anyone who clicks the Events app or any post about that event.
With a Facebook event page, schools can target specific follower groups, whilst also being able to decide where the campaign appears on Facebook. There is also the ability to update important event information including the date, time and location of the event. This way Facebook followers are notified of any updates, without needing to check with the school. This is hugely beneficial to school staff, as it allows for easy event management, whilst also reducing the time it would take in notifying parents of general updates via email marketing.
For more information on how to set-up Facebook Events with Eventbrite, click here. Alternatively, read through our previous blog posts to learn more about Facebook Advertising: