School Apps
What Is the Right Number of School App Push Notifications?
May 8, 2020
Note from Digistorm: this post was originally published in February 2017 and has since been updated to include more relevant content.
Once your school has implemented a parent communication app, it's amazing how quickly and easily you can send out targeted communication to parents. Cancelled Saturday sport due to rain? Quickly update your extra-curricular timetables and send out a notice. Have an event coming up? Create a banner advertisement that parents will see straight away when they open the app.
However, one of the best features of a school app is, far and away, the ability to send a push notification. Push notifications are the little messages that pop up on your phone's home screen to alert you to announcements from an app. They often sit side-by-side with your text messages, and are formatted to look similar. We've written an overview about push notifications and why you should use them. If you have questions, read our post: Push Notifications: Are They Effective?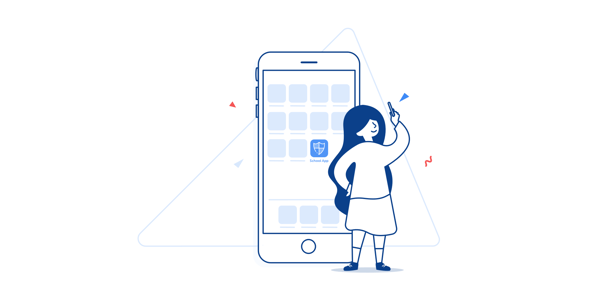 Once you start scheduling notices to be "pushed", you may wonder how many push notifications your school should be sending? Sending too few push notifications can be detrimental — parents may forget about your app — but so can sending too many. To help you out, we've put together this guide on how many push notifications you should send, plus some tips on the types of content that are suited to a push notification.
Frequency of push notifications
Unfortunately, there is no rule of thumb when it comes to the number of push notifications that a parent at your school will tolerate. In addition to this, the circumstances that require you to send push notifications will vary throughout the year — for example, at exam time, you will likely send a lot more pushes. But there are a few guidelines that you should follow each time you send a push notification.
Is it relevant to the end user?
The good news is that, in general, 50% of mobile app users find push notifications to be useful. The bad news? That number drops significantly when users open push notifications for content that is not relevant to them. Segmentation, using content subscription tags, is key. This means, whenever you push out a notification about choir, you won't be sending it to the whole school!
Have you already 'pushed' it?
No one likes to receive the exact same message over and over. Consider only sending a push notification if you have new information, or if a deadline is drawing near. Even if you're notifying users about a regular app notice (such as a weekly newsletter), consider varying the text of the notice to keep your updates fresh.
Is it time-sensitive?
Push notifications are a great way to share important messages directly, however there are certain pieces of information that can be better distributed on other marketing channels. "The camp bus is running 30 minutes late" is a welcome push notification as it instantly alerts parents to an important piece of information. "Check out our photos from camp!" is probably a message that is better suited to your school's social media channels.
Examples of effective push notifications
Newsletter
Push frequency: Once per week
Newsletters are likely the number one way that schools distribute crucial information to their community. While most schools have switched over to a digital format, many schools are still not utilising their school app to get it in front of parents. When you publish your newsletter directly in the app via a newsletter module, a push notification can be automatically sent to alert parents that it's up.
Extra-curricular information
Push frequency: Once per week, plus last-minute changes or cancellations.
Extra-curricular timetables, announcements and last-minute changes or cancellations — parents need this information, and fast. By using an extra-curricular management system integration, like Clipboard, or by simply asking parents to manage their app subscriptions, you can tailor the pushes that are sent to parents. Consider sending out a push notification with the extra-curricular timetable weekly, and saving photos, results and attendance records for a general notice.
Emergency information
Push frequency: As needed.
When a crisis happens at your school, you need to ensure your community has clear and accurate information about what is happening. A push notification allows your school to send timely updates to parents quickly and easily.
Events
Push frequency: Once per week, more frequently closer to the date.
Push notifications are a great tool for boosting event attendance at your school. They can remind parents to register, and also ensure they remember when to turn up or what they need to do.
Results
Push frequency: Once per results release.
When exam reports are published, many parents will be keen to know straight away. You can schedule a push notification to be sent when each subject releases their results.
We hope that this guide will assist you with planning future push notifications. If you're looking to build a school communication app that will allow you to send push notifications, consider the Digistorm App. If you'd like to know more, talk to a friendly Digistorm team member today!