Marketing Strategy
Which Inbound Marketing Tactics Are Best for Your School?
June 21, 2019
The hype around inbound marketing isn't going away any time soon, and with good reason!
If you think that 'inbound marketing' sounds like just another trending marketing buzz word, stop what you're doing and read our previous post to get up to speed on the basics of inbound marketing. Go ahead, we'll wait.
Here at Digistorm, we're big fans of inbound marketing. Rather than competing for attention through pushy, outdated marketing tactics (aka outbound marketing), inbound marketing focuses on attracting customers through the creation of engaging and educational content.
Hubspot's inbound methodology sums it all up perfectly. The aim of inbound marketing is to attract, engage and delight customers by building trust and credibility through content that adds value to every stage of your customer's journey.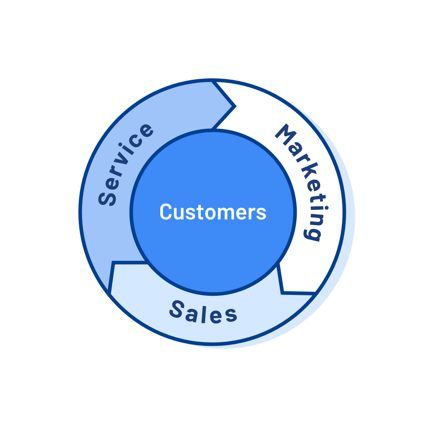 Choosing where to focus your efforts
Here's the good news: the majority of inbound marketing tactics are digital, so there's a good chance that you're already implementing at least one inbound marketing tactic at your school already (permission to give yourself a pat on the back if this is you).
Choosing which inbound marketing tactics are best for your school will come down to your school's key objectives. Are you looking to boost enrollment numbers, improve parent engagement and communication, or build your school's brand? Maybe it's all three — whatever your goal is, we recommend honing in on three or four inbound marketing tactics to see the best results.
Blog Posts
If you haven't noticed already, we're big fans of blogs for inbound marketing. The beauty of a blog post is that it places the power in the hands of the reader, providing them with the choice to engage with your content — or not. We also love blogs as a communication tool that encourages parent engagement and provides insight into the many different aspects of your school's daily life.
They are one of the most widely-used inbound tactics, as they allow schools to publish a diverse range of content (i.e., not just newsletters and internal updates!) to then generate new leads through organic search on Google or Bing. For that reason, we're going to give blogs a bonus point for the positive impact they have on your school's website SEO ranking.
Social Media
Who isn't on social media these days? You'll find most adults are signed up to at least one social media platform so, it's a great inbound marketing tactic for driving your school's brand awareness and generating new leads. Like blogs, they carry a sense of exclusivity, as teachers and staff can share 'behind-the-scenes' images of in-school happenings parents aren't usually privy to. They're also great for encouraging thoughtful and friendly interaction via comments, likes and shares. If a potential family looking in the area happens to see your social media profile, full of happy, smiling kids, user engagement and shots of your excellent facilities, the likelihood they reach out is probably quite high.
A quick word of warning though: we find that most businesses and schools alike struggle with social media because they spread themselves too thin. If you don't have the time or resources to dedicate a full-time role to managing your school's social media profiles, start by nailing one platform. We find that most schools love Facebook or Instagram to showcase their school and connect their community.
Downloadable Content
Parent's are time-poor and on the lookout for valuable resources that will help make their lives easier. There's a myriad of content for parents online, but our personal favourites come in form of checklists, templates and how-to guides. Creating valuable, branded content positions your school as a helping hand and will keep your school top-of-mind.
Here's a couple of ideas to get you started:
The ultimate back to school checklist
Prepping for Prep: the complete first day of school checklist
Homework and reading planner template
How-to save time by meal prepping school lunches
Email
Finally, a great digital inbound marketing strategy to employ is email — tailored to the school context, of course. You may have a certain perception of email marketing, coloured by the hundreds of effusively-flashing sales you receive in your inbox every week. For schools, email marketing must take another approach, but that doesn't mean it should be any less successful! As a school marketer, you instead want to be creating email content that nurtures people through the enrollment process effectively, and as a result, keeps them coming back for more.
For instance, it's important to set up auto-emails that are triggered by a certain tag or category in your CRM that then reach out to a prospective family after they've signed up for a tour, or completed a form. These show each family the level of care your school invests into its potential students and ensures greater lead retention throughout each stage of your enrollment pipeline.
Print inbound marketing
In the school context, print documents actually have more application than you may think. Of course, these don't actually have to be on paper — we're more so referring to documents that aren't collaborative but instead, encourage parents or students to go home and take a certain action rather than feeding it back into a computer. There are so many examples of great print documents that will enhance your digital marketing strategy, but we've narrowed it down to a few that are super effective and will maximize lead retention.
Informational documents
After completing a tour or chatting with your staff, prospective families are likely to want to retain the information they've just received — but doing so with sheer brainpower is a big ask. Why not help them keep your school top of mind by offering an informational packet or downloadable file featuring everything you've just talked about?
Most schools are already doing this, as it's an integral part of maintaining good relationships with prospective families and guiding them through the enrollment process. If you're not, we recommend you jump on the bandwagon ASAP! While you're at it, maybe you could drum up a few creative ways to present or offer the information. For instance, maybe you email your wrap-up as a pdf file, thus ensuring you receive an email for your mailing list if you haven't already. Or, you could encourage parents to join your social media community through links to the school's platforms and any relevant groups that address their unique needs.
Interactive documents
Another great way to really engage your school community (both parents and kids!) is through interactive documents. This may be a worksheet they could fill out, a template they could implement or even just a comprehensive guide on a certain subject you know will be of interest. Once again, it's up to you if you opt for print documents or a simple pdf or Google doc.
The purpose of this kind of content is twofold, based on what you do with it. You can distribute the material to existing parents to encourage them to interact more with the school community, with some kind of call to action that asks them to promote your school (e.g. a social media share). However, if you're able to really fine-tune your content, you could also generate new leads by posting these interactive documents online. Whether you decide to offer them for free or perhaps via a gated email sign up (hello, killer database!), you'll be adding value to your school's site and gathering cred for SEO at once. The more your content appears on Google, the more prospective parents you may have in your midst.
Here are a few examples of shareable, relevant print content for schools:
Checklists
Create checklists for parents to use as part of their daily or back-to-school routines — for example, getting their kids ready for prep, selecting the perfect school or even things to do before heading back to school for the year.
Templates
Designing a branded template for parents to use to plan various activities is a great way to keep your school top of mind. Plus, it'll be a total time-saver for parents — a great example is a homework planning template that can be used to help students sort out and allocate the week's workload.
Guides
How-to guides are consistently popular, whether they be in the form of blog posts or downloadable content. They give parents something to refer to when they're out of ideas, time-pressed or simply need a little refresher course. We love the idea of a how-to guide packed with amazing school lunchbox recipes, including ingredient lists and photos.
In summary
Whichever inbound marketing strategies you decide to implement for your school, the key to generating great engagement is relevance. Keeping it relevant and valuable to your school's audience, both current and prospective, is essential. Of course, make sure you're not giving away all this golden information for free — gather email addresses or social media followers to ensure it becomes a mutually-beneficial relationship.
There are a whole host of inbound marketing tactics that your school can take advantage of. Get your copy of Digistorm's Ultimate Guide to Inbound Marketing for Schools and check them out!