Events
A Guide to Re-Introducing Events at Your School
July 27, 2020
The COVID-19 pandemic has introduced new guidelines and procedures for several industries and one area that has to be adapted now and in the future, is events. You may have seen that companies have started running and re-introducing events, for the first time since March! Your school may be looking at scheduling in smaller events for now or at the end of the year, but with uncertainty still present, it can be difficult to know how to go about this. In this post, we will take a look at what the future of event planning will look like and how your school can prepare to run safe and successful events.
How to market your event
Of course, certain event strategies and logistics will need to evolve in in order to adhere to social distancing rules and other guidelines, but it means that communication around events will need to change too! For schools, it's important to consider sensitivity and timing, as attending in-person events might still induce a little anxiety for some people.
So, what does this look like in action? It means keeping your event marketing short, informative, and transparent. Keep your attendees in the loop with all of the safety procedures and social distancing requirements they should expect to be in place at your event. It's important to be truthful and outline any risks your attendees should be aware of. Take a look at the example below from Loreto College Coorparoo. The college has just started getting back to their on-campus tours. You'll notice they've included some information around group sizes that's in line with Government regulations. This reassurance is more likely to make attendees feel comfortable to attend.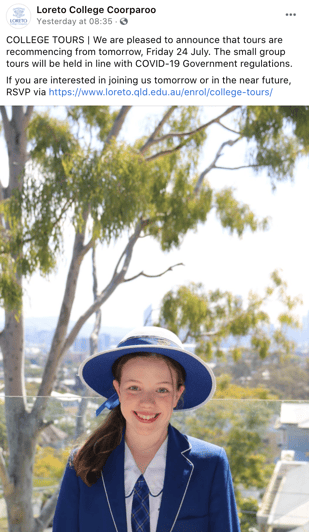 Source: Loreto College Coorparoo Facebook
It's also a good idea to keep an eye on your social media and traditional media channel to stay up to date to know when's a good time to post about your event. If you keep these things in mind, you can start to promote your events on your usual channels such as social media, email marketing, and on your school website. Be prepared to have increased communication on your marketing channels as there may be several questions and queries from interested attendees.
Be prepared to postpone or cancel your event
Although restrictions are easing and we appear to be returning to some sense of normality (in Australia at least), it's important to still be prepared to shift your event if needed. Increases in community transmission might have an impact on your event, and the number of attendees you're allowed to have, so it's best to have a contingency plan in place! This might mean postponing or canceling your event, or switching the event to a virtual one.
In the case of an event cancellation or postponement, you need to have a flexible refund policy in place if your event was ticketed. This includes offering a refund for attendees that cannot make your new date or a reduced price if you take your event online. If you do need to postpone your event be transparent and honest with your attendees. Make sure that your communication with attendees is proactive with updates for any changes.
Events logistics
So, it's time to start planning your event. Besides the usual event logistics, such as; venue management, volunteer and staff management, marketing, catering, theming, and entertainment, there are a few new things that you will also need to consider when planning for your event. For our Australian schools, You can access all of the latest event information and guidelines from the WHO and the Australian government as well as checking up to date information from your state government. For schools in the United States, we recommend keeping up to date with information from the Center for Disease Control and Prevention, where regular information is provided on how individuals can engage in healthy behaviors to help reduce the spread. As there are still social distancing restrictions in place, you'll need to ensure that your venue is big enough to safely and comfortably accommodate your attendees.
Secondly, you need to be prepared to have sanitization stations for users, appropriate COVID-19 signage, routine regular disinfection of surfaces, and temperature taking. You can see an example of informative event signage below, that has been created by Moreton Hire for upcoming events.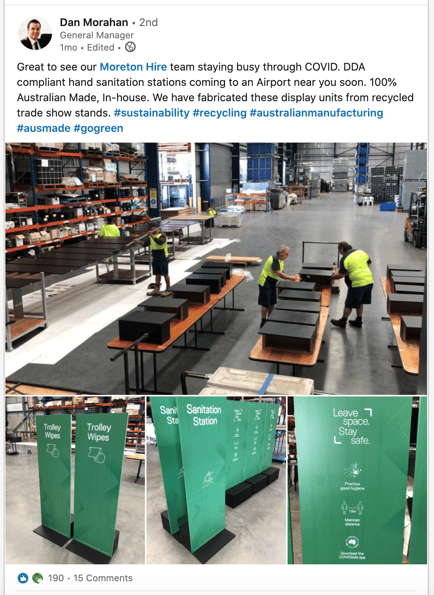 Source: Dan Morahan LinkedIn
Hygiene products and waste receptacles must be available for attendees. The waste disposables need to be regularly cleaned and emptied to abide by the guidelines. You also want to ensure that attendees are not sharing equipment such as pens, notepads, or utensils for catering. If there is equipment that needs to be shared, make sure that you're giving it a thorough clean after each use. It's also recommended that you pre-warn attendees that if anyone is feeling unwell leading up to or on the day of the event that they should not attend. The US Center for Disease Control also recommends for all attendees to wear masks when in public and around others that are not from their direct household. If you're planning on hosting a larger school event that would fall under 'mass gatherings,' the WHO has created a mitigation and risk assessment checklist that event organizers can use as a guide prior to their event. The CDC has also created a COVID-19 Events Gatherings Readiness and Planning tool document. It's important that you are assessing the risk of your event and have risk management plans in place in the case of an emergency.
It's likely that your event attendees have not attended an in-person event in a while, so it's expected that they will be excited to interact and network with others. Don't be afraid to get creative with ideas for making your attendees feel comfortable. Below is an awesome example from Laura Weisman, who offered colored lanyards for their workers which they can wear to show their comfort level in a shared space. This idea could be translated into your event planning where attendees can wear lanyards or name tags that portray their comfort levels. We have also seen 'safe at events' gift packs that provide attendees with a small gift bag containing hand sanitizer, tissues and face masks for their use during the event.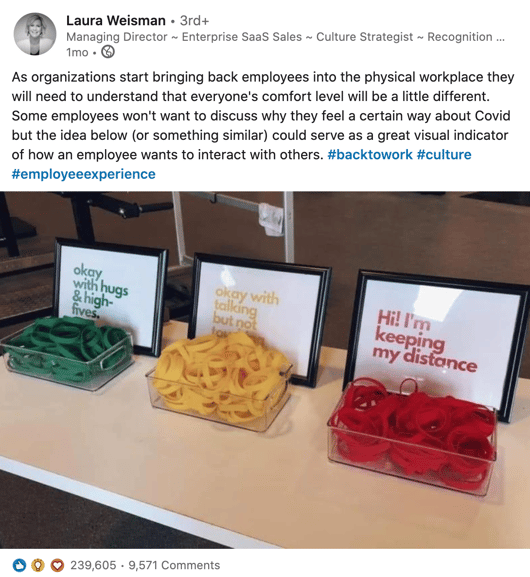 Source: LinkedIn Laura Weisman
Lastly, it will be helpful to have a registration system in place for your event. Even if your event is free and not ticketed you should get attendees to register for the event so that you as the event organizer know exact numbers and have the contact information on file for attendees. Our leading school CRM, Funnel, allows you to easily manage the attendee check-in with our events feature. This allows you to view the attendance of leads at your event and understand the source of their event registration as well.
We hope that these tips will help you plan to run a safe and successful event. If you would like any more information on how Funnel can help your school track and communicate events, get in touch with our friendly team to request a free, one-on-one Funnel demo.