Email Marketing
4 Common School Emails That Should Be Automated
December 30, 2019
Writing, testing, and sending emails is mundane and time-consuming at the best of times, let alone during those busy school terms. Thankfully, email automation is now an expected tool that comes with most (if not all) modern email marketing systems.
But, what are the perks you ask? Leveraging email automation allows you to streamline your communication processes, freeing you up to spend more time on the tasks that matter. Knowing where to start is half the battle so, in this post we walk you through four key emails that your school absolutely needs to automate now.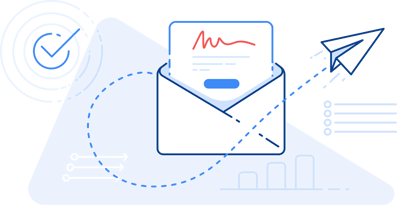 1. Welcome your subscribers
If you think about any online service you've signed up for recently, you might recall that speedy 'welcome email' that lands in your inbox almost immediately after registering your account. Usually, it thanks you for joining the community and confirms what you've signed up for. Do you offer an online subscription for your email marketing, school newsletter, or blog? If so, add an extra layer of personalization by confirming new subscriptions with an automated 'welcome' email. A welcome email is a great way to tell your new subscribers exactly what they've signed up for and how often they'll hear from you.
2. Say 'hello' to new enrollments
If you're currently using an online enrollment system to collect data and capture information about new applicants, setting up an automated welcome email at the start of an enrollment application can be a great way to improve completion rates. Not convinced about their impact? According to Invespcro, sending a welcome email can result in four times more open rates and five times more clicks for all future email communications. Now, that's reason alone to start sending those welcome emails.
3. Send a friendly reminder
How familiar does this scenario sound? You set out with the best of intentions when you sat down to fill out that online form or make a purchase, but ran out of time and have to stop right in the middle of the job... we can all relate to this. Online enrollments experience the equivalent of cart abandonment for a multitude of reasons, but sending an automated reminder email is a great way to keep them on track. Simply, create an automated email that sends a friendly nudge to those who started an online enrollment application, but haven't quite made it to submission yet.
4. Onboard new families
Once you've managed to get your prospective families across the line with your stellar 'letter of offer,' the next step is providing them with a seamless onboarding experience. Onboarding emails are designed to provide your new students and families with all of the information they need to set them up for a successful journey with your school. Set up an automated email for new families added to your database, which welcomes them to your school, provides key information, contact numbers, links to your social media channels, blog, and instructions on how to download your parent communication app.
Of course, these are just some of the many emails that your team can automate now to streamline your communication and gain hours of your day back. Keep up with the latest in email marketing by checking out our blog: Five Key Learnings on Email Marketing Opportunities and Trends.